Baltimore cop suspended after death reportedly faced abuse allegations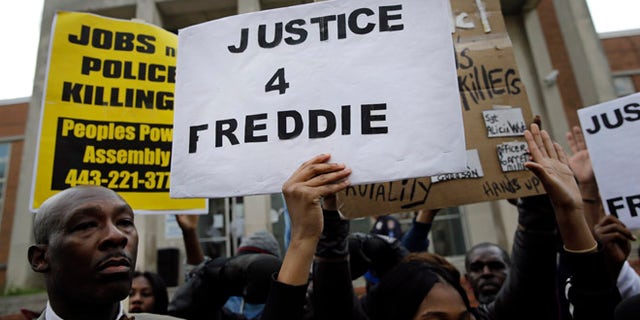 One of the six Baltimore police officers suspended after the death of a black man who suffered a fatal spinal-cord injury under mysterious circumstances has been accused twice of domestic violence, The Guardian reported Wednesday.
The report said two Maryland accusers sought protective orders against Lieutenant Brian Rice, 41, who has been on the force since 1997. In both cases -- in 2008 and 2013 -- the orders were denied by the court.
The paper, which did not identify the accusers, spoke to one who called Rice "a good guy."
News of the past allegations came after the Justice Department announced it opened a civil rights investigation into the death of Freddie Gray, who suffered a fatal spinal-cord injury after he was handcuffed and put in the back of a police van.
After the probe was announced, at least 1,000 people gathered at a previously planned rally at the site of Gray's arrest.
Gray, 25, was taken into custody April 12 after police "made eye contact" with him and another man in an area known for drug activity, police said. Gray was handcuffed and put in a transport van. At some point during his roughly 30-minute ride, the van was stopped and Gray's legs were shackled when an officer felt he was becoming "irate," police said.
Police Commissioner Anthony Batts said that Gray asked for an inhaler, and then several times asked for medical care. He was eventually rushed to a hospital.
Gray died Sunday — a week after his arrest — of what police described as "a significant spinal injury."
Exactly how he was injured and what happened in the van is not known.
Justice Department spokeswoman Dena Iverson said investigators are "gathering information to determine whether any prosecutable civil rights violation occurred."
It's not uncommon for federal investigators to look into allegations of excessive police force. Justice Department investigations in the last year include probes into the fatal shooting of an unarmed black 18-year-old in Ferguson, Mo. — a case that resulted in no charges against the officer — and an ongoing review of a police chokehold death of a New York City man.
There's a high threshold for bringing federal civil rights charges against police officers in such cases. Federal investigators must show an officer willfully deprived a person of his or her civil rights by using more force than the law allows, a standard that's challenging in rapidly unfolding confrontations in which snap judgments are made.