Auto sales fall 4.7 pct.; 7-year win streak may come to end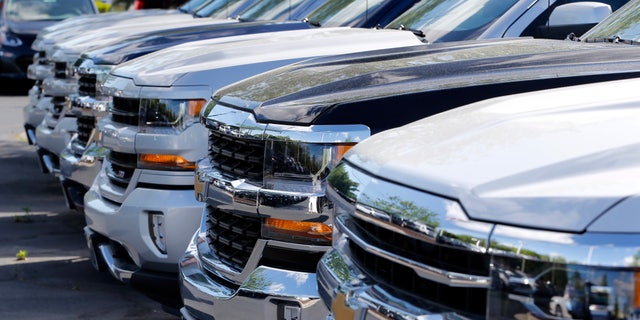 DETROIT – U.S. auto sales fell 4.7 percent last month, the most pronounced slowdown of the year and a strong indication that 2017 will put an end to seven straight years of growth.
Auto executives and analysts, who have been anticipating a slowdown, saw no cause for panic. Many expect sales in the important economic sector to top 17 million for the third straight year, an industry first.
"The demand for the light vehicles is still holding up quite well," said George Mokrzan, director of economics for Huntington Bank in Columbus, Ohio. "It's been coming down from a very high level."
Still, sales have dropped for four straight months, the first time that's happened since the economy ground to a halt in 2009. April sales totaled just over 1.4 million, a figure that translates to an annual sales rate of 16.9 million, far below last year's record of 17.5 million. The April decline brought year-to-date sales down by 2.4 percent from a year ago.
General Motors, Ford, Toyota, Fiat Chrysler, Nissan and Honda on Tuesday all reported weaker U.S. sales than a year ago. Of top-selling automakers, only Hyundai and Volkswagen reported small increases.
Kelley Blue Book says it looks like 2017 U.S. sales will experience their first annual drop since 2009. It expects full-year sales of 16.8 million to 17.3 million.
Jessica Caldwell, an analyst with the Edmunds.com auto buying site, said all growth cycles eventually come to an end. "It's an economic cycle in buying that has to occur. I think that's why we're starting to see sales back off a little bit," she said.
Sales are slowing despite strong economic fundamentals. Wages and consumer confidence are up, unemployment is down and gas prices and interest rates remain at historically low levels.
Mokrzan said because cars and trucks last longer these days, people may be choosing to spend money elsewhere. Home remodeling and new home construction are up, he said.
Full-size pickup truck sales, a big factor in the industry's comeback from the recession, fell 3.8 percent in April, while car sales dropped 11 percent according to Autodata Corp. Small crossover SUVs like the Honda CR-V and Nissan Rogue continued to drive sales. Rogue sales rose 18 percent, pushing the segment up 6.7 percent.
Automakers took the declines in stride. Ford reported a 7.2 percent drop due largely to car demand that tumbled 21 percent. Vice President of Sales and Marketing Mark LaNeve said Ford is still getting healthy prices for its vehicles as people load on options. "We have to let the year play out," he said.
At Nissan, overall sales fell 1.5 percent as SUV demand couldn't overcome slowing car sales. General Motors sales dropped 5.8 percent as strong performances from some SUVs and the Cruze compact car couldn't offset falling pickup truck demand.
Toyota reported a 2 percent sales decline for the month while Fiat Chrysler sales fell 7 percent. Sales of the usually strong Jeep brand fell by 17 percent. Honda sales were down 7 percent.
Of major automakers, only Hyundai and Volkswagen reported increases, just over 1 percent for Hyundai and a 1.6 percent gain for VW.
The results caused investors to punish stocks of Detroit automakers. Ford and Fiat Chrysler shares fell more than 4 percent, with Ford hitting a new 52-week low during the day. GM shares fell almost 3 percent.
While sales still are healthy, automakers find they have to offer deals to compete for a piece of the shrinking pie. But there are signs that the industry is relying too heavily on incentives.
The average price consumers are paying per vehicle is starting to wane after years of steady increases, even for popular SUVs. Previously SUV prices kept growing while car prices fell due to sagging demand.
The average price paid for an SUV in April was $33,165, according to the consulting firm J.D. Power and Associates. That was down 2 percent from last April.
Last month, incentive spending increased 11 percent on cars, to $3,903 per vehicle. The average price paid for a car was $25,516, about the same as last year.
Pickup trucks were the only segment in which automakers offered fewer deals. Incentive spending was down 6 percent to $3,276 per vehicle. Customers were willing to pay $31,438 for a pickup in April.
____
This story has been corrected to show that Nissan Rogue crossover SUV sales rose 18 percent.