Authorities: Body found on rural South Carolina property is boyfriend of woman found chained in a storage container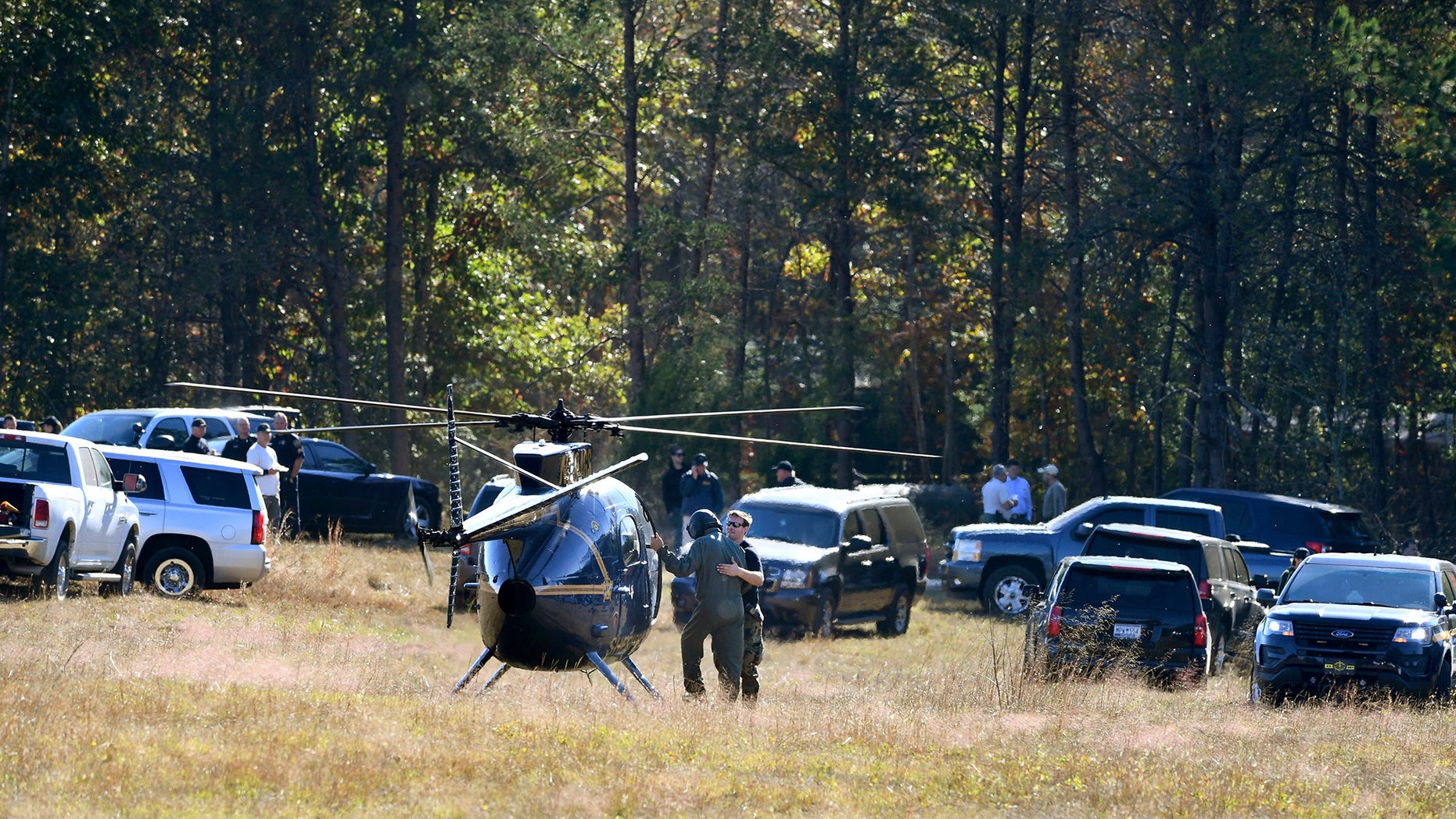 Authorities have confirmed that the body found on a rural South Carolina property is the boyfriend of a woman found chained inside a storage container.
A woman who was found chained "like a dog" in a rural South Carolina shed told authorities she watched her alleged kidnapper shoot her boyfriend who vanished with her in late August, investigators said Friday.
Search teams digging on the property owned by 45-year-old Todd Christopher Kohlhepp found one body and fear there may be more.
The remains have not been identified, but prosecutor Barry Barnette said the woman, 30-year-old Kala Brown, saw her captor shoot and kill her boyfriend, 32-year-old Charles Carver, who went with her for a cleaning job on the suspect's property.
ABC NEWS INVESTIGATES PRODUCER OVER DOCTORED 'CRIME SCENE' LIVE SHOT
"This is a very, very dangerous individual," Barnette said.
Kohlhepp, a registered sex offender with a previous kidnapping conviction in Arizona appeared Friday at a bond hearing in Spartanburg on a kidnapping charge. More charges are expected.

The judge did not set bond and instead referred the matter to circuit court. The suspect didn't appear to have an attorney.
SEX OFFENDER IN CUSTODY AFTER WOMAN FOUND IN METAL CONTAINER
Kohlhepp was convicted of kidnapping and raping a 14-year-old Arizona girl in 1986. Online prison records show he served about 14 years for the felony. He was released in 2001.

Records from the case obtained by Fox Carolina show that a judge decided in 1987 to transfer the case to adult court partly because of Kohlhepp's aggressive nature.

"At less than the age of 9 this juvenile was impulsive, explosive and preoccupied with sexual content. He has not changed. He has been unabatedly aggressive to others and destructive of property since nursery school," the judge wrote.

Brown and Carver disappeared about Aug. 31 when they went to do the work on the suspect's nearly 100-acre property near Woodruff, said Daniel Herren, a friend who sat with the woman in her hospital room after she was rescued Thursday.

"They were going to do some work, help cleaning up the property. And he pulled out a gun and took them hostage," Herren said, adding that the abduction happened quickly.
Herren said Brown described to him the details of her captivity, telling him she was in the container nearly the entire time except for when she was taken out for occasional walks.

"He never took the chain off of her, but he was taking her around, let her get, not so much exercise, but let her walk around some," Herren said. "It didn't sound like it was every day. It was kind of sporadic."

She left the hospital late Thursday and is staying with family, Herren said.

The property includes grassy areas, some covered in waist-high weeds, as well as stands of trees. Most or all of it is surrounded by a chain-link fence 6 to 7 feet tall.

In the middle was the cargo container, which measured about 30 feet by 15 feet. It was next to a two-car garage that had a living space on top, Barnette said.

Guns and a large amount of ammunition were seized from Kohlhepp, the prosecutor said.

"It's unbelievable how much he had," he said, adding that Kohlhepp frequently took target practice in an area near the storage container.

Records show Kohlhepp received his South Carolina real-estate license in 2006 before a state law went into effect requiring background checks.

A real estate agent who worked at the firm run by Kohlhepp said she had known him for 10 years after they met at a university in the Spartanburg area and were study partners. She said she was in disbelief.

"He's not the kind of person to do something like this," Cherry Laurens said by phone. "Working with him, he was an excellent boss. He stood up for us whenever we needed him."

She said it was widely known that he was registered as a sex offender, but he told people that it was based on trumped-up charges after he "had gone joyriding with a girl" and upset her father.

Kohlhepp made frequent online posts about moving around rocks and trimming trees at the rural property, according to the Facebook page that Laurens confirmed was his.

About two weeks after the couple disappeared, he wrote a post about news reports on missing people: "reading the news.. this person missing, that person missing, another person missing.. oh wait.. that person just went to beach with friend, other person found with her parole violation boyfriend... in the event I become missing, please note no one would take me. I eat too much and I am crabby..."
The Associated Press contributed to this report.