Austin serial bomber may have other devices 'out there,' cops uncover 'treasure trove of information'
Mark Anthony Conditt was named Wednesday as the serial bomber behind the string of blasts that terrorized Texas for three weeks and left two people dead.
During a news conference Wednesday, officials said that explosive experts were working throughout the day at a home in Pflugerville, Texas to safely remove and dispose components of homemade explosives.
There were no completed devices in the house, ATF Special Agent Fred Milanowski said, but there was some componentry and homemade explosive material.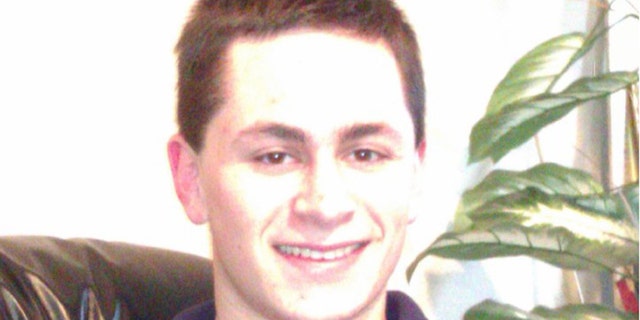 "There is componentry in there that makes us believe, have a high degree of certainty, that it is the same components that we have found in all the other devices," he said.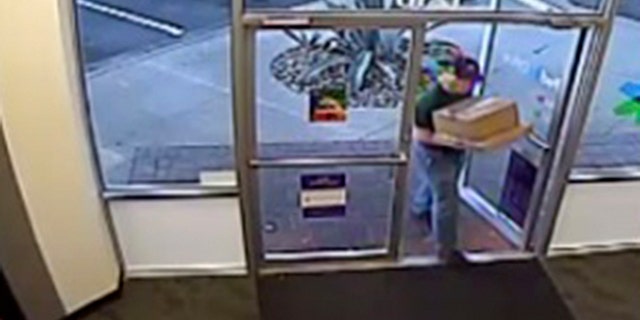 He said he wouldn't desbribe the house as "full of material" but rather it was mostly one room that had "a considerable amount of material." He also said he "wouldn't call it a bomb making factory" but that there were "components consistent with what we've seen in all these other devices."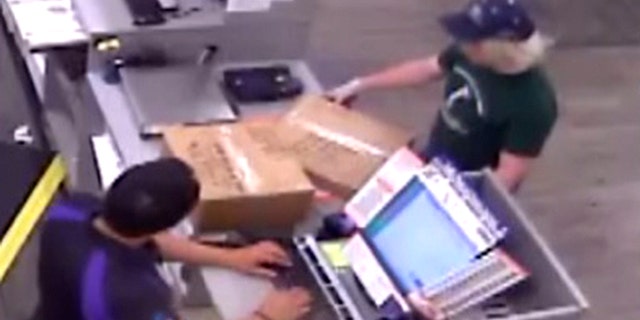 Milanowski said investigators would remain in the area until they "have completed and turned over every rock" and wanted to be sure there there were no remaining packages in public. Despite having a "reasonable level of certainty" that there weren't, he cautioned residents to be vigilent.
"Our whole goal here was to make sure that we have no other people hurt in this investigation," Milanowski said.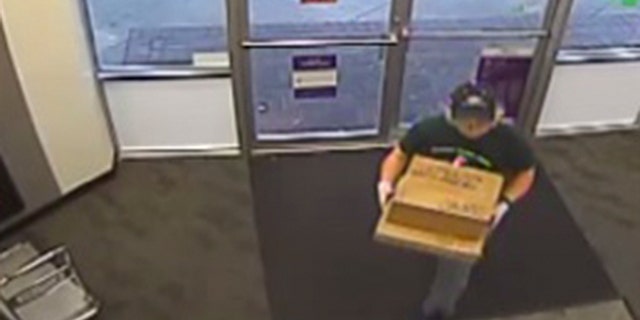 The first photo of the suspect, from 2013, emerged Wednesday morning and was authenticated by the Austin American-Statesman. The picture came from the Facebook page of his mom, Danene Conditt, who appeared to be celebrating Mark's high school graduation.
"I officially graduated Mark from High School on Friday," her post said. "1 down, 3 to go. He has 30 hrs of college credit too, but he's thinking of taking some time to figure out what he wants to do….maybe a mission trip. Thanks to everyone for your support over the years."
The 23-year-old, who federal prosecutors identified as the Austin bomber, can be seen in surveillance photos obtained by Fox News dropping off two suspicious packages on Sunday from inside a South Austin FedEx Office store on Brodie Lane.
One of the two packages exploded on a conveyor belt at a FedEx sorting facility outside of San Antonio in Schertz on Tuesday, while the second package was intercepted by authorities at a facility near the Austin airport.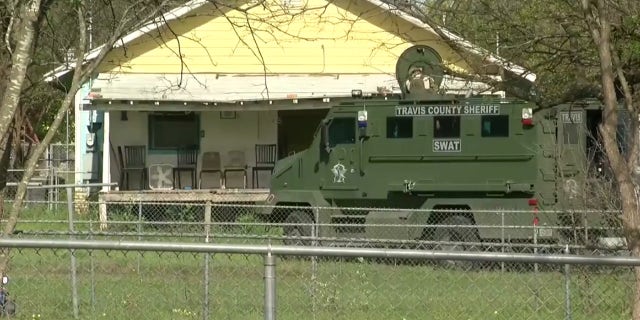 Using clues gleaned from the packages and surveillance video that showed Conditt in "disguise," Texas Gov. Greg Abbott told "FOX & Friends" authorities were able to gather the information that allowed law enforcement to track him down.
Rep. Michael McCaul, R-Texas, said Conditt's "fatal mistake was when he walked into a FedEx office to mail the package." That trip, McCaul said, allowed authorities to get surveillance video of him in his SUV, leading to the identification of his license plate and, ultimately, of the bomber himself. Once that was done, officials were able to track his cellphone and where he purchased the bomb-making materials at a Home Depot store.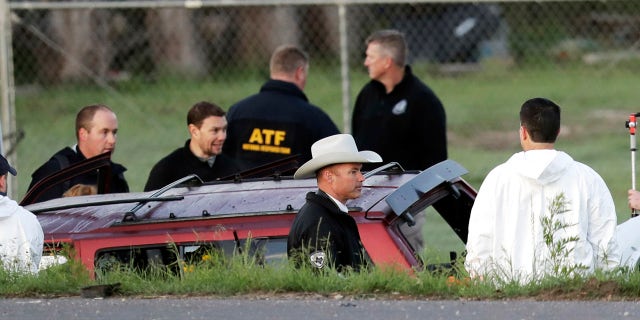 Federal prosecutors had filed a criminal complaint and arrest warrant on Tuesday against Conditt before he detonated the device in his vehicle, the U.S. Attorney's Office announced Wednesday.
The federal complaint charged Conditt with one count of unlawful possession and transfer of a destructive device, but the complaint affidavit still remains under seal, according to prosecutors.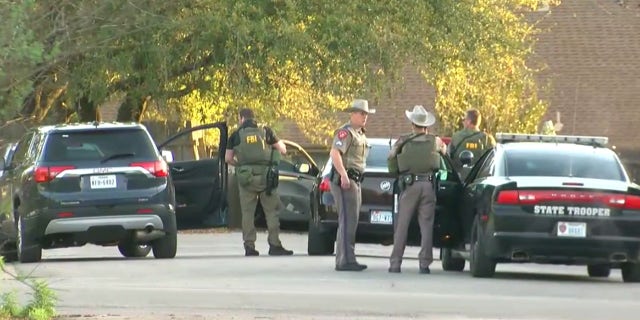 "Hundreds of federal, state and local law enforcement officers worked together to identify and locate Conditt. I was awed by their professionalism, collaborative spirit, and indefatigable commitment to protecting the public," United States Attorney John F. Bash said in statement. "I send my deepest condolences to the families of Anthony Stephan House and Draylen Mason, and I pray for the recovery of the surviving victims of these monstrous crimes."
Conditt was home-schooled and went to Austin Community College, according to neighbors.
"I know this is a cliché, but I just can't imagine that," a neighbor, whos children grew up playing with Conditt, told the Austin American-Statesman on the condition of anonymity. Police said earlier Wednesday that the suspect was 24 years old, but Conditt is listed as 23 years old on his driver's license and other official documents.
He and his father, Pat Conditt, purchased a Pflugerville property last year that is now valued at about $69,000, according to property records. Neighbor Jeff Reeb told KVUE that Conditt was from "one of the nicest families you'd want to have," and was "extremely surprised' to find out he was behind the deadly bombings.
"I can tell you is that we're praying for the family, and I can't imagine what they're going through," Reeb said. The neighbor who spoke to the Statesman said Mark Conditt had been living in that house, which he built with his father's help.
Conditt had worked at Crux Semiconductor, a manufacturer "solutions" company, in Austin as a "purchasing Agent/buyer/shipping and receiving," according to a profile on a job recruiting website, and had previously worked as a computer repair technician, according to the Statesman.
The mayor of Pflugerville said he lived only two blocks away from Conditt in a part of the city known as Old Town.
Mayor Victor Gonzales, who said he didn't personally know the family, told The Associated Press that police had surveillance on the home overnight Tuesday.
Another neighbor said she was in "disbelief," and "couldn't believe it."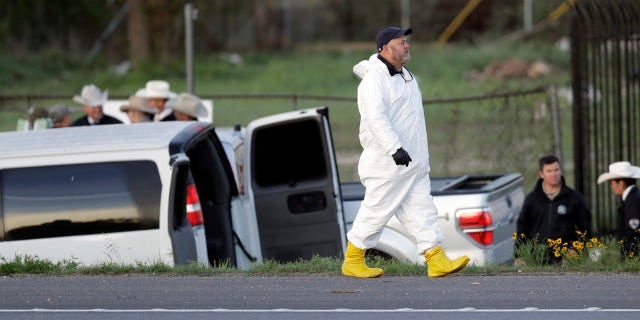 "I just know he was kinda stand-offish," Debbie Alexander said.
Meanwhile, authorities boasted of uncovering a "treasure trove of information" about the dead 23-year-old -- but officials warned other explosives may still be out there, and other collaborators may be on the loose.
"We don't know where this suspect has spent his past 24 hours, and therefore we still need to remain vigilant to make sure that no other devices have been left out in the community," Gonzales told reporters.
Austin Police Chief Brian Manley said communities surrounding Round Rock, where Conditt blew himself up as SWAT officers closed in, should "remain vigilant" as officials work to put together a timeline for where the suspect has been.
Abbott told "FOX & Friends" the suspect did not destroy his digital footprint, and that there is a "treasure trove of information that should shed light on who he is, what he did, and why he was doing it."
Abbott said Conditt, who is not ex-military, did not post things on social media beforehand that would be "red flags," and that he lived with two roommates in Pflugerville.
"Those two roommates have been talking to law enforcement," Abbott said, adding they are not suspects at this time.
Austin police said both of Conditt's roommates were detained and neither of their identities would be released as the individuals "are not under arrest at this time."
"One roommate was detained, questioned and released. The other is currently being questioned," police said in a tweet.
The Texas governor said authorities are now going to spend the next 24 hours trying to determine if anyone else was working with Conditt, and if there are any other bombs remaining.
He later said investigators used cellphone traffic data to put the suspect at the site of the explosions around Austin. He also said Conditt recently bought five signs saying "CAUTION CHILDREN AT PLAY" at a Home Depot. He says he was told a tripwire that injured two men on Sunday in southwest Austin was tied to one of the signs, which would be consistent with what authorities have previously said about how the explosive was rigged.
Conditt didn't appear to have left much of a trail on social media, but in 2012 posts on what appears to be his personal blog he expressed opinions about a range of topics, including gay marriage.
A blogger who identified himself as Mark Conditt of Pflugerville, made six entries, all in 2012, in which he wrote that he thinks gay marriage should be illegal and that sex offender registries should be eliminated, according to a copy of the posts obtained by TMZ.
"You have to really hate the guy to make him suffer for the rest of his life, even when his prison time is up," he wrote.
He also described his interests as cycling, tennis and listening to music, according to images of the blog posted by TMZ.
FBI Agent Christopher Combs, head of the agency's San Antonio office, said authorities have a "long day ahead" as they work to go through "exactly what happened."
"We are concerned there may be other packages still out there, we need the public to remain vigilant, especially today as we go through the investigation," Combs said.
AUSTIN SERIAL BOMBING SUSPECT KILLED IN DRAMATIC CONFRONTATION; ID'd AS 24-YEAR-OLD MAN
Fred Milanowski, agent in charge of the Bureau of Alcohol, Tobacco and Firearms' Houston Field Division, told reporters that investigators believe Conditt built all four of the package bombs that have blown up in Austin, but it's "hard to say" whether he was acting alone.
He added that the bomb that killed Conditt was "a significant explosive device."
When asked later if Conditt built bombs prior to the start of the spree in Austin, Milanowski responded: "We know when he bought some of the components. It's hard to say whether he was building along the way."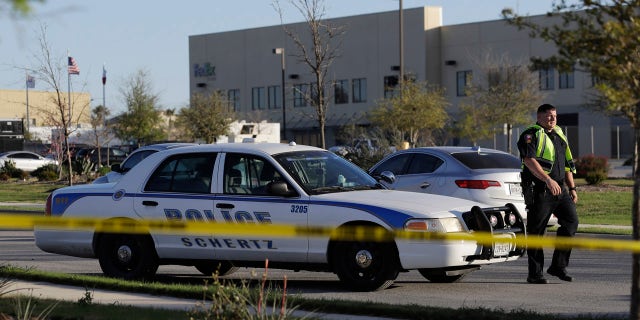 Austin Mayor Steve Adler thanked law enforcement for their work in bringing down the suspect, but urged residents to continue to report anything that appeared suspicious or out of place.
"There's got to be an absolute sense of relief as well as gratitude for this army of law enforcement officials that have done," he told "FOX & Friends."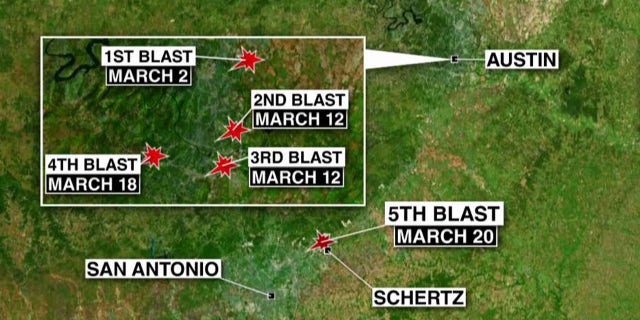 The suspect's death on Wednesday came a day after a package exploded as it passed along a conveyor belt at a FedEx shipping center in Schertz, northeast of San Antonio and about 60 miles southwest of Austin. One worker reported ringing in her ears and was treated at the scene.
AUSTIN PACKAGE BOMB ATTACKS TIMELINE
Later in the morning, police sent a bomb squad to a FedEx facility outside the Austin airport to check on a suspicious package. Federal agencies and police later said that package had contained an explosive that was successfully intercepted and that it, too, was tied to the other bombings.
FedEx said in a statement that it was able to provide law enforcement "with key evidence leading to the identification of the suspect responsible for the bombing" because of the company's "advanced security capabilities and the vigilance of our team members."
"Regarding our contribution to the effort, U.S. Representative Michael McCaul, chairman of the U.S. House Committee on Homeland Security, was quoted this morning as saying, 'I hope his biggest mistake was going through FedEx,'" FedEx President and Chief Operating Officer David J. Bronczek said in a statement. "We are grateful that none of our FedEx team members have been seriously injured, and our thoughts and prayers go out to the victims of these senseless attacks, as well as to the entire Austin community."
Two men were injured on Sunday after a bomb exploded in an Austin neighborhood that was triggered by a trip wire, which officials said contained a "higher level of sophistication" than agents saw in three package bombs previously left on doorsteps.
The first was a package bomb that exploded at a northeast Austin home on March 2, killing 39-year-old Anthony Stephen House. Two more package bombs then exploded farther south on March 12, killing 17-year-old Draylen Mason, wounding his mother and injuring Esperanza Herrera, 75.
Fox News' Jonathan Hunt, Shira Bush, Ray Bogan, Elizabeth Zwirz and The Associated Press contributed to this report.