Attorneys in 1st case under state statute ask if 3 anti-NATO activists are terrorists or goofs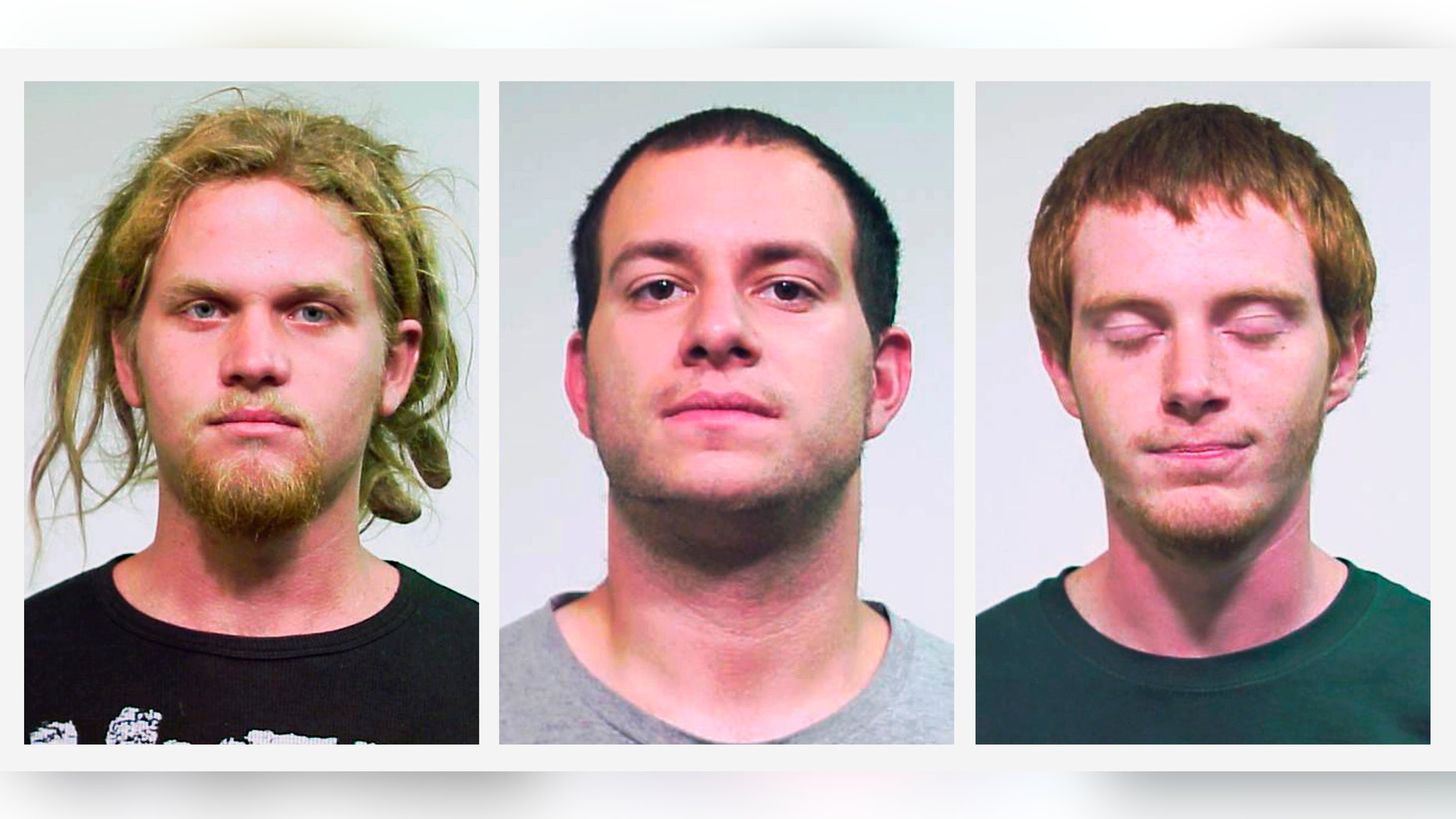 CHICAGO – Three activist defendants were portrayed by prosecutors in Tuesday's opening statements for the first trial under Illinois terrorism statutes as serious terrorist wannabes, and their defense team painted them as alcohol-addled mopes who, at worst, contemplated an act of vandalism.
The contrasting portraits of the men, who are accused of plotting Molotov cocktail attacks at the 2012 NATO summit in Chicago, came at the start of what is seen as a major test case for Illinois' state terrorism laws. Nationally, most terrorism cases are prosecuted in federal court.
The opening statements in the Cook County courtroom were dominated by one question: whether Brian Church, 22, of Fort Lauderdale, Fla.; Jared Chase, 29, of Keene, N.H.; and Brent Vincent Betterly, 25, of Oakland Park, Fla., qualified as terrorists.
Prosecutor Matthew Thruns told jurors there was no doubt.
He walked up to within feet of the defendants and pointed an accusatory finger at each, saying the disgruntled activists had plotted to carry out deadly attacks, including at President Barack Obama's campaign headquarters, Mayor Rahm Emanuel's home and police stations.
"(Fire) was going to be their iconic image ... that would strike terror on a world stage," Thruns said, his voice rising. "These defendants wanted to set fire to a system they felt cheated by."
Church, Chase and Betterly have pleaded not guilty to conspiracy to commit terrorism and other charges. They were arrested days before the summit got under way after an undercover police officer infiltrated their inner circle.
As they headed to Chicago from Florida weeks earlier, they had packed their car with gas masks, bows and arrows and even a throwing star — hiding some of the gear in a guitar case, Thruns said.
"They were ready for war," he said.
But defense attorneys balked at the idea their clients could be compared to bona fide terrorists.
"If they are terrorists, we can all sleep at night," said Thomas Durkin, Chase's lawyer. "Do you know any terrorist who marches in parades?" Later, he called the young men "three goofs."
Church's lawyer, Sarah Gelsomino, described her client as naive and prone to wild boasts. During the alleged plotting, she said, he was "nearly constantly drunk out of his mind."
It was the undercover officers who steered the activists into filling a half-dozen beer bottles with gasoline, she said.
"Chatter, talk and four bottles with a little gas in them does not make a terrorist," she told jurors.
The notion that Molotov cocktails could create the havoc prosecutors described, Durkin said, was "hogwash." He said bottles filled with flammable liquid have been standard fare at protests in Greece.
"Molotov cocktails aren't any more dangerous on many levels than firecrackers," he said.
Durkin also blasted the state's attorney's office for what he said had been its eagerness to employ the ominous-sounding terrorism statute.
"This was a charge looking for a boogeyman," he said.
Gelsomino, too, said there were bigger issues at stake in the Chicago trial.
"It's a case about who the state can brand a terrorist ... the most damning and prejudicial accusation of all," she said.
All three defendants have been held in jail since their arrests, unable to raise $1.5 million in bail. If convicted, each could be sentenced to decades in prison.
___
Follow Michael Tarm at www.twitter.com/mtarm