Atlanta-area officer fatally shot; one suspect held, another sought, authorities say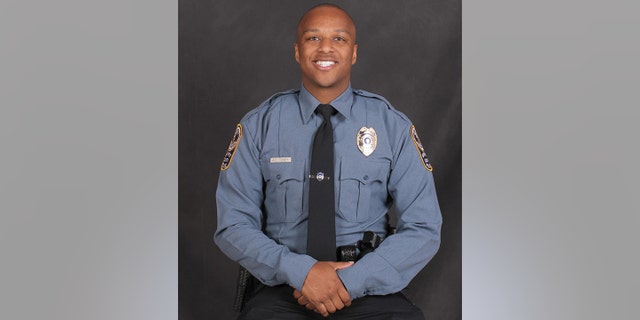 Authorities outside Atlanta said Saturday that they had arrested one man and were looking for another in connection with the shooting death of a Gwinnett County police officer who was fired upon while responding to the scene of "a suspicious vehicle" hours earlier.
A suspect identified as Isaiah Pretlow, 19, was arrested by the U.S. Marshals Service and was charged with aggravated assault in the death of Officer Antwan Toney, 30, police said at a news conference.
Authorities said Pretlow was in the car when the shooting occurred, then sped away before the vehicle crashed. He fled on foot and pointed a gun at officers, who fired at him. No one was hit in the exchange, authorities said.
A manhunt was still underway for another suspect, identified as Tafahree Maynard.
Authorities said Maynard fled the scene of the shooting on foot.
No details were released on where Pretlow was arrested or how authorities found him.
Maynard is charged with aggravated assault and murder, authorities said in a news conference.
"He needs to turn himself in," police said.
Toney, along with other officers, arrived near Shiloh Middle School in Snellville about 2:30 p.m. in response to a report of "a suspicious vehicle," police said.
Upon finding and nearing the vehicle, "shots were fired from inside the suspect vehicle," and one of them hit Toney, a news release said.
"Other responding officers returned fire and pulled Ofc. Toney to cover," police said. "The suspect vehicle fled the scene; it is unknown if anyone in the vehicle was struck by return fire."
Toney was taken to a hospital, where he died, police said.
Officers discovered that the involved vehicle had crashed nearby, which involved Pretlow, police said. Initially, authorities were searching for four suspects, but that number was dwindled down to two, police said upon announcing Pretlow's arrest.
Authorities stationed at multiple locations were investigating "buildings and wooded areas," police said.
Police Chief Butch Ayers said Toney was known as "very jovial, very dedicated to his job and to serving his community." Authorities said Toney had family members in California, though the exact location wasn't immediately known.
The slain officer was the first killed in the line of duty since 1993, the Atlanta-Journal Constitution reported. The department lost three other officers in 1964 who were investigating a "suspicious activity call."
Fellow Georgia law enforcement agencies expressed their sympathy over the fallen officer, who had been on the force since 2015 and was just days away from marking his three-year anniversary, police said.
"Please keep the family of Gwinnett County Police Officer A. Toney in your thoughts and prayers as they mourn his loss," the Gwinnett County Sheriff's Office wrote on Facebook.
"Our hearts are with the family & friends of the Gwinnett Police Officer who paid the ultimate sacrifice in the line of duty today," the Georgia Bureau of Investigation said in a tweet. "We thank you for your service and pray with the Gwinnett County Police Department. We are mourning the loss with you."
Toney's death comes after three separate officer-involved shootings across Georgia on Thursday that left two men dead, none of whom were officers.