Atheist display to counter Nativity scene at Florida Capitol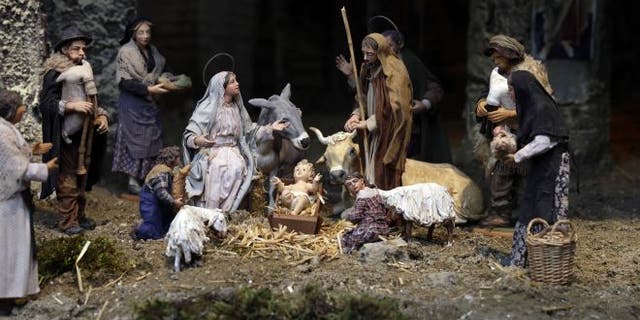 NEWYou can now listen to Fox News articles!
A private group placed a Nativity scene in the Florida state Capitol on Tuesday in an event that included prayers, children singing Christmas carols and a celebration of Jesus' birth.
Up next, the atheists get their say.
The Capitol rotunda is open to any group that applies through the state Department of Management Services as long as their displays follow guidelines on size and other restrictions. The Florida Nativity Scene Committee decided to use that opportunity to display the biblical scene of Jesus' birth.
"We are not trying to offend anyone, but we are taking a stand for Christ in Christmas, a stand for truth and religious freedom," said Pam Olsen, who organized the event. "And what better place to do this than the heart of our state government."
American Civil Liberties Union of Florida executive director Howard Simon immediately thought of two better places.
"They may now have a right to do that, but there are better places," Simon said. "There are houses of worship and there are each of our homes if we choose to commemorate the holidays."
Groups that advocate for the separation of religion and government say the display is on solid constitutional grounds because the state is not spending money on it and it has designated the Capitol rotunda as a public forum. A disclaimer was posted near the Nativity scene that said the state does not support or endorse the display, which is across the rotunda from a giant menorah that marks the Jewish holiday of Hanukkah.
And it's why the state is letting the Freedom From Religion Foundation to hang a banner with its views. The banner is expected to be hung Thursday. It will depict Benjamin Franklin, Thomas Jefferson, James Madison and the Statue of Liberty adoring the Bill of Rights placed in a crib typically used to depict Jesus and the Nativity scene.
"Let us also honor the birth of our Bill of Rights, which reminds us there can be no freedom OF religion without having freedom FROM religion in government," the banner reads in part. The group also has signs up to counter Nativity scenes in the Wisconsin and Illinois capitols that declare there are no gods, heaven or hell.
"We don't think there should be religion or irreligion in any state Capitol, but if they're going to start allowing religion and call it a public forum then certainly the non-religious point of view should be there, too," said Annie Laurie Gaylor, co-president of the Madison, Wisc.-based foundation.
Olsen said that's their right.
"The ACLU should be up here saying `Freedom of speech is what we fight for,"' Olsen said. "The atheists can come up and set up a table if they go through the permitting process and do the same thing."
While Simon said he thought the celebration at the Capitol was over the top, he did agree with Olsen.
"The state can create a public forum wherever it wants," Simon said. "From an ACLU point of view, the more speech the better."
And based on previous Supreme Court rulings, there are no constitutional issues that would prevent the display if sponsored by a private group, said David Barkey, the national religious freedom lawyer for the Anti-Defamation League.
"It's sounds like they're welcoming everybody. By welcoming everybody, if the Satanists want to put something up, they'd have to let the Satanists put something up. Sometimes it's, "Be careful for what you wish,"' Barkey said. "As long as they're applying neutral time, space and manner restrictions, it's kosher."