At least 2 dead, other minor injuries reported after explosion at Indianapolis home sets others ablaze in neighborhood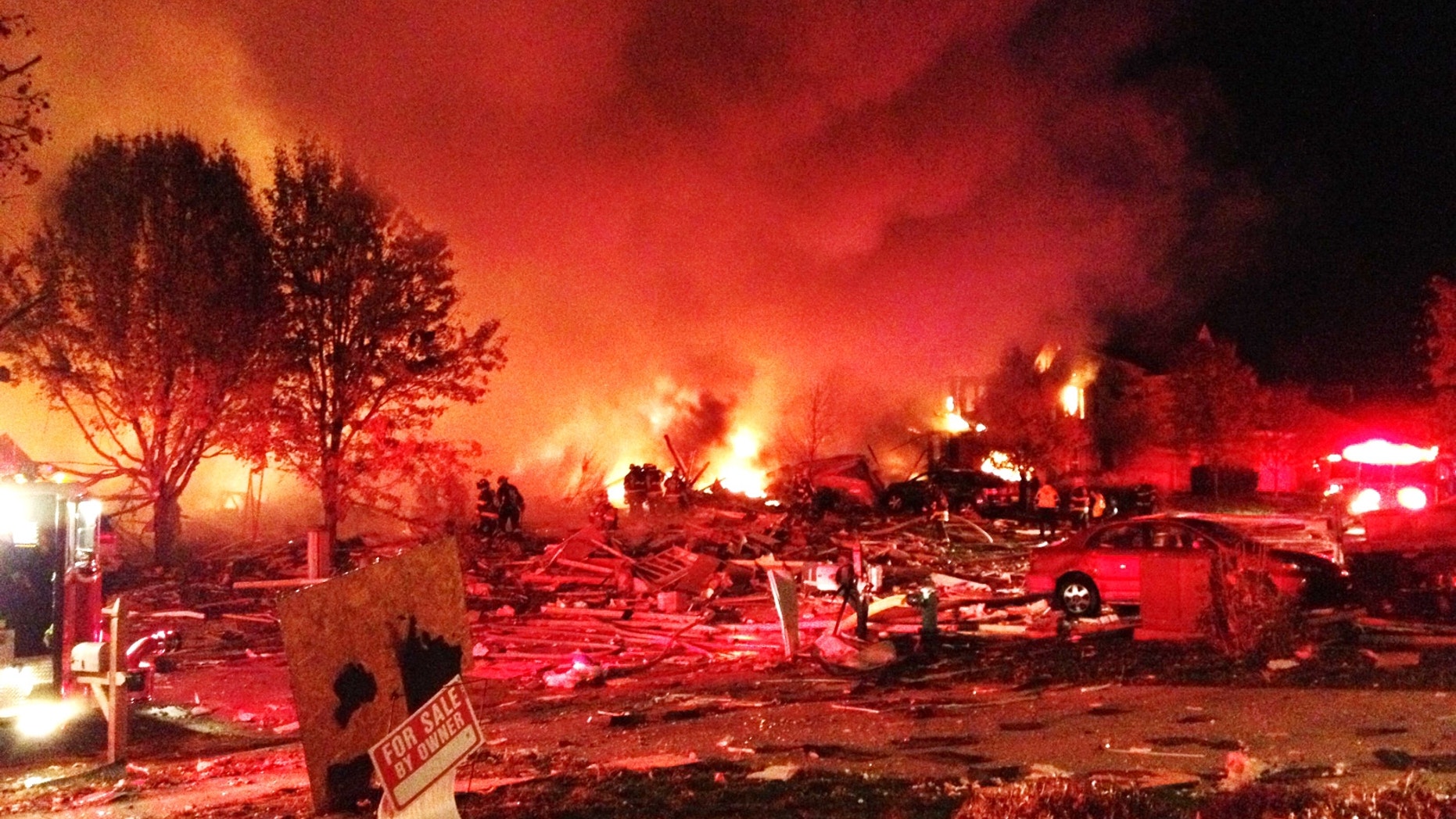 INDIANAPOLIS – A earth-shaking explosion killed at least two people, destroyed at least two homes and set several other homes ablaze in an Indianapolis neighborhood late Saturday night.
Fox 59 reports two homes were destroyed in the initial explosion, and two others were directly impacted. The resulting flames spread to several other homes, forcing hundreds of residents to flee.
It took firefighters over two hours to contain the inferno, and Fox 59 reported early Sunday nearly three dozen homes were damaged.
The station had no information on the identities of the two killed, but said firefighters were going door-to-door searching for more victims. At least four more people were injured.
The Associated Press reports one person was found dead in one of the two homes leveled by the explosion.
Lieut. Bonnie Hensley with the Indianapolis Fire Department Hensley said the cause of the explosion remains unknown, adding investigators would better assess the rubble after daybreak Sunday for clues.
Approximately 200 people were taken to an elementary school, Hensley said. Rescue crews remained at the scene Sunday, searching in the event of finding any more victims. All power and other utilities were cut to the neighborhood. Most of the evacuees later went on to stay with relatives, friends or at hotels, though about 15 to 25 were spending the night at the school on cots.
The powerful blast caught sleeping people unaware, so strong that it knocked garage doors off their hinges and caved in walls of homes in the residential community on the south side of Indianapolis. Many awakened by the blast scooped up their pets and were led away, still in their pajamas.
Pam Brainerd, a 59-year-old hospice nurse, said she was asleep on her couch when the tremendous explosion rocked the neighborhood, blowing out the upstairs windows in her house.
"I was sleeping on the sofa and all of a sudden, my upstairs windows were blowing out and my front door was falling in," Brainerd told The Associated Press. "My front door came off the frame. It was the largest bang I've ever heard."
Right after the explosion she stepped outside to see what she described tall flames one street away. "There was a house engulfed in flames and I could see it spreading to other houses. It looked like a war zone," she added.
The scene was initially chaotic outside a nearby elementary school where most residents were evacuated. Several people milled about pajamas, some with dogs on leashes. One lady brought along her cat.
Beyond the school's parking lot, smoke was still visible, rising in the distance. The smoke was illuminated by bright lights of emergency responders. Brainerd later left the elementary school to meet up with relatives, her two dogs in tow.
The cause of the explosion and fires wasn't immediately clear, but Indianapolis Mayor Greg Ballard immediately squelched initial speculation of a possible plane crash.
Television video showed tall flames shooting overhead soon after the blast, but firefighters later had the falems out, leaving clouds of gray smoke billowing overhead.
"It was so strong that it clearly had an effect for blocks," Ballard said.
He added that police went door to door after the blast to get everyone out. While some questioned whether natural gas was suspected in the blast, he said he had no preliminary information on a possible cause. He said it was still a time for taking care of those forced out.
"We're going to need some comforting in the next few days," Ballard added.
The blast was heard for miles all around. But for those close by, it was deafening.
Bryan and Trina McClellan were at home with their 23-year-old son Eric when the shock wave from the blast a block away shuddered through their home. It knocked the windows out along an entire side of their house.
Bryan McClellan said he raced to the basement to check on his two young grandchildren, ages 2 and 3, sleeping there.
"It was very very loud. It blew out the windows of our home and I thought something had happened in the basement of our house. I ran downstairs because my grandkids were in the basement." Thankfully, he said, they were all safe.
"The youngest one was holding his ears saying, `Loud noise, loud noise.' " he added.
Eric McClellan said he ran to the scene of the explosion and saw homes leveled or nearly leveled "Somebody was trapped inside one of the houses and the firefighters were trying to get to him. I don't know if he survived," he said, adding firefighters were trying to save a man.
He said firefighters ordered him to leave but he feared the man didn't survive.
Sarah Shaw and her sister, Rachel Kissel, are both nurses who heard the explosion while playing a video game at Rachel's house about a mile away.
They were barred from helping at the explosion site, but said they went to the school and helped treat some minor cuts and a woman whose back had to be stabilized after part of a wall fell on her. They said she was taken for further treatment.
The Associated Press contributed to this report.