As Harvey rescues rise in Houston, shelters become overpopulated
More than 3,000 people have been rescued by police in Houston since Harvey hit the city -- and that included 1,000 people rescued in eight hours on Monday alone, Mayor Sylvester Turner said.
But as that number rises, finding enough shelter for everyone has become a challenge. More buses were showing up at the Houston Convention Center, which already was housing about 5,500 people Monday -- and officials are accepting anyone who arrives.
But capacity for the center, located on the east side of downtown Houston, is 5,000.
Not everyone at the shelter has cots, with some being relegated to sleeping in chairs. The onus from making the location as "close as home to possible," a Red Cross official said, has shifted to getting people out of danger.
HARVEY FLOOD FEARS EXPAND TO LOUISIANA AS TEXAS BRACES FOR MORE FEET OF RAIN
Harvey has been blamed for at least three confirmed deaths, including a woman killed Monday in the town of Porter, northeast of Houston, when a large oak tree dislodged by heavy rains toppled onto her trailer home.
The storm is generating an amount of rain that would normally be seen only once in more than 1,000 years, said Edmond Russo, a deputy district engineer for the Army Corps of Engineers, which was concerned that floodwater would spill around a pair of 70-year-old reservoir dams that protect downtown Houston.
The flooding was so widespread that the levels of city waterways have equaled or surpassed those of Tropical Storm Allison from 2001, and no major highway has been spared some overflow.
The city's normally bustling business district was virtually deserted Monday, with emergency vehicles making up most of the traffic.
And the rain has yet to end: sometime Tuesday or early Wednesday, parts of the Houston region will probably break the nearly 40-year-old U.S. record for the biggest rainfall from a tropical system -- 48 inches, set by Tropical Storm Amelia in 1978 in Texas, meteorologists said.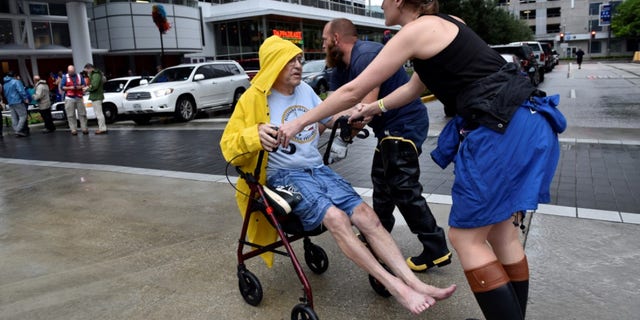 Harvey increased slightly in strength Monday as it drifted back over the warm Gulf, according to the National Hurricane Center.
Forecasters expect the system to stay over water with 45 mph winds for 36 hours and then head back inland east of Houston sometime Wednesday. The system will then head north and lose its tropical strength.
Before then, up to 20 more inches of rain could fall, National Weather Service Director Louis Uccellini said Monday.
"There's probably never been anything like this," President Donald Trump said on Monday, before vowing to rebuild. "You're going to get your funding," Trump told a Texas reporter. "I think you'll be up and running very, very quickly."
But first - more rainfall.
Fox News' Caroline Shively and The Associated Press contributed to this report.