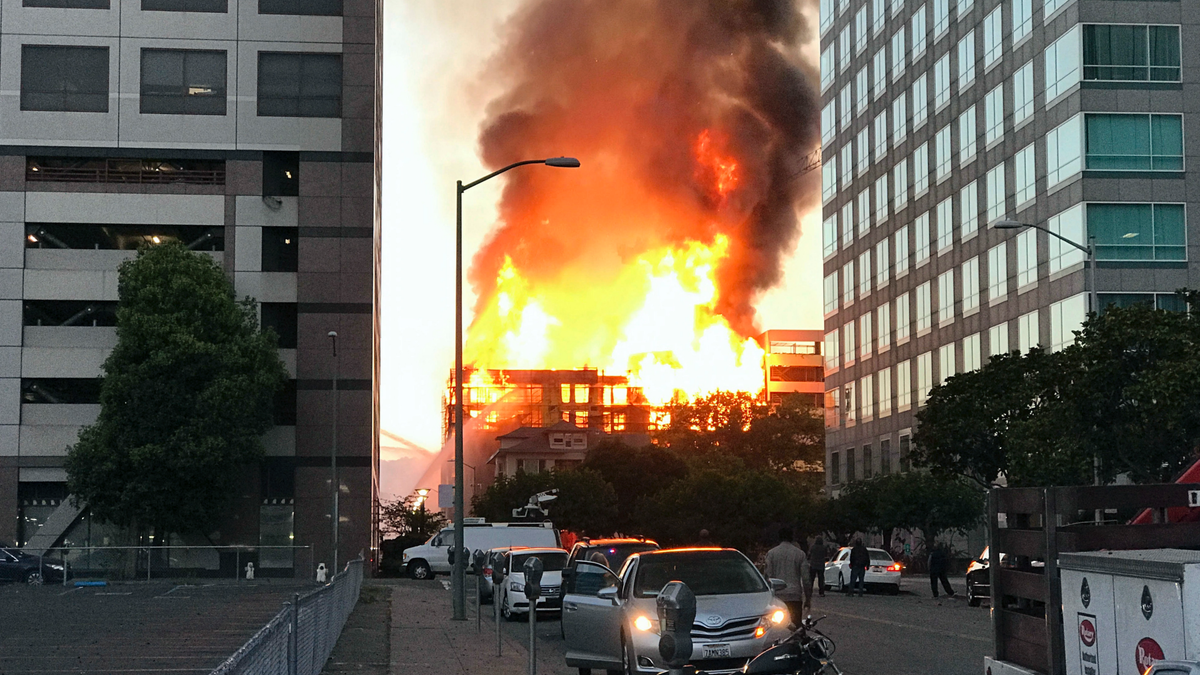 SAN FRANCISCO – San Francisco Bay Area developers are on edge and boosting security at building sites in the region after four recent fires destroyed under-construction apartments in a region often divided by affordable housing politics.
Federal authorities say the first three fires were arson and that they are investigating the fourth, which destroyed a 196-unit apartment project in Oakland on Friday.
"I'm basically terrorized," said developer Athan Magganas, who owns a 41-unit project destroyed by arson on Oct. 31.
The Bureau of Alcohol, Tobacco, Firearms and Explosives also said arson is to blame for two separate fires that destroyed the same mixed-use development in nearby Emeryville in July 2016 and in May.
Magganas and Emeryville developer Rick Holliday say they are rebuilding under heightened security, including beefed-up patrols and additional surveillance cameras.
Nearly two dozen ATF agents arrived in Oakland Monday to investigate the most recent fire.
ATF officials have not determined a cause of Friday's fire and wouldn't say if the previous three were linked. But the agency did announce a $110,000 reward for information leading to an arrest. It also released a video clip of a man scurrying up scaffolding attached to the side of the Emeryville development shortly before it was consumed by fire.
The clip also shows the man first on a bicycle, and then walking away from the building while pulling a dark hood over his head. The ATF has not identified the man, who investigators call a "person of interest."
ATF officials also wouldn't discuss possible motives.
Magganas and Holliday say ATF officials have so far shared little about their investigation, which was sidetracked by a Dec. 2 warehouse fire in Oakland that killed 36 people and diverted the agency's attention.
Holliday declined to speculate on a possible motive, saying he believed all four fires are linked, "but that is completely born out of frustration and general intuition."
Magganas said he believed the fires are motivated by political opposition to development in the region.
"There are people and small groups with axes to grind," said Magganas, who said his project faced opposition when it was first proposed in 2008. "There's always opposition here."
On Friday, Oakland Mayor Libby Schaaf said at a news conference that the fires were "disconcerting" and hurting the city.
"Oakland is in the middle of a housing crisis, and the loss of these valuable units only exacerbates it," she said.
Builders throughout the region navigate thickets of building regulations and bureaucracy and often run into opposition from organized groups who simply oppose more development or advocate for more affordable housing and open space like the San Francisco Bay Area Planning and Urban Research Association, better known as the civic planning organization SPUR.
Robert Ogilvie, who runs SPUR's Oakland chapter, warns against speculating about possible motives until ATF announces one.
"People are nervous and suspicious," Ogilvie said. "Everything else is conjecture."