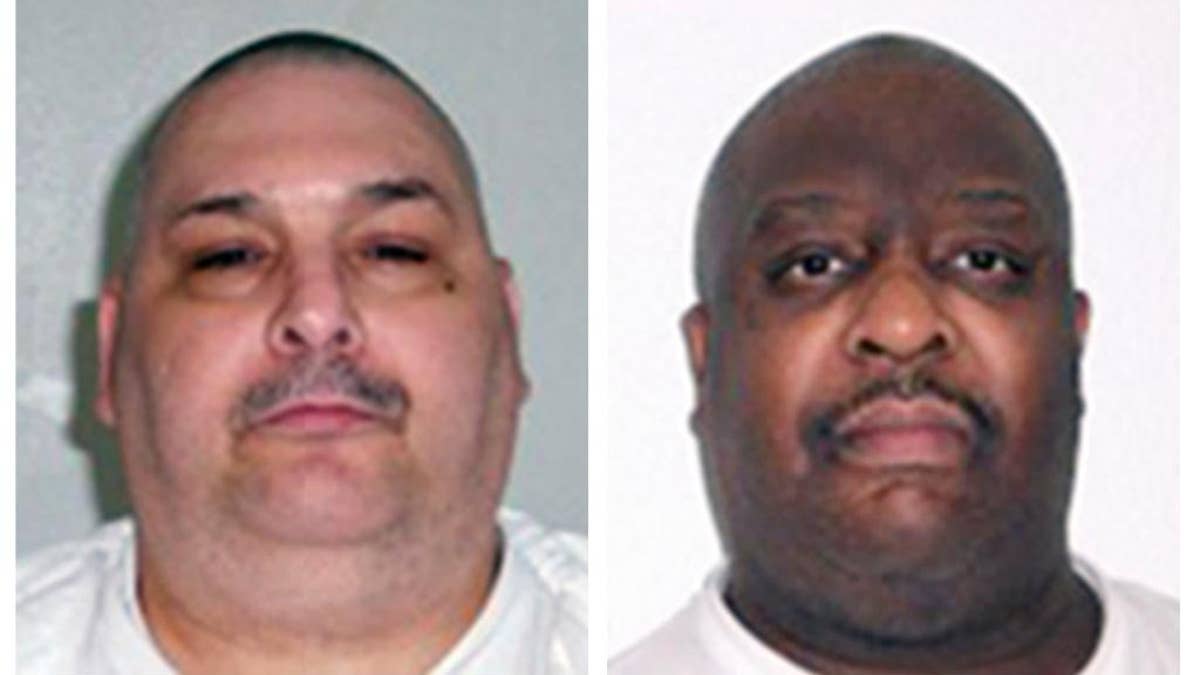 The Supreme Court has denied a stay request for one of two condemned Arkansas killers set to die Monday in the first double execution in the United States since 2000.
Justices rejected a stay request from Jack Jones, who was set to die at 7 p.m. Central Time Monday. A second inmate, Marcel Williams, was set for execution later Monday though he still has pending legal challenges.

In Jones' case, attorneys said he takes a daily dose of two medications to treat chronic pain, and they worry those drugs could desensitize him to the effects of midazolam, a sedative that is the first drug used in Arkansas' lethal injection protocol. Jones also has diabetes and had a leg amputated in prison.

Williams, set for execution at 8:15 p.m., has appeals pending with the U.S. Supreme Court. Williams' "morbid obesity makes it likely that either the IV line cannot be placed or that it will be placed in error, thus causing substantial damage (like a collapsed lung)," his attorneys wrote in a court filing asking justices to block the execution.

EX-SOLDIER'S PAROLE FOR LOUISIANA MURDER YANKED AT LAST MINUTE
Both men were served last meals on Monday afternoon, Arkansas Department of Correction spokesman Solomon Graves said. Jones had fried chicken, potato logs with tartar sauce, beef jerky bites, three candy bars, a chocolate milkshake and fruit punch. Williams had fried chicken, banana pudding, nachos, two sodas and potato logs with ketchup, Graves said.

They would be the second and third inmates executed by Arkansas this month. A fourth execution is set for Thursday. Arkansas initially wanted to execute eight men before a drug used to sedate the inmates expires Sunday, but four other inmates have won stays.
The last state to put more than one inmate to death on the same day was Texas, which executed two killers in August 2000, The Associated Press reported.
WOMAN WHOSE 10-YEAR-OLD DAUGHTER WAS KILLED IN 1999 LOSES SECOND DAUGHTER TO MURDER
Arkansas Attorney General Leslie Rutledge said in court documents Monday that the stay requests were "another dilatory and piecemeal litigation tactic," and claimed that the executions were lawful.
Williams was sent to death row for the 1994 rape and killing of 22-year-old Stacy Errickson, whom he kidnapped from a gas station in central Arkansas.
Williams abducted and raped two other women in the days before he was arrested in Errickson's death, investigators said. Williams admitted responsibility to the state Parole Board last month.
"I wish I could take it back, but I can't," Williams told the board.
Jones got the death penalty for the 1995 rape and killing of Mary Phillips. He strangled her with the cord to a coffee pot.
In a letter earlier this month, Jones said he was ready to be killed by the state.
"I forgive my executioners; somebody has to do it," wrote Jones, who had a leg amputated in prison because of diabetes and uses a wheelchair.
The letter, which his attorney read aloud at his clemency hearing, went on to say: "I shall not ask to be forgiven, for I haven't the right."
The state killed Ledell Lee last week in the state's first use of capital punishment since 2005. State officials said the executions needed to be carried out before its supply of the sedative midazolam expires on April 30.
A federal judge on Friday rejected requests from Jones and Williams to stop their executions over their health concerns. Two federal judges ruled against the inmates in separate cases Sunday. One denied a stay of execution to Williams, saying that the 8th Circuit Court of Appeals has jurisdiction in the case. Another federal judge denied the inmates' request for changes to the rules for witnesses to view the executions.
Fox News' Shannon Bream and The Associated Press contributed to this report.