Arkansas board rejects condemned killer's clemency bid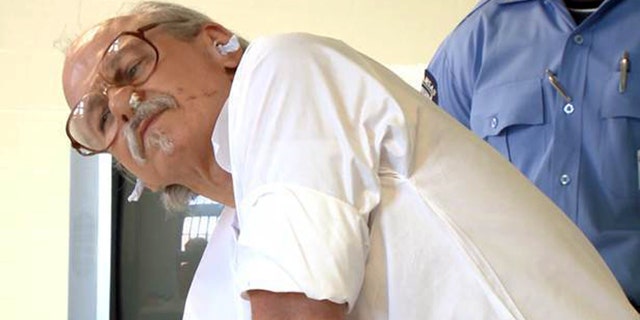 LITTLE ROCK, Ark. – Members of the Arkansas Parole Board said Thursday that an inmate scheduled to die next month for killing a man who had helped him out doesn't deserve to have his sentence reduced to a life term.
Jack Greene is set to die Nov. 9 at the Cummins Unit prison at Varner, southeast of Little Rock. He was convicted in the 1991 death of Sidney Burnett, who was beaten with a can of hominy and then stabbed and later shot. The board said Thursday it would recommend that Gov. Asa Hutchinson let the death sentence stand.
In emotional and graphic testimony before the board Wednesday, three of Burnett's daughters likened Greene to a dog and a terrorist.
Prosecutor David Gibbons told the parole board that Burnett and his wife, Edna, had taken in Greene and his girlfriend and given Greene work. Burnett's daughters said Greene turned on the family after Edna Burnett helped the girlfriend escape Greene's abuse.
Gibbons said Greene could have killed Burnett quickly, but didn't.
"The purpose was to torture that man," Gibbons said, describing Burnett being beaten and stabbed and having his face slit from his mouth to his ear.
"That man felt every bit of that," Gibbons said. Only late in the attack did Greene shoot Burnett with a .25-caliber pistol. "To kill him would have been a snap."
Greene's lawyers told the panel that Greene is mentally ill and that his execution would be unconstitutional. Greene appeared before the board Wednesday with rolled up tissue stuck in both ears and his left nostril. What appeared to be blood stained the skin below his left ear.
The board said it would recommend against clemency in a two-line statement, as is its custom. It said the vote was unanimous, 6-0.
One of Greene's lawyers, Scott Braden, called on Hutchinson to grant clemency regardless of the board's vote, saying "it would merely be a miserable spectacle" if the execution went ahead.
___
Follow Kelly P. Kissel on Twitter at https://twitter.com/kisselAP