Arizona man says he was assaulted while wearing MAGA hat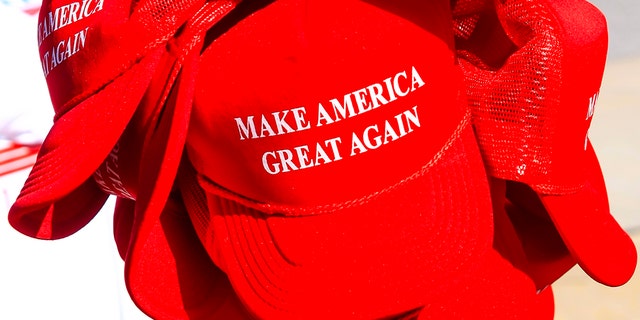 An Arizona man said he was hospitalized after he was attacked for wearing a "Make America Great Again" hat.
Jonathan Sparks told KVOA he was walking through downtown Tucson the Saturday before Election Day to encourage people to vote for Republicans. He wore the red hat that was made popular during President Trump's presidential campaign and held a pro-GOP sign. He said he felt somebody from behind grab him by his hat and hair.
"The assailant had jumped onto my ankle from behind and so I, not knowing my ankle was broken into four pieces, I turned around to grab and take the hat back. My hands latched onto the hat," Sparks told KVOA.
MAN ACCUSED OF TOSSING DRINK AT PRO-TRUMP TEEN INSIDE WHATABURGER ARRESTED
"Then, I heard the words 'Hitler,' 'Nazi' and 'Trump.' He was shouting things like that," he continued. "He came over the top of me and over and over again, he hit me."
Bystanders and police officers were able to pull the two apart. Tucson police said it arrested Daniel Zaroes Brito, 42, on robbery charges -- but additional charges could be filed.
Sparks said he was wanted to share his enthusiasm for "fantastic president."
"I think that intolerance to his ideology was the flame," Sparks said.
Sparks said he believed circumstances would have been different if he was holding an anti-Trump sign.
NBC STATION FIRES REPORTER FOR WEARING MAGA HAT WHILE COVERING TRUMP RALLY
Sparks said he had to have surgery following the incident. He said he learned a valuable lesson.
"I was attacked with vengeance by an evil man, but you know what I learned? You know what God taught me through the whole thing? How wonderful Tucson is," he said. "There were people who pulled him off, paramedics who stayed with me there is a police officer that protected me."
The red hat has been a symbol of controversy in recent months. Last month, a reporter for NBC affiliate KTTC-TV in Austin was fired for reportedly wearing a "Make America Great Again" hat while covering the commander in chief's rally. In August, a Texas man was indicted for allegedly stealing a teen's hat before throwing a drink in his face at a Whataburger restaurant.
Fox News' Amy Lieu and Stephen Sorace contributed to this report.