Arizona high school forfeits championship game rather than face girl opponent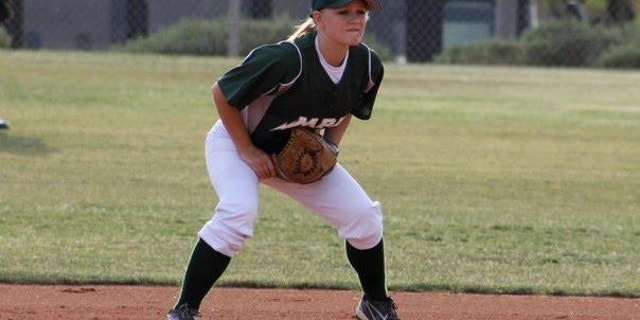 A state championship high school baseball game is over before tonight's first pitch, after one Arizona team forfeited rather than play an opponent with a girl in the lineup.
Our Lady of Sorrows refused to play Mesa Preparatory Academy in Thursday's scheduled Arizona Charter Athletic Association state championship game, because that team has Paige Sultzbach at second base. The 15-year-old agreed to sit out a pair of regular season victories over Our Lady of Sorrows, which is run by the Society of St. Pius X, an traditionalist church that broke away from Roman Catholic Church over Vatican reforms in 1970. But with everything on the line tonight, Sultzbach wasn't willing to stay glued to the bench — even if it means no game at all.
"It's unfortunate," Sultzbach's father, John, told FoxNews.com. "We hadn't anticipated coming across that. I think it's sad."
The forfeiture is a "little bittersweet" for Paige, however, because she is part of an 11-0 championship team, but her father said that's no way to cap off a season.
"She's glad that they are the state champions, and she's happy the way her school and her teammates stood behind her," John Sultzbach continued. "But she wanted to play."
In a statement to FoxNews.com, an Our Lady of Sorrows official said the school had no choice but to forfeit because it has a strict policy prohibiting participation in co-ed athletics and believes in "forming and educating boys and girls" separately.
[pullquote]
"Teaching our boys to treat ladies with deference, we choose not to place them in an athletic competition where proper boundaries can only be respected with difficulty," the statement read. "Our school aims to instill in our boys a profound respect for women and girls."
The school is not part of the Roman Catholic Diocese of Phoenix, according to a spokesman. The Society of St. Pius X claims to run 88 schools worldwide and recognizes the Pope, although Pope Benedict XVI has declared that the society has no canonical status.
Randy Baum, executive director of the Arizona Charter Athletic Association, said the league supports allowing girls to play in all sports and that Our Lady of Sorrows was aware of that policy. Baum said the school had previously withdrawn from a flag football tournament in October because some team had female members.
"There's nothing the league can do," Baum told FoxNews.com.
Prior to this year's baseball season, Baum said Our Lady of Sorrows officials asked all potential opponents if they had girls on their rosters. At the time, Sultzbach was not part of the team. After joining the Monsoons, Paige voluntarily sat out two games against Our Lady of Sorrows out of respect for the team's beliefs.
But that wasn't going to happen this time, Sultzbach's father said.
"There is no game, the other team forfeited," he said. "Instead of changing their position, they decided to not play the game. Both teams worked hard to get to where they are and to have it come down to that is unfortunate."