Archie Comics Announces Gay Character Will Marry -- Will Anyone Object?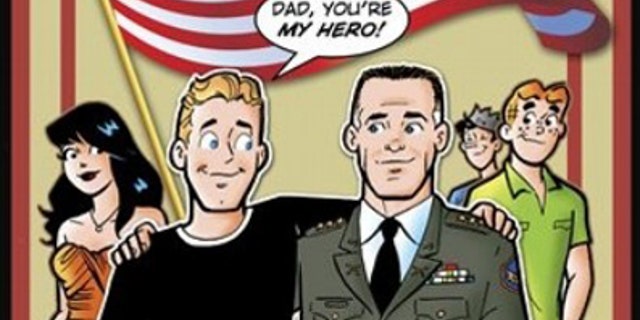 Archie is going from comic to culture warrior again, as the Archie Comics universe fields praise and scorn over a gay wedding.
After a pair of straight weddings -- both strangely involving Archie, though in his dreams -- drew national attention, the publisher behind the popular stories has confirmed that it's making room for someone else to walk down the aisle: Kevin Keller, the series' first openly-gay character.
"Kevin followed in his father's footsteps and is returning to Riverdale as a war hero, but that's not all – It's Kevin's wedding day!" reads a news release from Archie Comic Publications, promoting an upcoming issue of "Life With Archie."
In this offshoot series, which runs glimpse-into-the-future storylines based on the lives of Archie, Betty and Veronica, readers soon will be able to discover how Kevin met "Mr. Right."
It's the first time the Archie universe, which depicts the lives of teenagers in the fictional town of Riverdale, has touched upon the topic of gay marriage. But the plot is drawing mixed reactions from critics over whether or not it has a place in series read by those of all ages.
"I think it's great that the reality of America's loving couples are being portrayed in as many places as possible," said Evan Wolfson, the founder and president of Freedom to Marry, a national movement for marriage equality.
"We all want to be part of family and community -- that's what marriage is about," he said. "Gay people share the same dreams."
But for others, Kevin's path to the altar isn't so peachy-keen.
"It's unfortunate that a comic book series usually seen as depicting innocent, all-American life is now being used to advance the sexual revolution," said Peter Spriggs, a senior fellow at the Family Research Council, a Washington, D.C.-based lobbying organization promoting Christian views.
"I think whatever boost in sales might come from the novelty or curiosity factors will be more than offset by the number of both kids and parents who will be turned off by this storyline and its obvious social and political agenda," he said.
Kevin first appeared in Archie Comics in September 2010, and was added to the series in what the publisher said was a move to keep Riverdale up to date with modern times.
"Archie's hometown of Riverdale has always been a safe world for everyone," co-CEO Jon Goldwater told the Washington Post. "It just makes sense to have an openly gay character in Archie comic books."
The issue with Kevin's wedding will hit newsstands in January 2012.