American flag discovered in Camp Fire ruins in California
Amid the raging Camp Fire's red glare, that Star-Spangled Banner yet waved.
Members of a search and rescue team working in wildfire-incinerated California neighborhoods found themselves living out the national anthem and discovering "our flag was still there" -- the American symbol the only thing in the area not singed by the deadly blaze.
The Elk Grove Police Department was providing mutual aid in Paradise, which had been leveled after the fire erupted Thursday, when officers Katie Cooley and Julius Lewis noticed a flagpole on Ripley Lane standing tall.
"It definitely caught my attention, it was pretty amazing to see," Lewis told "FOX & friends." "The house in the backdrop was completely burnt to the ground, yet the flag was still there."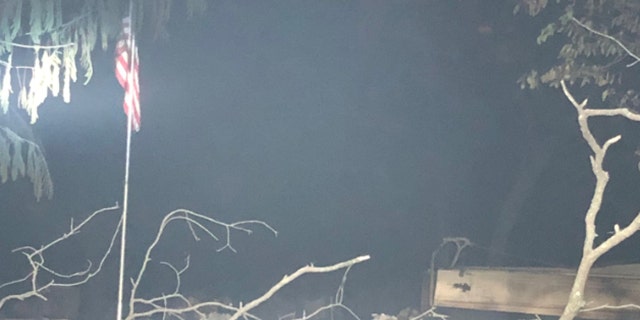 Lewis said he took a picture of the flag while he was sitting in his vehicle because he just sat there for a while looking at it.
The Camp Fire has become the deadliest blaze in state history, with at least 42 people confirmed dead. Coroner search teams, many accompanied by a chaplain, have fanned out across the city of 27,000, to visit dozens of addresses of people reported missing since the fire broke out.
UTILITY CONTACTED WOMAN ABOUT POWER LINE PROBLEMS DAY BEFORE DEADLY WILDFIRE, REPORT SAYS
Lewis said being on the scene was a "sobering experience."
"It really is something that pictures and video can't really explain it, like being there," he said Tuesday. "It was really eerie, felt like something kind of like Armageddon."
The officers documented the address where the flag was discovered and secured it, in hopes of returning it to the owners in the future.
CALIFORNIA GAME WARDEN FINDS WIFE'S WEDDING RING IN ASHES AT HOME DESTROYED BY CAMP FIRE
"Once the situation stabilizes in Paradise and things calm down a little bit, we'll try to work with the city there, and public records or however we can do that to try to locate the owners," Cooley said. "We documented the address and we'll try to figure out who the rightful owner is."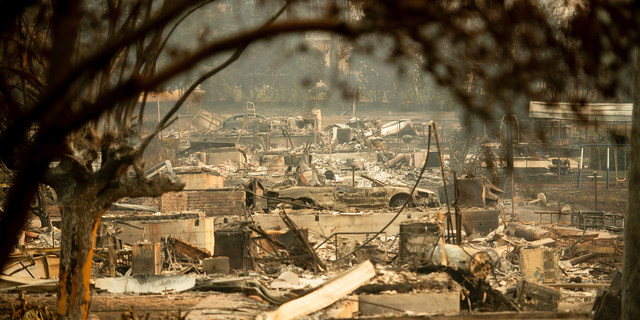 Authorities have not determined a cause for the Camp Fire, but Pacific Gas & Electric Co. reported irregularities with equipment near the time and place where the blaze began.
A woman who owns land near the site where the blaze broke out told the Associated Press on Monday that Pacific Gas & Electric Co. sought access to her property just before the blaze started because the utility's power lines were causing sparks.
The Associated Press contributed to this report.