After upset Iraqi vote, US prepares to embrace a former foe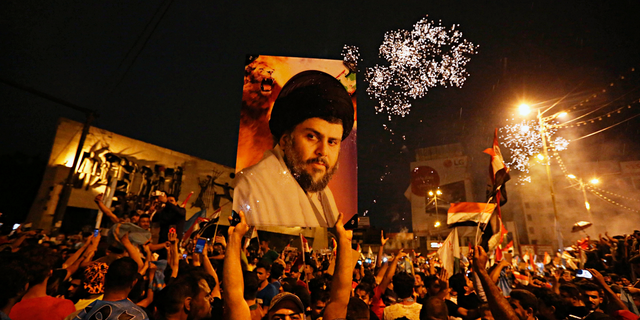 WASHINGTON – Fourteen years after Muqtada al-Sadr's militias fought American troops, the United States is preparing to work hand in hand with the charismatic Shiite cleric and his movement, hoping to find common cause in curtailing Iran's influence in the wake of an upset Iraqi election.
Like many Iraqis, Washington was caught off guard by the election, in which a coalition organized by al-Sadr took the largest share of the parliamentary vote. Although al-Sadr, who didn't run himself, won't become prime minister, his movement will have an outsize role in building the next government and determining the course of Iraq's future.
Can the U.S. really set aside the past and embrace a cleric whose Mahdi Army killed U.S. and Iraqi troops and was accused of kidnapping, torturing and killing Sunni Iraqis? The tentative answer is yes.
U.S. officials involved in Iraq policy said President Donald Trump's administration was cautiously optimistic that al-Sadr, having evolved over the years into a populist, corruption-fighting leader, could herald the formation of a broad-based and inclusive government that tolerates a continuing American presence in the country.
Al-Sadr has turned away from his previous alignment with Iran. U.S. officials believe that will make it more difficult for Tehran to install an Iran-friendly government in Baghdad. The officials weren't authorized to discuss Iraq's election publicly and spoke to The Associated Press on condition of anonymity.
Zalmay Khalilzad, the former U.S. ambassador to Iraq, said recent public messages from al-Sadr bode positively for U.S. interests — such as finishing off the Islamic State group, a common enemy of the U.S. and al-Sadr's militia. In addition to vowing to respect Iraq's constitution, al-Sadr has emphasized Iraqi sovereignty and the need for a balanced foreign policy that limits Iran's influence, as well as his ability to work with secularists and liberals such as Iraq's communist party.
"If he practices what he says — if a former adversary embraces your objectives — one should respond to that, but be cautious until you see changes on the ground," Khalilzad said. "If he's willing to engage, we should be prepared to engage as well."
Publicly, the Trump administration has said little about the success of al-Sadr's slate of candidates, in part because the vote count hasn't been finalized and a new coalition government has yet to be formed. State Department spokeswoman Heather Nauert said she didn't want "to get ahead of the process and presume how things are going to look in the end."
"The overarching theme right now is congratulations to Iraq for holding democratic and free elections," Nauert said.
Yet in its limited comments, the State Department has also dropped buzzwords that signal tacit acceptance of al-Sadr and his agenda, voicing U.S. support for a "nationalist government" that is "sovereign" and leaves "sectarian divisions behind."
In many ways, al-Sadr's surprising political climb mirrors that of Trump and other nationalist figures in Europe, Asia and the Arab world who have tapped into the populist impulses coursing through world politics. In fact, even before this week's vote, some Iraqis had drawn their own comparisons between al-Sadr and Trump.
With an extraordinary ability to work the media and attract millions to his fiery rallies, al-Sadr railed against corruption and threats from outside the country's borders. He capitalized on his outsider status and led his coalition to electoral success in a low-turnout election, securing support beyond his traditional Shiite base by allying with secularists and Iraq's communist party.
It was that populist message that won over Abu Ali Sweirawi, 50, who backed al-Sadr's candidates in the election. He blamed Iraq's current government for failing to provide basic services like health care, employment, trash collection and affordable education.
"If it were not for Sadr, we would not finish off these corrupt politicians," he said, adding that al-Sadr would "form a new government, and God willing, we will see good results."
For al-Sadr, it's a striking about-face from 2003, when he led a bloody uprising against American and coalition forces in Iraq. Yet behind the scenes, the U.S. has been in quiet contact with al-Sadr and his camp since at least 2007, several current and former U.S. officials said.
Peter Feaver, who helped draft Iraq policy in the George W. Bush administration from 2005 to 2007, said the U.S. had long recognized that, for better or worse, al-Sadr did have a legitimate political base.
"If the leopard could change its spots, then there might be some political future," said Feaver, now a Duke University professor. "He was young enough that it was possible.
In an AP interview this week, al-Sadr's spokesman, Salah al-Obeidi, indicated his group had moderated its views. He pointed out that the incumbent prime minister, Haidar al-Abadi, nurtured military and diplomatic ties with Washington during his four years in office.
"We did not have any problems with that," al-Obeidi said.
The election comes as the Trump administration is keenly focused on opposing Iran and preventing what the U.S. sees as the Shiite-led nation's malign influence in the Arab world. Underscoring that concern, Qassem Soleimani, the head of Iran's elite Quds force, was in Baghdad this week talking with politicians about the formation of a new coalition government.
Al-Sadr once sought refuge in Iran when the U.S. was looking to capture him. But more recently he has reached out to Iranian adversaries like Saudi Arabia and the United Arab Emirates, even meeting with Saudi Crown Prince Mohammed bin Salman last year.
___
Associated Press writers Philip Issa, Qassim Abdul-Zahra and Susannah George in Baghdad contributed to this report.
___
Reach Josh Lederman on Twitter at http://twitter.com/joshledermanAP