After delays, former Iraqi translator will be US citizen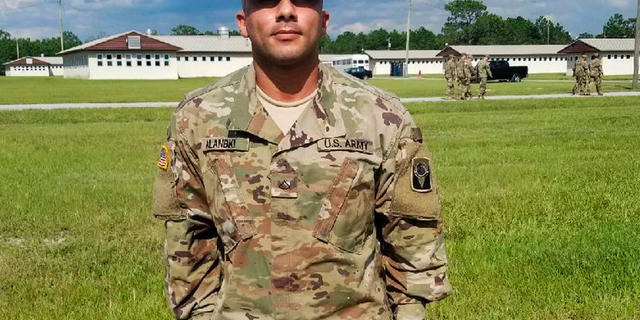 ORLANDO, Fla. – More than a year after a former interpreter for U.S. military forces in Iraq was pulled out of a U.S. citizenship ceremony without explanation, he's about to be naturalized.
Haeder Al Anbki said Monday he was notified over the weekend that he could participate in a naturalization ceremony next week in Orlando. Al Anbki had sued a federal agency over the matter. He was given no explanation for the government's reversal in his case, but he credited stories by The Associated Press and The Tampa Bay Times with publicizing his plight.
"The articles and it's out in the public ... made the changes and it's opening many eyes to see the truth," Al Anbki said Monday in text message from Camp Blanding in Jacksonville, where he was training with his Florida National Guard unit.
The Iraqi native was at a June 2017 naturalization ceremony in Fort Benning, Georgia, for 20 immigrant recruits when he was stopped and told he wouldn't be participating. No explanation was given other than "there was a problem in the system," according to a lawsuit he filed last month in the District of Columbia.
Al Anbki, 36, said in the lawsuit that the U.S. Citizenship and Immigration Services was obligated to complete his citizenship application but instead was applying a different set of rules under a program known as the Controlled Application Review and Resolution Program, which opponents say targets applicants from majority-Muslim countries.
The once-secret program also is being challenged in federal court in Seattle by the American Civil Liberties Union and the Northwest Immigrant Rights Project. Their class-action lawsuit claims the government since 2008 has blacklisted thousands of applications for asylum, legal permanent residency or citizenship as national security concerns. The case goes to trial next year.
An agency spokeswoman said in an email on Monday that privacy restrictions prevent her from talking about specific cases.
Al Anbki, who works as a security guard at Orlando International Airport, came to the United States in 2011 after working with U.S. troops in Iraq for nine years as an interpreter, a job that allowed him to get a special immigration visa. During his service with the troops, he was stabbed by an insurgent and shot in the leg. He lost a toe on his left foot from shrapnel. His brother, also a translator for U.S. troops, was killed.