ACLU criticizes use of neck holds after Vegas man's death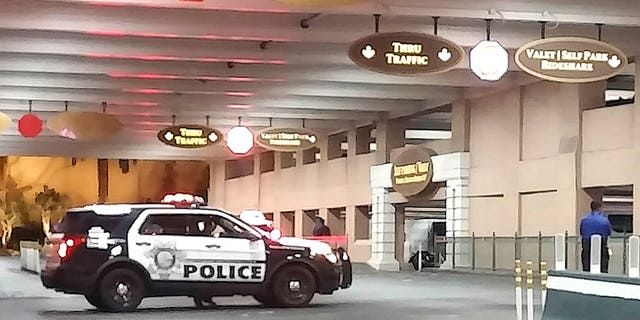 LAS VEGAS – An unarmed man's death after Las Vegas police grabbed him in a neck hold has put a much-criticized law enforcement technique to subdue people back in the spotlight.
Las Vegas police train to use a version of a chokehold designed to avoid restricting the airway while cutting the flow of blood to the brain, a technique the American Civil Liberties Union of Nevada now believes should be off limits.
Tashii S. Brown, 40, died early Sunday outside The Venetian after a police officer used the technique. Brown became unconscious and died, despite efforts at CPR.
"We're aware that they use this. But there has got to be another option," ACLU executive Tod Story said Monday. "There have been people in custody who have died. It really should no longer be used."
Brown's death near The Venetian has drawn comparisons with the July 2014 choking death of 43-year-old Eric Garner at the hands of New York City police. A passer-by captured video of Garner pleading "I can't breathe," while officers pinned him to the sidewalk. His last words became a rallying cry during public protests about police use of force.
The New York Police Department — the nation's largest — banned chokeholds in 1993.
"NYPD doesn't want you going for the neck under any circumstances," said Eugene O'Donnell, a former New York police officer who now teaches at the John Jay College of Criminal Justice in New York. "But many departments still use it."
O'Donnell said handcuffing a person resisting arrest is harder than it looks, but added reaching for the neck can be dangerous.
"Carotid artery versus airway. There are a lot of variables, including the competence of the officer, the condition of the person, mental health issues, whether they're a smoker, alcohol (use)," O'Donnell said. "In the midst of a violent interaction, it's different from doing it in a classroom."
The Clark County coroner said a ruling on what killed Brown is pending.
District Attorney Steve Wolfson said there will be a public use-of-force review to air the findings of the investigation of Brown's death.
Brown, who also used the name Tashi Sebastian Farmer, grew up in Hawaii and lived in recent years with his mother in Las Vegas, said Tynisa Braun, a cousin in Honolulu. Brown was a father of two children in Hawaii and had a business in Las Vegas selling shoes, hats and clothing, she said.
Brown's mother didn't immediately respond to a telephone message seeking comment.
Las Vegas police scheduled a Wednesday news briefing about Brown's death and refused to release any information beyond the written statement issued Sunday. The officers involved were not immediately identified, and it wasn't clear if they remained on-duty while the department investigates.
The statement said Brown acted "erratic," approaching two police officers inside The Venetian, claiming people were chasing him, and then running through a secured area to an outside door.
The officers chased him into a parking area and tried using a stun gun, then punching Brown, before an officer employed the neck restraint. Venetian security guards were also involved in the struggle, police said.