4 dead, 8 hurt in Chicago crash involving CTA bus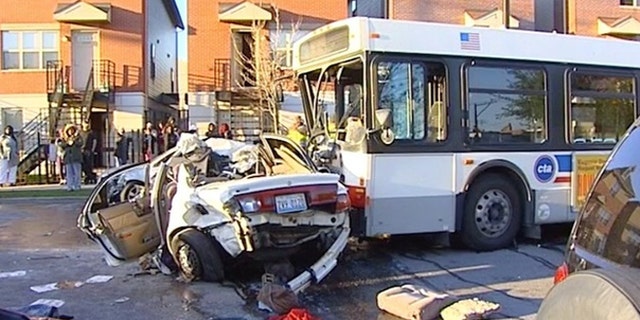 Four people were killed and eight others injured in a head-on crash Sunday involving a Chicago city bus and an automobile.
Chicago police spokeswoman Michelle Tannehill says the accident occurred on the city's west side.
Authorities responded to the crash involving a Chicago Transit Authority No. 20 bus around 6:15 a.m., Fox 32 Chicago reported.
The injured were taken to local hospitals, according to the station. At least four were seriously hurt. The injured included the bus driver.
The car was speeding west when it hit a parked car, lost control and struck the bus head-on, the Chicago Sun Times reported.
The driver and three passengers in the car were killed, police said.
Tannehill said officers from the department's major-incident unit were at the scene.
The CTA also is assisting with the crash investigation, including by reviewing surveillance video from the bus.
CTA spokeswoman Catherine Hosinski say the crash happened at the intersection of Madison Street and Talman Avenue. She said the bus was eastbound Madison at the time.
The Associated Press contributed to this report.