3 Native American boys go home a century after death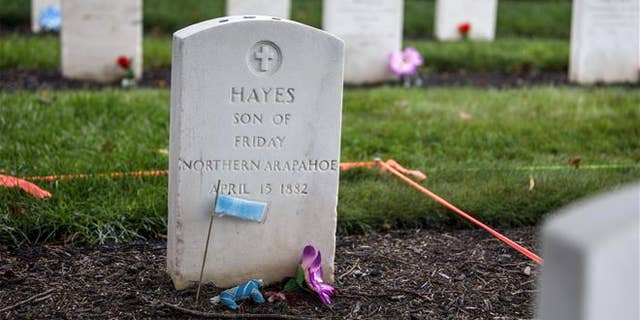 The headstone designated the resting place of Hayes Vanderbilt Friday—a name given to a Northern Arapaho child in what the Philadelphia Inquirer calls a "brutal, turn-of-the-century experiment in forced assimilation." The government-run Carlisle Indian Industrial School was established in 1879 as a place to scrub Native American children of their "savage nature," a process that involved forcing new names, clothing, and language onto them.
More than 180 are buried in a graveyard there, and the Northern Arapaho are now reclaiming the three children that are theirs. This week, more than a dozen tribe members arrived on the former campus in Carlisle, Pa., from Wyoming to oversee the exhumation of 14-year-old Little Chief, 11-year-old Horse, and 9-year-old Little Plume—or, as the school insisted the latter be called, Hayes Vanderbilt Friday.
The children arrived at the school in 1881 and will soon return to Fremont County, Wyoming, for burial. PennLive reports that the US Army, the Army National Military Cemeteries, and a number of anthropologists and archaeologists are carrying out the five-day exhumation, which began Tuesday.
There's a big "X-factor," one archaeologist tells PennLive, in that the children were interred in wooden coffins, making the condition of their remains unknown. The process is being approached with great care: no machines, just shovels, hands, and mesh screens designed to sift out the smallest pieces of coffin or bone.
The dead, many of whom couldn't withstand outbreaks of tuberculosis or the flu, hail from 50 different tribes, and future exhumations are expected. The AP reports the government is covering the $500,000 cost of returning the Northern Arapaho boys home.
This article originally appeared on Newser: 3 Native American Boys Exhumed With Greatest Care