3 gunmen rob Illinois casino; security guard shot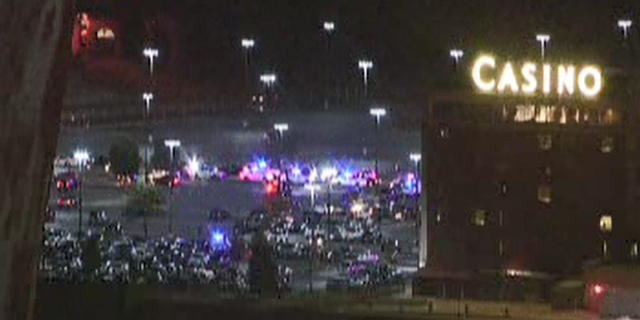 NEWYou can now listen to Fox News articles!
Three people with assault rifles barged into an Illinois casino Sunday, shot a security guard and stole money from the cash cage, police said.
The three armed suspects entered Casino Queen in East St. Louis about 3 a.m. Sunday and shot an unarmed security guard, FOX2 St. Louis reported. Witnesses said they heard a gunshot that sent dozens of people running for the exits.
"As I'm looking for my keys, we heard a gunshot. I'm like 'Oh my god is that a gunshot?'…pop, pop, pop, pop," Keona Edwards told FOX2.
"We just started running, a billion people running. People got ran over by wheelchairs. Money got taken, people left their money. It was just ridiculous," she recalled.
The robbers headed for the cash cage on the first floor of the casino. They took an unspecified amount of cash before fleeing the scene.
The guard was taken to the hospital and is said to be in stable condition. No one else was hurt in the incident, according to FOX2. Witnesses said they heard several gunshots, though it's unclear how many rounds were fired.
Police are still trying to identify the suspects in the robbery. The casino remained close after the incident.