200-year-old shipwreck may shed light on Texas' fight for independence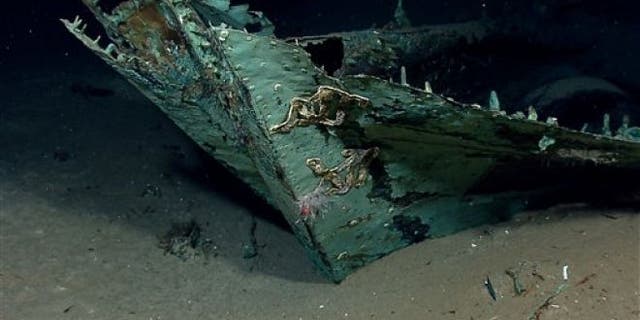 NEWYou can now listen to Fox News articles!
Researchers say a shipwreck discovered 150 miles off the coast of Galveston may provide insight into Texas' fight for independence.
Officials with Texas A&M University at Galveston and Texas State University say the recovery expedition of the two-masted ship concluded Wednesday. It may have sunk in the Gulf of Mexico 200 years ago.
Scientists say it may have been a warship or a vessel transporting arms and soldiers. It may have supported the Mexican army during the fight for Texas independence or been sailing to provide arms to the Texans.
The ship was some 4,300 feet below the surface. Items discovered aboard the vessel include muskets, swords, cannons and clothing.
The artifacts likely date from the early 1800s, when Galveston was the operations base for the notorious French pirate Jean Lafitte, KHOU.com reported.
Some of the debris is believed to have come from Spain and Mexico, but the guns appear to have been manufactured in Britain, according to the report.
"It's really a mystery being put together," Dr.William Kiene, associate science coordinator for NOAA's Office of Marine Sanctuaries, told the station. He compared the salvage operation to "a CSI adventure."
The shipwreck site was noticed as an "unknown sonar contact" during an oil and gas survey last year by Shell Oil Co. Shell reported it to the Bureau of Ocean Energy Management, which teamed with the National Oceanic and Atmospheric Administration to survey the site.
Among the items from the shipwreck expected to arrive in Galveston on Thursday is a leather-bound book that survived for two centuries on the floor of the Gulf of Mexico, KHOU.com reported.
Researchers hope the high-tech salvage operation will offer clues to solving the mystery behind the wreckage.
"Shipwrecks actually create life," Steve Gittings, a coordinator for NOAA's National Marine Sanctuary Program told the station. "They come back to life after whatever goes down with them goes down. So this ship has 200 years of life on it."
The Associated Press contributed to this report.
Click here for more from KHOU.com.