2 Crashes, 2 Missing Men, 2 Different Results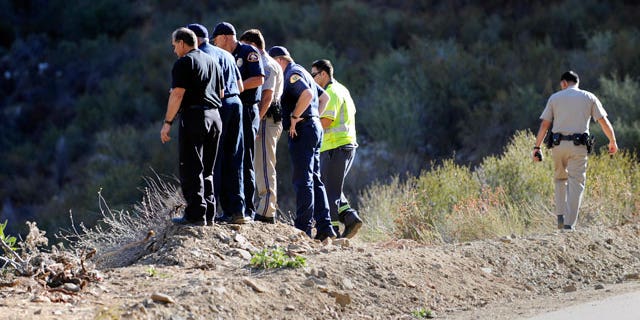 SANTA CLARITA, Calif. -- Two separate missing persons cases. Two families wracked with worry for days. Two wrecked cars, nearly on top of each other. One man alive, the other dead.
The fates of 68-year-old David Lavau and a man believed to be 88-year-old Melvin Gelfand met at the bottom of the same rugged ravine, 200 feet below a curvy stretch of mountain road where both men had lost control of their vehicles and crashed, authorities said Friday.
It appeared to be sheer coincidence that led the men to end up in exactly the same spot of the Angeles National Forest some 50 miles north of Los Angeles.
Lavau lived in the ravine for six days, eating bugs, leaves and drinking creek water to survive, with Gelfand's badly decomposed body in another car only a few feet away.
Lavau was rescued Thursday by his three adult children, who searched a highway between their father's home in northern Los Angeles County and Ventura County, where a detective told them Lavau's bank and cellphone records had placed him, sheriff's spokesman Capt. Mike Parker said.
They drove slowly along the mountain road, stopping to peer over the treacherous drop-offs and call out for their father.
Near him they found a body in a Toyota Camry that belonged to Gelfand, who had been reported missing on Sept. 14, more than a week before Lavau's disappearance, said Los Angeles police Detective Marla Ciuffetelli of the missing persons unit.
"I love my kids. Dead man was not my fault. Love, Dad," read a note Lavau scrawled on his dusty trunk, his family told the Los Angeles Times.
Lavau was at Henry Mayo Newhall Memorial Hospital with three rib fractures, a dislocated shoulder, a broken arm and fractures in his back, said emergency room physician Dr. Garrett Sutter. He was expected to be released in three to four days after surgery on his shoulder and to make a full recovery.
"He was very desirous of a lobster taco," Sutter said.
Dr. Ranbir Singh, the hospital's trauma director, said Lavau told him he was driving to his home when he was temporarily blinded by the headlights of an oncoming car. He braked, but failed to gain traction. The car flipped and plunged down the embankment.
The body found in the other car could not be visually identified due to decomposition, but Gelfand's son-in-law Will Matlack said the family had been contacted by the coroner's office, which was trying to match fingerprints or dental records to make a positive identification.
"The coroner said it's 99 percent a sure thing," Matlack said.
At the bottom of the ravine, Lavau could hear cars and see their lights on the road above and was hopeful he'd be discovered, but as time passed, he grew more uncertain.
Lavau's children had reported him missing last Friday, though they were not certain when exactly he had disappeared.
"Each family member and friend thought that he was with someone else,"' Parker said.
Parker said by the next day the sheriff's detective assigned to the case turned up bank records showing Lavau had made a purchase in Oxnard in Ventura County, and mobile phone records showed he had been in the area.
The children then organized themselves into a search party.
"We stopped at every ravine and looked over every hill, and then my brother got out of the car, and we kept screaming, and the next thing we heard Dad saying, `Help, help,' and there he was," Lisa Lavau told NBC's "Today" show.
Sean Lavau slid down the embankment to reach his father, who was airlifted to the hospital while firefighters helped his children get back up the ravine.
Parker said it was "remarkable" the family was able to make the find in the sparsely populated area about 50 miles north of downtown Los Angeles.
"We admire this family for doing what they did. You've got to love them." the sheriff's spokesman said. "I think there was a higher power involved."
Parker said the fact that the family found their father was no reflection on the work of the Sheriff's Department, which followed all the proper procedures for a missing persons case that had no evidence of foul play.
"What else could we possibly do?" said Parker, pointing out the speed with which detectives turned up records showing Lavau's activity. "I was surprised we did as much as we did. I'm glad we did it."
The California Highway Patrol was investigating the accidents.
Gelfand, a veteran of World War II, simply disappeared, leaving no clues. How he ended up 50 miles north of Los Angeles in his own car remains a mystery.
Daughter Joan Matlack said he was supposed to be heading the other direction toward a casino off Interstate 5 south of Los Angeles.
"We don't know what happened, but it seemed like he was either lost or disoriented," Matlack told KCAL-TV, "Because he was in the complete opposite direction. He went north instead of south."