18-wheeler transporting avocados in Louisiana triggered fiery pileup that left 4 dead, police say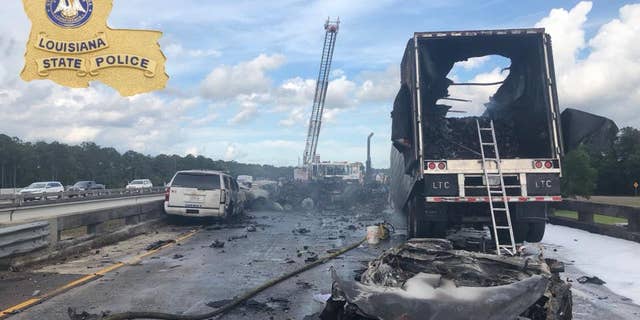 NEWYou can now listen to Fox News articles!
Four people were killed when an 18-wheeler transporting avocados failed to slow down while approaching congestion on a Louisiana interstate and triggered a fiery pileup, police said Sunday.
Louisiana State Police shared details of the Saturday afternoon crash in a news release, saying that there was "traffic was stopped or slowing to a stop on I-12 east at LA 21 due to congestion."
"An 18-wheeler, hauling avocados, was traveling in the right lane on I-12 approaching the traffic congestion," police said. "For unknown reasons, the 18-wheeler was unable to stop and started a chain reaction crash with nine other vehicles. The 18-wheeler jackknifed during the crash and caught fire, along with three other vehicles."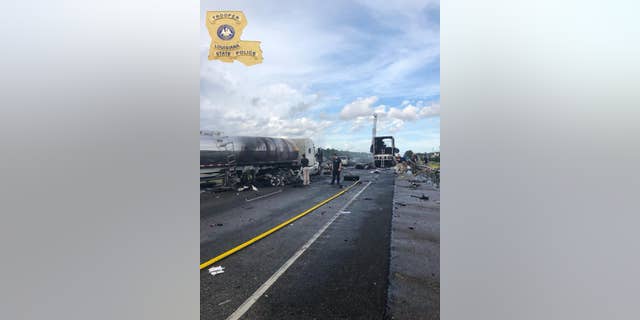 Louisiana State Police said the 18-wheeler's driver, who has not yet been identified, died at the scene - and named the three other people who died in the crash.
Yoland Simmons and Keland Simmons were in a Lexus hit by the 18-wheeler and declared dead at the scene, authorities said.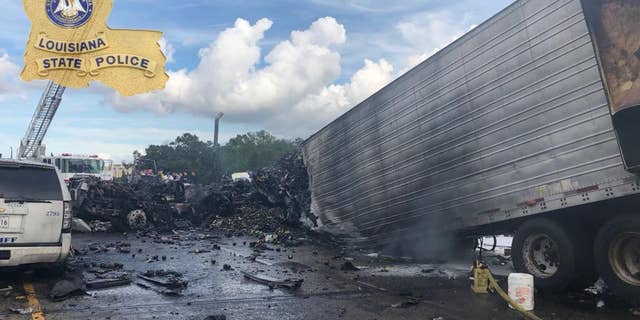 "A 1997 Toyota 4Runner was also struck by the 18-wheeler and the driver, Rachel Lehmann of Mandeville, was taken to the hospital where she later died," authorities added.
WASHINGTON STATE HIGHWAY COVERED IN 40,000 POUNDS OF CHICKEN FEATHERS AFTER SEMI OVERTURNS, CREATES 'FOWL' MESS
A deputy with the St. Tammany Parish Sheriff's Office was also injured in the crash and and taken to a hospital.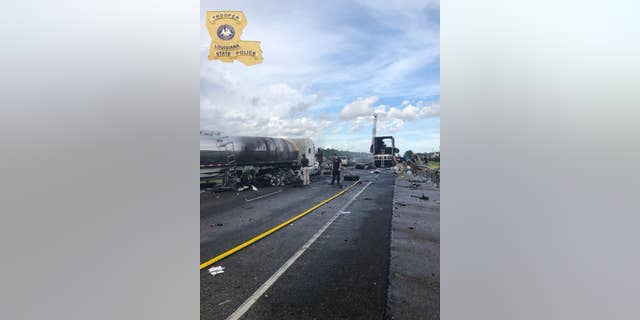 The sheriff's office said Saturday that the male deputy "was transported to a local hospital where he was treated and has since been released; he is expected to make a full recovery."
Authorities also shared a message of prayer.
"This was a horrific crash," the sheriff's office added. "We are praying for all who have been affected by this tragedy and are grateful to the many who have expressed their concern."
State police said that everyone who was hurt in the pileup is expected to recover, and that the crash is still being investigated.
Impairment has not yet been determined to be a factor in the crash, and toxicology tests are pending, according to FOX8.