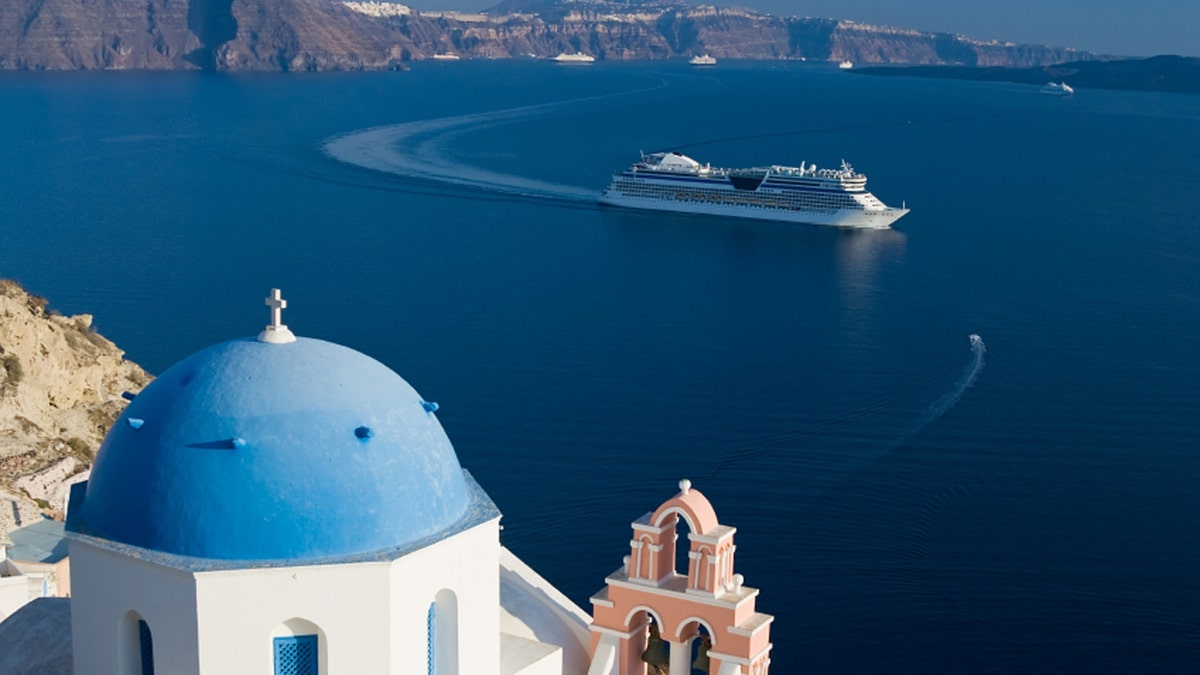 Cruising has come a long way in recent years. It's not just for retirees and it's not just cookie-cutter vacations.
You can pick and choose, now, from small yachts to massive ocean liners. Want your trip to be a culinary tour? Or would you prefer an adventurous, outdoorsy expedition?
All those are options. All you have to do is decide what you want. Start by checking out some of Yahoo's most-searched cruise destinations.
10. Tahiti: Out of a Painting
Tahiti might be pretty far from the U.S., but it's a lush paradise that's second to none. (iStock)
At the heart of the French Polynesian islands in the South Pacific, Tahiti is famous for its black sand beaches, volcanic outcroppings, and stunningly clear water. And, if you want to see it all, there really isn't a better way than by boat. Try the one-week Tahiti and Society Islands trip on the luxurious small boats of Paul Gauguin—the primary cruise operator in the islands. Trips stop in Bora Bora, Huahine, and Moorea (If that's not enough, you can even extend your stay with two nights in bungalows over a lagoon.) Larger boats have also started to expand their Tahiti offerings in recent years, with Oceania and Regent Seven Seas providing 10-day-to-18-day trips. Or, if you have more time, take a 30-day trip on Princess from Australia to Tahiti, Hawaii, and New Zealand.
9. Mexican Riviera: A Riviera Right in Your Backyard
It's said that the term "Mexican Riviera" was actually coined by a cruise company to describe the wealth of small towns and lagoons on the west coast of Mexico. Now, you can see all that on any number of cruises that typically leave from southern California. Take a week-long cruise down the coast from Los Angeles with Carnival for just $550/person or Norwegian Cruise Line's version with its excursions to hidden beaches. If you just need to get somewhere warm and beautiful right now, Holland America still has trips available this December to Cabo San Lucas, Mazatlán, and Puerto Vallarta.
8. New Zealand: Small Country, Large Itinerary
New Zealand: Think beyond the Hobbit Shires. (iStock)
There's lots to do in New Zealand. If you want to sip local wines in Napier, see ancient kauri trees in the Waipoua forest, go whitewater rafting, explore the Southern Alps, and travel to the fiords of Milford Sound, then you're probably going to need a jam-packed cruise itinerary. Crystal has several trips that visit both Australia and New Zealand. Try the 15-day New Zealand Panorama. The only down side is you need to fly all the way there first. Holland America's similar cruise itinerary also visits Tasmania and The Great Barrier Reef, in case everything else wasn't enough. Other adventurous expedition cruises also make unique trips, like Zegrahm, which has a rare cruise permit to visit the wild sub-Arctic islands off New Zealand's southern coast.
7. Greece: Island Hopping in the Mediterranean
While cruises throughout the Mediterranean are popular, trips around the Greek islands are particularly noteworthy for their casual beauty and carefree schedules. Explore the small isles on the luxury yachts of Windstar Cruises or Variety Cruises. The perk of the smaller boats is that they can make their way into frequently unvisited ports. But, if you're looking for a more classic cruise trip, with all the amenities of a large ship, try Norwegian Cruise Line's Greek isles trip, which leaves from Venice before stopping in Corfu, Santorini, and Mykonos. Celestyal Cruises also has quick three- and four-day tours to visit the classic islands of Greece and Turkey.
6. Bermuda: A Quick Jaunt Into the Atlantic
All by itself out in the Atlantic Ocean, Bermuda is such a popular spot for East Coast cruises that there's virtually always a trip leaving and deals are relatively easy to find. Because your cruise is going to be at sea for at least a few days, it's as much about the ship as the island's beaches and capital city, Hamilton. Royal Caribbean has five-night cruises that leave from New Jersey and Maryland for a quick getaway. Or try Carnival's nine-day trip from Miami for just $690/person. Norwegian Cruise Line's popular 4,000-person Breakaway ship makes week-long and two-week-long trips to Bermuda. On board, you'll find an aqua park, a ropes course, three Broadway shows, and countless restaurants and bars. For an ultra-luxury experience, try the 13-day trip with Silversea that starts in either Florida or New York and ends in either Monte Carlo or Spain—with two days in Bermuda on the way.
5. Transatlantic cruises: From Shore to Shore
A cruise ship docked in Lisbon, Portugal. (iStock)
It used to be that cruising the Atlantic was the only way to actually get across it. You can return to those old-fashioned roots, but with more luxury and a whole lot more to do, eat, and see on Cunard's Queen Mary 2—a true ocean liner that takes just one week to make it across the ocean and will celebrate its 250th Atlantic crossing this month. If you have a little more time, take Seabourn's 12-, 14-, or 16-day trip with stops in Portugal and Gibraltar. (Norwegian and Royal Caribbean have similar itineraries for just $700.) Or, take the kids on a long-distance boat ride they'll never forget with Disney's transatlantic voyages.
4. Hawaii: On Hawaiian Time
If you can spare the time, cruising from California to Hawaii can be a great way to start your island vacation—like this two-week Carnival trip leaving from Los Angeles. Most of the big cruise lines stop at Oahu, Kauai, Maui, and the Big Island. Luxury lines like Crystal, though, only schedule a few Hawaii trips each year, so start planning your getaway. Once you're in Hawaii, and if you can pull yourself away from the boat, take trips to the beaches, (inactive) volcanoes, and sea turtle sanctuaries. To do a trip just around the islands, try Norwegian's popular seven-day inter-island cruise that leaves from Honolulu.
3. Alaska: Wild or Not So Wild
Alaska cruises aren't too wild anymore—at least not if you don't want them to be. You can even bring the whole family to explore this northern wonderland. Princess offers a junior ranger program through the National Park Service, and kids love the fun on Carnival and Celebrity ships. But if you'd rather leave the kids behind, then try the Lindblad Expeditions eight-day or 15-day Alaska trip, which partners with National Geographic. Or, enjoy the luxury of the Silversea itinerary. Almost all Alaskan cruises visit Glacier Bay, Ketchikan, Juneau, and Sitka. You can also take an excursion to Denali National Park or go on a smaller whale-watching boat—if you haven't already seen any from deck.
2. The Mediterranean: All the Coastal Sights
Cruises are an extremely popular way to explore the coasts of the Mediterranean. Summer is the high season, but fall trips (or planning for this upcoming spring) offer great deals. There are even some year-round ships with unique itineraries like the trip from MSC Cruises that travels to the Canary Islands and Morocco. If you want to tick off Mediterranean cities, classic cruises from Princess, Viking, or Crystal will visit Monte Carlo, Florence, Istanbul, Athens, Rome, Pisa, and Naples. Smaller boats, like Sea Dream's luxury yachts, can travel to more off-the-beaten path ports.
1. The Caribbean: Classic Cruising
Popular Caribbean cruises have activities for every type of traveler. (iStock)
Nowhere is a more popular cruise designation than the islands of the Caribbean. It's the gateway drug of cruising—perfect for couples on romantic getaways or family trips with all the kids in tow. That means there are plenty of options.
Take off on a small, exclusive ship with Silversea—though a number of its holiday trips are wait-listed—or Windstar. Or, worry about nothing with the completely all-inclusive trips from Regent Seven Seas. Or, stick with the tried-and-true Caribbean super liners, like those offered by Royal Caribbean, which even has its own private beach in Haiti. Holland America also has its own private two-mile white sand beach in the Bahama's Half Moon Cay. Whatever you choose, you can't go wrong.
More from Yahoo! Travel
Forget El Nino - these east coast ski resorts are great at snowmaking
Airbnb Host Gets Assaulted During Wild Party Held By Guest