World's longest, highest glass bottom bridge opens over China's Zhangjiajie Canyon
The world's longest and highest glass-bottom suspension bridge officially opened in Tianmenshan National Forest Park on Saturday.
The bridge, which spans a quarter-mile across the Zhangjiajie Canyon in central China's Hunan province, hangs 984 feet above the ground, spans about 20 feet wide and stretches over 1,400 feet. It was desgined Israeli architect Haim Dotan.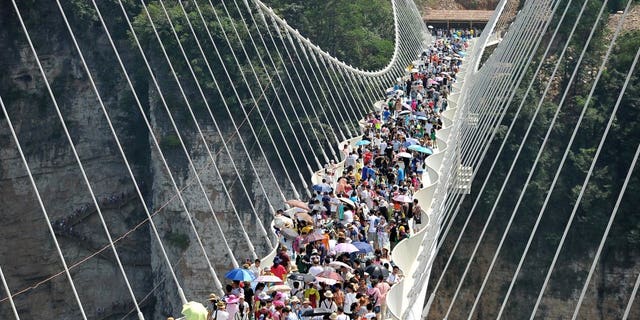 The mountainous site is known as one of country's most picturesque locations—James Cameron filmed many scenes from the blockbuster "Avatar" around the park.
Completed in December, the bridge cost $3.4 million to build, state news agency Xinhua reported. The says a maximum of 8,000 visitors will be allowed to cross each day to minimize stress exerted on the 99 panes of three-layered glass that form the bridge's footpath.
But is it safe?
As a part of a promotion stunt earlier this year, park officials let the public try to bash in the glass with sledgehammers, and even drove a car filled with passengers across it. The top of layer sustained multiple cracks during the demonstration prompting many to declare it unsafe, reports the BBC. 
But that didn't keep curious throngs of thrill seekers from visiting the bridge on its opening day. If you do go, note that selfie sticks and stiletto heels are not permitted.
The Zhangjiajie bridge is one of several recently opened glass-bottom attractions popping up over China.