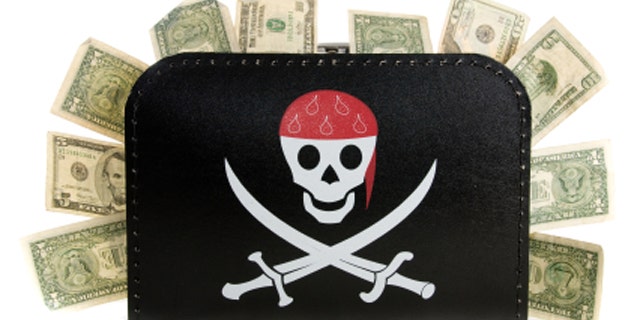 What do human skulls, a chainsaw, a 16-inch curved knife, and surgical steel dental picks have in common?
If you guessed that these were the contents of any given horror movie killer's gym bag, you're on the right track with the bag part.
All of these items were intercepted, at different times and from different carry-on and checked bags, at Will Rogers World Airport (OKC) in Oklahoma City.
It's worth understanding that the Transportation Security Officers (TSOs) who discover such things at OKC and other airports nationwide don't "confiscate" packed items unless they're illegal or unsafe to carry under any circumstances, notes Transportation Security Administration (TSA) spokesperson Lara Uselding.
Rather, a TSO may "intercept" something you packed if it's either on the TSA's prohibited items list or if the item arouses curiosity during an x-ray or search of your luggage, "and at that point you give passengers options," Uselding says.
If you were caught packing the knife, picks, or chainsaw in your carry-on, for instance, you'd have the option of leaving those items with the friend who brought you to the airport. Or, you could try to get those things into your checked bag, though whether that's even possible once your bag's checked "would be between the passenger and the airline" Uselding says.
A TSO would have the right to intercept the skulls - which belonged to a college professor in this case - because you need to declare human remains before you fly with them. Plus, unexplained human skulls tend to arouse suspicion. And if the officer had health concerns about the skulls, he'd be within his rights to refer them to the Center for Disease Control and Prevention (CDC), Uselding says.
While you may not be in the habit of packing such unusual things, there are several everyday items travelers often pack that are best left behind.
Leave your cash under your mattress.
Hard to believe that many of us, perhaps out of lifelong habit, are fond of traveling with large piles of cash. Longtime flight attendant Toni Vitanza recalls a time prior to departure when a female passenger was reluctant to put her oversized purse in an overhead bin. When Vitanza insisted, the woman exclaimed within earshot of other passengers "that she had $10,000 in the bag. And I'm like, 'Thanks, now we have to have security meet you at the airport.'"
Uselding has heard tell of passengers who have also stowed thousands of dollars in their checked bags. For anyone considering that kind of storage, she points out that "for every security officer that touches a checked bag there are eight to ten contracted workers or baggage handlers touching that same bag."
Hydrate yourself, not your luggage.
With the 3-1-1 rule limiting how much liquid you can transport in your carry-on, many travelers relegate larger liquid packables to their checked bags. But consider ditching most of your liquids altogether.
"One of the most effective - yet least known - ways to reduce travel weight and hassle is to stop hauling excess water around with you," says packing expert Doug Dyment of OneBag.com. "Liquids and gels are heavy, bulky, prone to leakage, and a security concern," he says. "You can eliminate all these drawbacks by replacing such products with their solid counterparts. Shampoo, sun block, tooth cleaner, moisturizer, foundation, perfume, insect repellent, and more are all are available in non-liquid form."
Lose needless coats and gear.
If you're convinced that heavy coats and layers are essential in a winter destination, think again. In lieu of space-hogging garments "choose thin, 'packs flat' clothing," advises Susan Foster, author of "Smart Packing for Today's Traveler," noting that "a cotton sweatshirt is bulky and heavy, but a micro-fleece pullover is warmer, lighter, and thinner to pack." Likewise, she says, "several lighter-weight layers are as warm but pack smaller than a bulky coat."
If your vacation requires ski equipment and you don't own any, don't feel compelled to buy and bring it, says former flight attendant Beth Blair, co-founder of The Vacation Gals. "When I lived in the ski resort of Steamboat Springs, CO, the use-it-again sporting shops were a treasure, because skiers would sell their gently used ski coats, boots, and other winter wear before heading home. On the flip side, I met travelers who would show up in basic clothing and hit these shops for their stay. It's a brilliant way to avoid heavy packing and save cash on what could be very expensive attire for just a few days."
Even if you have your own stuff, bite the bullet and consider renting. "The first time I went to Hawaii, I packed an enormous suitcase that had my fins, mask, snorkel, dive knife, wetsuit, pants, nice shirts, and beach wear," recalls frequent business traveler Ken Walker."Finding out that hotels rent such equipment for very modest fees, and studying the local customs a bit was very enlightening. Now, I take nothing more than a backpack with three or four board-shorts and a few Hawaiian shirts."
Likewise, Blair suggests that parents consider rentals at their destinations in lieu of lugging their own portable cribs and strollers. And if you gate check your expensive stroller, I can almost promise it will come back to you dinged or damaged. If shops in your destination don't rent these items, many hotels rent cribs as well as strollers for a nominal daily fee.
Don't pack the kitchen sink.
Vitanza is perplexed about how many passengers continue to pack a hair drier when the item is more or less standard, "even in cheap hotel rooms" and she urges woman in particular to scale back their on-the-road beauty regimens. "Ladies who bring big hair appliances, even a set of electric rollers, are just wasting space in their bag and time during their trip," she says. "Unless you're traveling to be in a beauty pageant, it's the kind of thing that's really better left at home. People really aren't looking at you are hard as you think they are," she suggests.
"Pack for what is known and for logical possibilities," Foster says. "Logical: rain, so pack the raincoat and umbrella. Not logical: an impromptu formal dinner, so leave the evening clothes at home."
Blair notes that "one of the jokes in the airlines is that passengers bring everything onto the plane but the kitchen sink, but that has happened, too. I remember a flight where a passenger brought on a custom sink and managed to fit it in the overhead bin. He was lucky it fit."