What Do You Actually Get in First Class?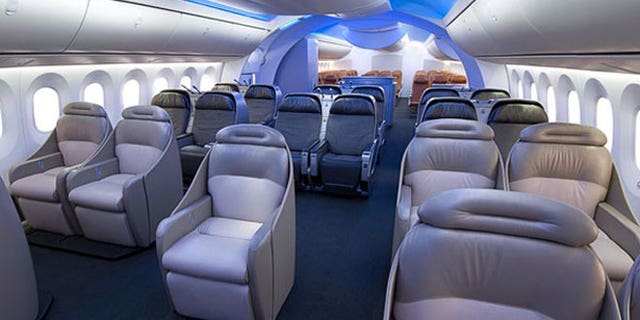 Think premium class airfare just means more legroom and better food? That may be true on some domestic flights but on long-haul international trips, think again.
Most leisure travelers don't spring for first or business class tickets, which can be up to twenty times more expensive than economy airfare. However, companies sending employees overseas on business trips often allow for upgrades with the expectation that a well-rested, well-fed, happy employee will perform better than one who spent a sleepless night crammed into coach.
What are those in the front of the plane really getting? Sample these choice offerings from international carriers.
Virgin Atlantic: Virgin rethinks premium classes with its first class/business-hybrid "Upper Class". Fliers get the rockstar treatment with a "limobike" ride through London's streets via motorcycle chauffeur. At Heathrow, check-in at the curb then speed through a 'private security channel' to Virgin's Clubhouse lounge where you can enjoy complimentary spa treatments, game rooms, and swanky bars.
Qatar Airways: First and business class travelers at Doha International Airport don't just get an airport lounge - they get a whole terminal. The Premium Terminal includes three lounges, business centers, a spa, luggage bellhops, sleeping rooms and food options ranging from sushi hand-rolled upon order to high tea. There's also a Premium Arrivals Lounge with showers and a 24-hour buffet. Need to get some work done? The Wi-Fi enabled workstations come with complimentary secretarial service.
Emirates: Emirates brings key amenities like Qatar's out of the terminal and into the air, but the pampering starts on the ground - premium class travelers are chauffeured to the airport in a Mercedes or Volvo. On board the A380 jet, first class fliers can enjoy two shower spas and private suites with sliding doors, personal TV, vanity and minibar, plus a seat that converts to a full-size flat bed with mattress. Seven course meals start with caviar and end with port (only five courses in business class) and first class passengers can order meals or snacks around the clock with "dine on demand" service.
So with all the international economic uncertainty, especially in the Eurozone, are those premium seats still getting filled?
It appears so, but less frequently - execs are taking fewer trips, but spending more per trip.
Last year, U.S. businesses spent $31.6 billion on international outbound travel and though the latest forecasts from the Global Business Travel Association are lukewarm, U.S.-initiated business travel spend is still growing.