What American Airlines' Bankruptcy Means for You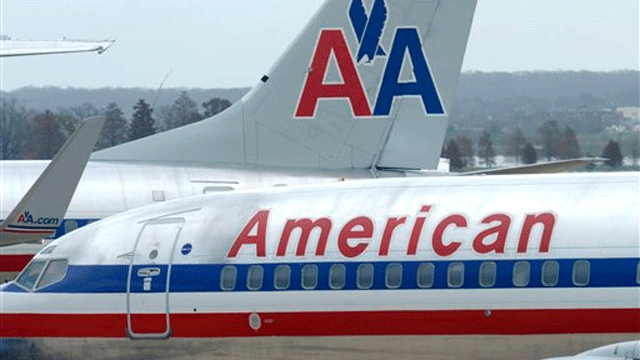 NEWYou can now listen to Fox News articles!
American Airlines' parent company, AMR Corp., announced it filed for bankruptcy protection today in order to reduce labor costs and deal with heavy debt.
While AMR was the last major U.S. airline company to file for Chapter 11, the move raises questions for customers who have tickets for the holiday season or have racked up some serious frequent flyer miles.
In a statement, the company tried to assuage fears saying the move won't affect American's flight schedule or frequent flier programs.
"American's customers are always our top priority and they can continue to depend on us for the safe, reliable travel and high-quality service they know and expect from us," said Thomas W. Horton, chairman, chief executive officer and president of AMR and American Airlines.
Remember, this doesn't mean that American Airlines is going out of business. Chapter 11 just means the company has a chance to restructure its debts. So, what does American Airlines' bankruptcy protection really mean to you --in the short and long term?
FoxNews.com spoke to several airline watchdog groups and passenger associations to find out what you should do to protect yourself while American Airlines figures out its finances.
In terms of frequent flier miles, most say you're safe -- for the moment.
"Consumers who hold AA frequent flier miles should know that their miles are safe for now," said George Hobica, founder of the low-airfare listing site Airfarewatchdog.com. "The real question is whether the airline will survive long term, or go the way of other iconic 'flag carrier' airlines such as TWA and Pan American."
While customers will have no problem continuing to earn miles, experts say redeeming them may be another matter. With many airline seats already booked to capacity, American Airlines has even less incentive or flexibility to fill those seats with a miles ticket, while displacing revenue-producing passengers.
Katie Hanni, executive director of Flyersrights.org, recommends that it's better to play it safe. She says if you have frequent flier miles, you should use them immediately.
"People should use up their frequent flier miles and, if they can, book on co-chair partners who aren't filing for bankruptcy. The passengers are the last creditor on the list and the last to know," says Hanni.
For those who have an existing ticket, Charlie Leocha, director of Consumer Travel Alliance, says there is no need to worry. He points to past air carriers who declared bankruptcy and their passengers remained unaffected. "In merges, like the Delta Northwest merger, who both went through bankruptcy, it didn't affect the passengers," said Leocha.
In fact, the Chapter 11 proceedings could actually be a good thing, says Hobica, and a chance for some bargain hunting.
"In the short term, we'll probably see American attempt to lure reluctant flyers with a fare sale and/or a bonus frequent flyer mile promotion," said Hobica.
But he cautions that the bankruptcy proceedings may bring some humbug behavior from AA's staff in what is already predicted to be a hectic holiday travel season.
"With AA employees' morale at an all-time low, it might not be much fun flying them. After all, one effect of Chapter 11 is that the airlines will slash pay and the pension plan is at risk," he said.
But Hanni says if you are considering buying a ticket in the future, tread carefully. "I wouldn't book on American unless you have frequent flyer miles or if you have to," she said.
Hobica says in the long term it's hard to predict exactly when it will happen, but a merger could be in the cards. "American is a likely marriage partner either by merging with US Air, Alaska or Frontier, or by getting swallowed by a larger carrier," he said.
And it will be important to see how foreign airlines take advantage of American's restructuring to capture the profitable international market.
"As cash-rich and profitable airlines such as Emirates expand into U.S. markets, siphoning traffic on high-profit international routes and luring high-paying business travelers, U.S. airlines in general will feel the heat. And in order to compete, smaller airlines such as American will need to follow their larger peers in seeking merger partners," Hobica continued.
For now, Leocha predicts that the American Airline traveler will hit little turbulence with this move, unless the company can't bring its monetary troubles in for a landing.
"The passengers come out clean on this as long as the airlines keeps flying. If, for some reason, the airline had to declare full bankruptcy and cease operations, that would be when passengers would run into trouble."
So in the spirit of the holidays, book that trip you've always been dying to take, but now is the time to use those miles in case American Airlines runs into more trouble.