Waters closed following Cape Cod shark attack; beach manager says people will need to use 'common sense' after fatal incident
The Cape Cod town of Wellfleet, Mass., has issued a warning to swimmers in the wake of a shark attack that claimed the life of 26-year-old Arthur Medici on Saturday, though not everyone is heeding the advice.
In a news release issued Sunday, Cape Cod National Seashore confirmed that Wellfleet's beaches – including the Newcomb Hollow Beach, where Medici was attacked – were "closed to swimming," but surfers and paddleboarders were spotted in the water the same day.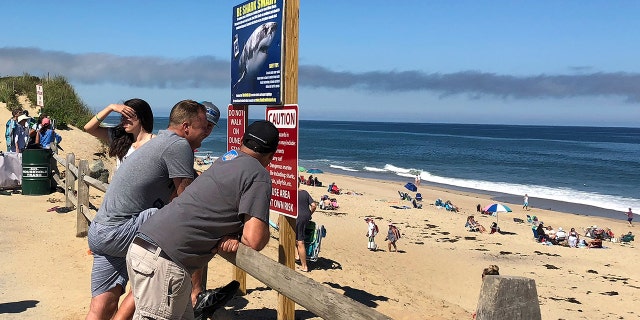 Suzanne Thomas, the beach manager for Wellfleet, told Fox News on Monday morning that the reopening of the beach for swimming is being discussed, but "no decision has been made at this time."
"This is a directive issued by the Town in the interest of the safety of swimmers and surfers. We have to rely on people's common sense and will to survive," she added. "The end time has not yet been decided upon."
SCARY VID SHOWS TOURISTS RUNNING FROM COLLAPSING CLIFF AT GREEK BEACH
Officials placed signs informing visitors to Newcomb Hollow that the beach was closed on Saturday, after Medici — an engineering student originally from Brazil but a resident of Revere, Mass. — was bitten by a shark while boogie-boarding about 30 yards off the beach at around noon. A friend dragged Medici to shore following the attack, where emergency CPR was performed.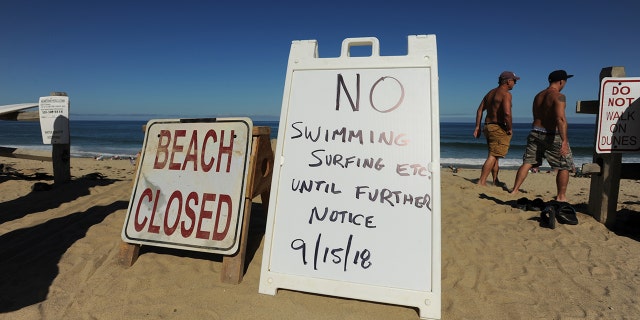 He was rushed to Cape Cod Hospital in Hyannis, where he was ultimately pronounced dead. The specifics of his injuries, nor any information on the type of shark that attacked him have been made public.
Medici's death is believed to be the first fatal shark attack in Massachusetts since 1936.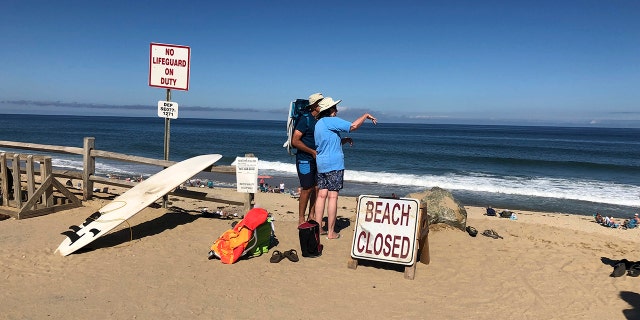 Cape Cod National Seashore has since issued warnings to anyone swimming in nearby beaches, urging them to take precautions when entering the waters.
"People recreating in Cape Cod waters should read and heed advisories posted at beaches. Do not swim near seals; swim close to shore where feet can touch the bottom; swim, paddle, and kayak in groups; do not swim alone at dawn or dusk; avoid isolation; and limit splashing and do not wear shiny jewelry," the news release reads.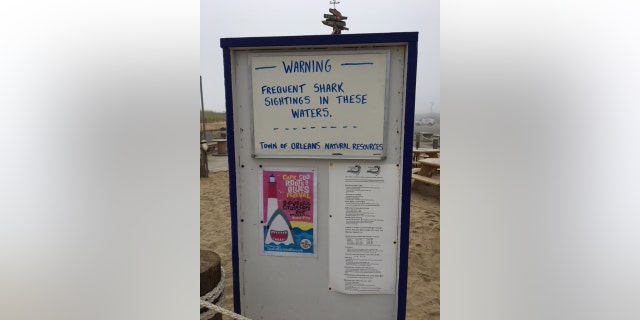 SEE IT: WOMAN IN TEXAS CATCHES 8-FOOT TIGER SHARK
Despite the warnings, and even the signs that had been posted on the beach reading "No swimming, surfing, etc." just a day earlier, surfers had actually been spotted riding waves at Newcomb Hollow Beach on Sunday.
"We can't not come out," said 69-year-old surfer Paul Fleming, who was present the day Medici was attacked, to the Boston Herald.
"It's like if you compared the sharks to a terrorist, it's the same kind of idea. You can't not have the scheduled event because of what may or may not happen," he added.
Another surfer who spoke with the Herald saw his actions as a fitting way to remember and honor Medici.
Saturday's incident is still under investigation by local police, officials with the National Park Service, and the Cape's District Attorney's Office.
FOLLOW US ON FACEBOOK FOR MORE FOX LIFESTYLE NEWS
Medici's death follows an Aug. 15 attack on 61-year-old William Lytton, from Scarsdale, N.Y., who was swimming off Long Nook Beach in Truro, also on Cape Cod. The neurologist defended himself by strucking the shark in the gills, after remembering a nature documentary that said that was the predator's most sensitive spot.
Lytton's attack was the first in Massachusetts waters since 2012. He is currently rehabilitating at a hospital, with one more surgery scheduled before his release.
The Associated Press and Fox News' Madeline Farber contributed to this report.