Warner Bros. proposes solution to Hollywood sign tourist traffic with $100 million aerial tramway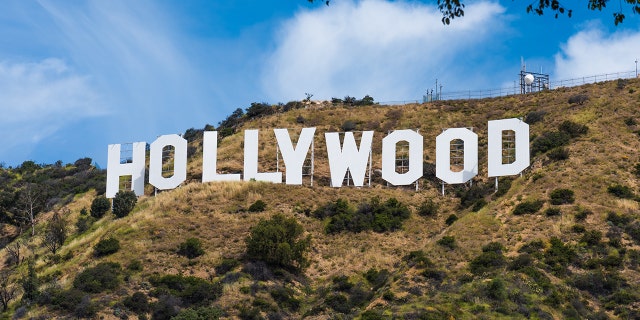 Warner Bros. studios has offered to fund a $100 million aerial tramway that would take tourists to and from the Hollywood sign in an effort to combat traffic.
The proposed tramway, tentatively named the Hollywood Skyway, would take six minutes and would transport tourists more than a mile up Mt. Lee to a new visitors' center near the sign, accompanied with a viewing area. It would start from a parking structure next to Warner Bros.' lot in Burbank.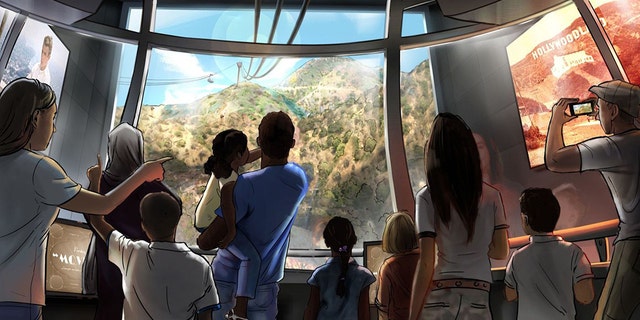 MAN AND CHILD AT THEME PARK GET STUCK ON ZIP LINE ABOVE ALLIGATOR POOL
Under the proposed scheme, which would take about five years to complete, Warner Bros. would share revenue with the city.
Residents living near the famed sign have been complaining for years about the volume of tourists visiting, which they say has worsened with the rise in popularity of photo-sharing social media sites like Instagram, ridesharing apps and GPS systems.
Jon Gilbert, Warner Bros. facilities head, told The Los Angeles Times that their proposed structure would minimize the effect on wildlife at Griffith Park as well as avoid obstructing views of the sign from other parts of Los Angeles.
"This requires a bold solution," Gilbert told the Times. "If we really want to make a difference… it's got to be something compelling.
"Partial solutions are not going to do the trick, and people will continue to inundate the neighborhoods."
ANOTHER HOLLYWOOD SIGN? REPORT SAYS SECOND LANDMARK COULD STEM TOURIST TRAFFIC
A spokesperson for Warner Bros. told Fox News: "Given our close proximity to the north side of the Hollywood sign, we believe we offer a solution that has the least impact on the environment — protecting and preserving Griffith Park — and the surrounding residential neighborhoods.
"We understand there are a number of possible solutions being considered, but we are confident the City's feasibility study will show our proposal to be the best option — an option that can be built and operated at no cost to the taxpayer and that will provide public benefit to the City of Los Angeles and its residents."
The tramway is just the latest proposed solution to a problem that has blighted the Hollywood Hills neighborhood.
Last December, media mogul Barry Diller, his wife, fashion designer Diane von Furstenberg, and her son Alexander, floated a $25-$30million gondola project that would transport tourists from LA Zoo to the sign.
In May 2017, Los Angeles mayor Eric Garcetti also suggested the idea of a gondola starting at Universal Studios.
The idea of an aerial tramway has been proposed several times over the years but has never taken off.
In January of this year, the Los Angeles City Council announced a number of solutions to the traffic problem in a report, which included the building of a replica Hollywood sign on the opposite side of the same slope.
The report also offered solutions including paid parking and permit parking.
FOLLOW US ON FACEBOOK FOR MORE FOX LIFESTYLE NEWS
The 44-foot tall, 352-foot long Hollywood sign, which originally read Hollywoodland, was created in 1923 as an advertisement for local real estate development, but was left up due to its popularity.