'Verbally abusive' United Airlines passenger caused massive delay after refusing to check bag, leave aircraft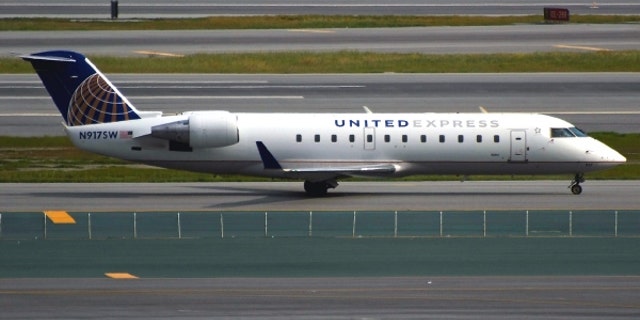 A passenger onboard a United Express flight from Indianapolis to Newark, N.J., caused more delays for flight 3708 Monday night after she refused to gate check her bag, and then became "verbally abusive" and refused to leave the plane.
The unidentified woman reportedly boarded the plane with her carry-on suitcase, but was unable to fit it in the overhead bin.
"When we got on the plane, she asked for my help with her suitcase," passenger Ben Barrick told the IndyStar via Facebook message Tuesday. "I couldn't get it in the overhead and a flight attendant said she would have to check the luggage."
STRUGGLING PASSENGER GOES VIRAL FOR INCORRECTLY TRYING TO STORE LUGGAGE
According to the IndyStar, the woman initially agreed to check her bag, but then became "belligerent" when she was asked to return to the gate.
According to United Airlines spokeswoman Maddie King, the woman refused to leave the aircraft, forcing all other passengers to deplane and wait for another aircraft.
"A customer on United Express flight 3708 from Indianapolis to Newark was asked to gate check her oversized bag, and she refused to do so. She became verbally abusive to the crew and they asked her to leave the aircraft. The customer refused and all customers were asked to deplane. To minimize the inconvenience to our customers, we arranged for a different aircraft to make the flight from Indianapolis to Newark as soon as possible Monday night," United said in a statement to Fox News.
Passenger Jason Kowalsky called the situation "frustrating," and told WTHR those who had to deplane were forced to sit in the terminal for more than four hours with no food or drink because the vendors at the airport were closed.
Kowalsky told WTHR, "They could have handled it much better. The fact that one person can hold us hostage is outrageous."
FOLLOW US ON FACEBOOK FOR MORE FOX LIFESTYLE NEWS
According to King, the female passenger did eventually disembark.
The flight, which had already been delayed because of weather in the northeast, was originally scheduled to leave 7:05 pm, but did not take off until 12:17 am Tuesday morning.
A similar incident took place on a Spirit Airlines flight in May when a passenger refusing to leave forced all other passengers to deplane.