US Customs officer allegedly detained mother, daughter for having different last names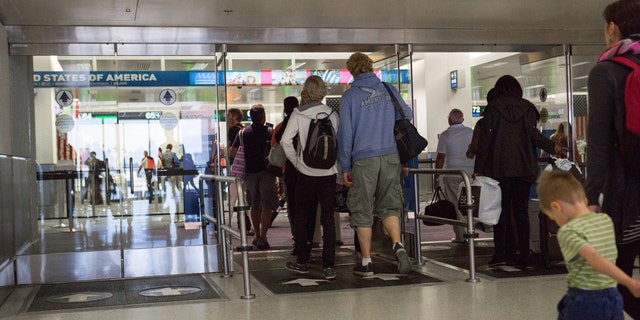 A mother and daughter were detained at the Dallas/Fort Worth International Airport by U.S. Customs officers Sunday because they did not share the same last name, the mother alleges.
Sylvia Acosta and her daughter, Sybonae, were traveling back from a student vacation in Rome with Education First Tours when they were stopped by U.S. Customs at the airport, The Cut reported.
MARY BERRY DISCUSSES AIRPORT ARREST AFTER SECURITY MISTOOK HER FLOUR FOR DRUGS
"I was asked if Sybonae was my daughter and I said yes. Then they asked why if she was my daughter I didn't have the same last name. I told them I had already established my career and earned my doctorate with my last name Acosta so I had decided not to change it," she wrote in a Facebook post that has more than 16K shares.
"Then the customs office said, well maybe you should have taken your husbands last names so you could prove you were her mom. I told him I had a lot of proof she was my daughter without having had his last name. He then took me to another room where they proceeded to interrogate me and my daughter to prove I was her parent," the post continued.
Acosta and her daughter – both American citizens – were taken to another room and questioned about their relationship, she said.
"And I said, 'Are you serious?'" Acosta recounted to The Cut. "And he said yes. He goes, 'You know, we have to make sure you're not a human trafficker.'"
Acosta was allowed to leave with her daughter 20 minutes later, but made a claim with U.S. Customs and Border Protection.
U.S. Customs and Border Protection denied Acosta's claims of inappropriate questioning.
"U. S. Customs and Border Protection has reviewed the audio and video of the encounter between a CBP officer and a woman travelling with her daughter, and found that the video does not support the claim as it has been reported. The audio and video prove that there weren't any inappropriate questions discussed," a spokesperson wrote in a response to Acosta.
FOLLOW US ON FACEBOOK FOR MORE FOX LIFESTYLE NEWS
Under the William Wilberforce Trafficking Victims Protection Reauthorization Acts of 2008, Customs and Border Protection agents may ask additional questions of adults traveling with minors if their relationship is not immediately determined.
According to the ACLU, U.S. citizens can refuse to answer questions in customs, but immigration officials are allowed to detain, question and search anyone who enters the country.