Two friends attempt record by riding Universal's 'Jurassic Park' for 12 straight hours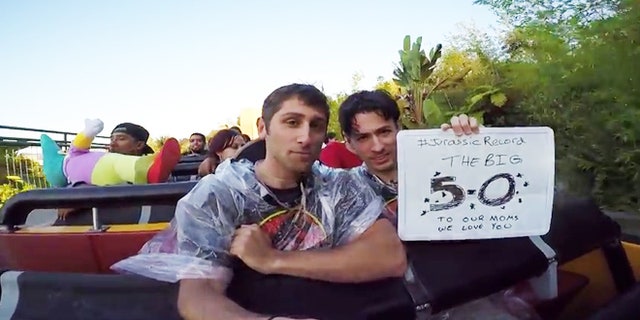 NEWYou can now listen to Fox News articles!
"Jurassic World" may be shattering box office ticket sales around the globe but two best friends with a love of dinosaurs recently broke their own #JurassicRecord.
On June 7, buddies Dave and Jake (who asked their last names not be used) rode "Jurassic Park - The Ride" at Universal Studios Hollywood in Universal City, California a total of 60 times—shattering the previous record of 53 set by an employee 15 years ago.
The two friends-- both self-proclaimed lovers of dinosaurs, theme parks and the "Jurassic Park" franchise-- started their journey at 9:15 a.m. and strapped themselves in for 12 hours of record-breaking fun.
"When we originally found out over a year ago that 'Jurassic World' was being released in the summer, we figured what better way to honor both the park and one of our favorite film franchises then to set a record on the 'JP' ride," the duo told FoxNews.com via email.
To complete the feat, the team first contacted the Guinness World Records team so their effort could be made official. After the Universal Studios people got on board, Jake and Dave set a date and it was off to the park. Within the first two hours, the friends had completed 10 rides, but it wasn't smooth sailing all day.
"While we expected to be lethargic and hungry by the end of the day, time actually went by really quickly," they explained. Around 3:00p.m., they say they hit a bit of a "tired/headache/not-feeling-all-there phase" but were able to keep going thanks to an arsenal of electrolyte replenishing Gatorades and snacks. But they didn't drink too much.
Jake and Dave say they visited the bathroom just once during the 12-hour odyssey. They also owe a lot of their success and energy to the "enthusiastic" ride operators who cheered them on after every turn.
Opened in 1996, Universal Hollywood's Jurassic Park ride begins as a slow-moving raft along calm waters until—of course—something goes terribly wrong. Unlike many rides today that incorporate motion-simulation, the classic Jurassic Park ride uses only animatronic dinosaurs and live effects like real water spritzes and electric sparks. Plus there's an 84-foot plunge at the end that soaks front riders from head to toe—something that can't be recreated in the theater.
Officials at Guinness World Records are still verifying the duo's feat, but already they're thinking of their next adventure, saying that they've been exploring other potential ride taking records they could break.
"It's only a matter of time until we have another excellent record-breaking adventure," The best friends wrote via email. "We noticed that "Jurassic World" decided to follow us and set their own Box Office Record. I guess we lit a fire under them!"
Check out the epic 12-hour time lapse.