Top 10 spots for fun in the outdoors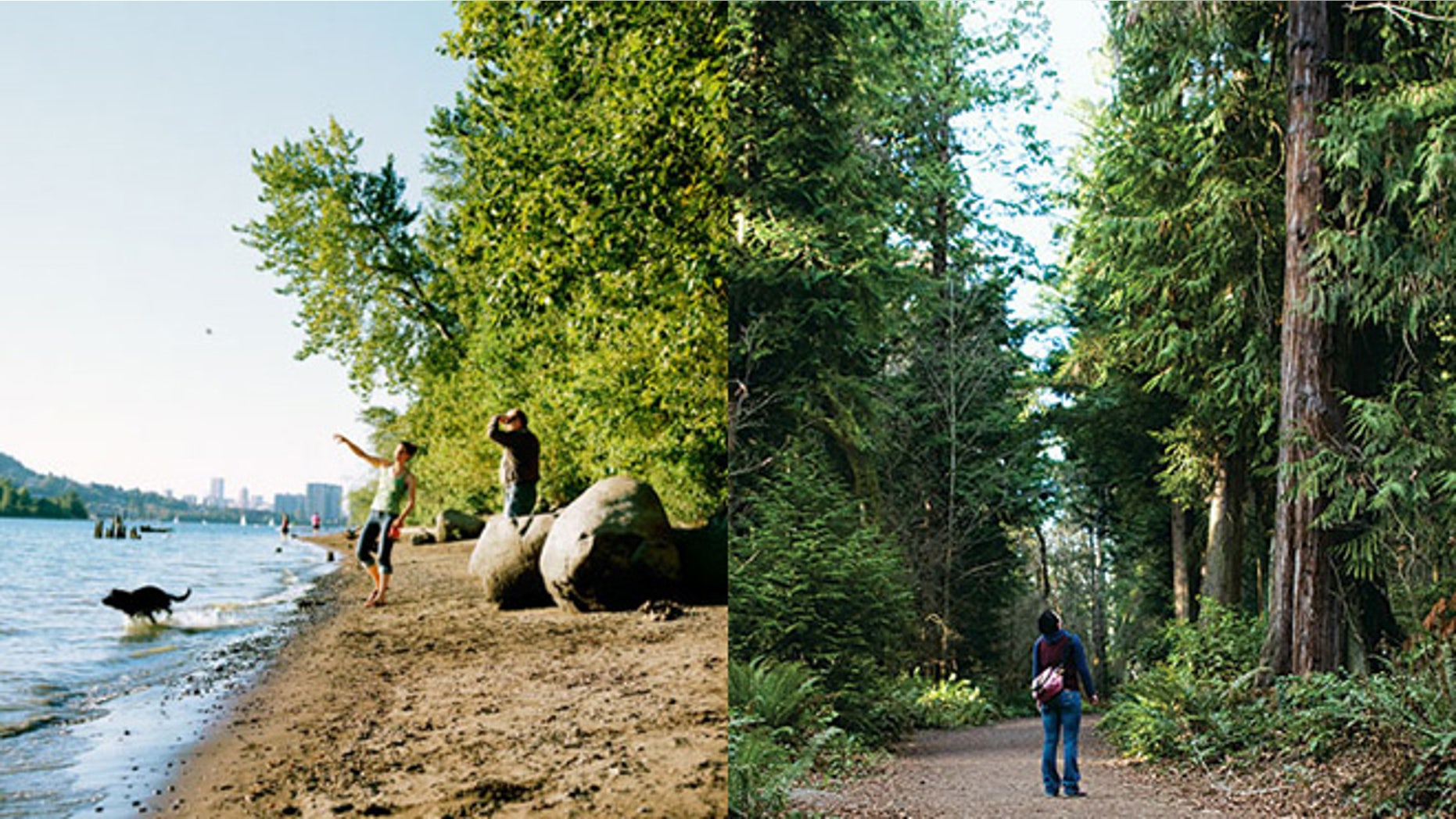 From urban parks to gorgeous hikes, here are our favorite places to while away a day in the sun.
Marin Headlands, Marin County, CA
Just across the Golden Gate Bridge from San Francisco, the Marin Headlands offer shoreline views, crashing surf, and a surprising wildness. Join the parade of cars winding up twisty Conzelman Road to Hawk Hill, but don't stop there. Drive a bit farther to the beach parking area on your left, and you'll see signs for the trail to Black Sands Beach. Another great spot is the Tennessee Valley Trail, which winds 2.2 miles (one way) past rolling hills toward a secluded beach awash with green and black basalt pebbles.
Sellwood Riverfront Park, Portland, OR
On the east bank of the Willamette River at Sellwood Riverfront Park, picnic tables are perfect placed, and the lawn is an ideal spot to spread a blanket. The park is popular with dogs, and if you want to take a walk, the wetland at the northern edge makes a pretty loop.
California Scenario, Costa Mesa, CA
Hidden between two office buildings, California Scenario sculpture garden, created by famed artist Isamu Noguchi, has areas devoted to the state's varying geography: There's a mini redwood forest, a tiny desert, and a little mountain stream. Though it was installed more than 30 years ago, few outsiders know about it, so it's usually quiet.
Soldier Pass Trail, Sedona, AZ
The 4.5-mile round-trip Soldier Pass Trail #66—which leads past the terraced Seven Sacred Pools—is a favorite, but the area has a huge network of routes.
Earthbound Farm, Carmel Valley, CA
Wander the labyrinth, snip your own herbs, and buy organic flowers and veggies direct from the source. Cooking demos, bug walks, and other activities too.
Civic Center Park, Denver, CO
The gold dome of the Colorado State Capitol makes for a classic summer photo op—except for one thing: the chard, basil, and tomatoes growing in Civic Center Park where there were once ubiquitous petunias. Grow Local Colorado and Denver Parks & Recreation teamed up to tend these highly designed plots of edibles and donate the harvest.
The Huntington Library, Art Collections, and Botanical Gardens, San Marino, CA
Of the 207-acre property, 120 landscaped acres are open to visitors with their more than 14,000 different varieties of plants in more than a dozen principal garden areas, including the Children's Garden, Jungle Garden, and Desert Garden.
Seattle Park, Seattle, WA
With the park's 277 glorious, woodsy acres jutting into Lake Washington, bike paths, and sandy beaches, Seward Park Audubon Center has always had a lot going for it. The center is within a historic landmark, a refurbished 1927 Tudor, with park trail maps, art and nature exhibits, educational birding programs, and a nature store.
Cedros Gardens, San Diego, CA
We never get tired of wandering Cedros Gardens, 1.3 acres showcasing changing vignettes that surprise throughout the seasons. Fulfill your gardening needs here, including edible and drought-tolerant organic plants of all kinds: succulents, fruit trees, natives, and veggies.
Desert Art Collection & Sculpture Garden, Palm Springs, CA
Check out this very cool gallery with a large courtyard set with sculptures amid palm trees, cactus, and bougainvillea, then wander over to the garden center for plants and pots.
More from Sunset
Top 15 Dog-Friendly Vacations

Top 20 Beach Hotels

25 Gorgeous Winter Wonderlands

Top 10 Lake Vacations

Top 10 Vacation Cabins and Cottages