They Have THAT at the Airport?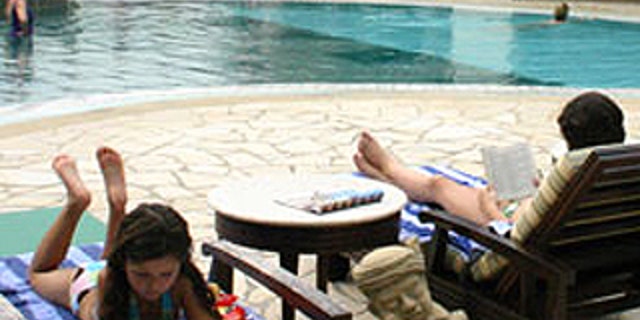 When asked to describe a truly memorable airport find, many travelers agree that there isn't anything quite like sin.
Of course in this case we're referring to SIN, the three-digit airport code denoting Singapore's Changi Airport. SIN fan Robert Reid, U.S. travel editor at Lonely Planet, says of the airport that "anytime I go through Singapore I HOPE for long delays" and Trip Chicks tour guide Ann Lombardi concurs that once at Changi, "it's mighty tempting to deliberately miss a connection."
What provokes such love for an airport? Well, for starters, says frequent traveler Gary Arndt, there's a pool. The Changi's Ambassador Transit Hotel allows non-guests to swim for a $10 daily fee that also includes use of a Jacuzzi, showers and, helpfully, a towel. Jim Simon, who's been living in Singapore for six years, cites Changi's free butterfly garden, where if you're so inclined you can get an up-close look at the insects breeding.
Writer Terry Ward applauds SIN for its free foot massage machines, noting that these are usually "tucked away in a quiet seating area or in front of the glass walls near departure gates. Just wear your socks and you don't have to worry about cooties." If you feel you have time to catch a movie, in English, Ward and JohnnyJet.com founder John E. DiScala praise the airport's theater that offers flicks for free.
And no, SIN's not the only airport with pleasantly unexpected airport amenities.
Refresh your body and mind.
Another favorite airport among the travelers sourced for this story was Amsterdam's Schipohl Airport (AMS) whose spa impressed weary traveler Holly Hansen, who notes that her "flight from Venice had been delayed for hours upon hours and I was already in a bad mood. I had a foot reflexology treatment and a neck and back massage and a total attitude adjustment. I think it cost me a little over $100."
Chicago attorney Abram Moore, who admits he's "not really a spa guy," says he and his wife recently had about a half hour to kill at Portland International Airport (PDX) and gratefully availed themselves of "a foot bath-foot massage combo, and it was really nice…quite a few folks came in while we were there. One older guy read the paper in a reclining padded chair while soaking his feet in a big copper bath."
Likewise, traveler Allen Klein was strolling through Hartsfield-Jackson International Airport (ATL) and chanced upon "an almost-hidden storefront as I got off the escalator." It turned out to be a spa, and with 90 minutes to go before his flight Klein went for a half-hour back and arm massage. "The massage was done in a very comfortable chair with my shirt on and, to my surprise, lasted almost 45 minutes, not [the] 30 minutes they stated," Klein recalls.
If you're ever waiting for a flight at Dubai International Airport (DXB) and are feeling a little grubby, DiScala notes there are free stall showers with soap dispensers (no towels in evidence) available to passersby. While he didn't use one, he said the shower stalls appeared clean.
Get a room.
While it's common to find hotels either within or attached to an airport terminal, it's perhaps unexpected to find a hotel like the one at Schipohl that rents by the hour, which caught the attention of business traveler Katrina Johnson. Not long before spotting the hourly hotel, Johnson says she had been joking with her boss about how nice a find such a facility would be to "take a nap, freshen up, etcetera, on long layovers. Of course the jokes started flying about what a 'by the hour' hotel would imply and what kinds of services would be available at one," Johnson says. According to Kroon-Fiorita, the actual services include "an electric pull-out bed, a fully fitted bathroom, wireless Internet, LCD TV, sound system, ambient lighting, chair, table and wall sockets that are suitable for plugs from all over the world." Traveler David Becker reports that he tried it out, forking over about $50 for the hotel during a three-hour layover. "Emerging from a long nap in a comfortable bed, a shower and clean change of clothes, I felt brand-new," Becker says.
Take in a show.
Traveler Dana Marlowe enjoys flying in and out of Austin Bergstrom International Airport (AUS) for its "different genres of live music playing" that she says reflects the city's reputation as "live music capitol of the world." Author Mellanie True Hills agrees, citing Austin as her favorite airport, noting that the live music makes "you feel good and upbeat, de-stressing your travel," and that the airport's high ceilings permit you to hear the bands "far beyond their location in the center of the concourse."
Non-profit executive Alexander Seinfeld says he cuts costs "by flying Southwest, which means connecting in all kinds of airports around the country," and that also means he's "often on the last eastbound flight of the night. At the end of a trip, that means fatigue. So you can imagine my delight when I asked the attendant if I could stretch my legs during the stopover [at Nashville International Airport, BNA]. I strolled to the food area and found a small stage with three or four live musicians belting out country music. The stage looked built-in; evidently this is a regular feature. A real treat." The free performances take place year round.
Find relief, in style.
Kroon-Fiorita points out that the bathrooms at Schipohl are decorated with such "typical Dutch themes" as tulips and famous Dutch paintings and that one of the men's rooms in the customs area "has the wall decorated with a canal scene, so it looks like the men are urinating in the canals" and one of the airport's ladies rooms also has "mirrors covered in frames, Dutch Master style." Should you wish to peruse your Dutch art in a more traditional fashion, Schipohl also has an annex of the Rijksmuseum with several works from the main museum's collection.