Survey: Americans to travel combined 25 billion miles during holidays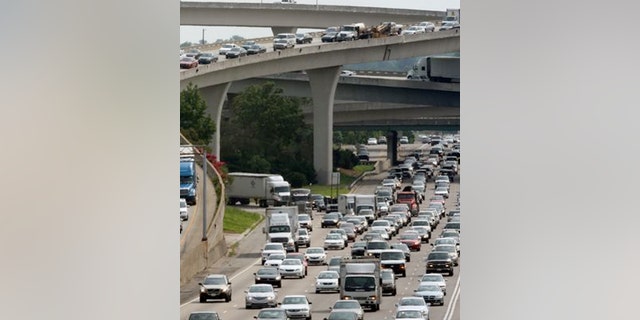 NEWYou can now listen to Fox News articles!
As Americans hit the road for Thanksgiving, a new survey suggests people will log a combined average 25 billion miles worth of driving and spend an estimated $52 billion on travel during the upcoming holidays.
The survey, commissioned by Bridgestone Americas and fielded by a Harris Poll in October 2015, indicates that Americans will drive an average of 147 miles to different family members' homes this holiday season, but the cold temperatures and potential for snow and ice will make for trickier travel.
According to the findings from Bridgestone, 71 percent of drivers are nervous to drive when roads are icy and another 45 percent fear driving in the snow. In fact, 59 percent of responders said icy roads were their biggest general concern for the winter season.
To prepare for winter, 74 percent of the people who responded to the survey try to get ready by checking tire pressure, examining windshield wipers and fluid levels and ensuring brakes are fully operational for the harsh conditions.
Bridgestone Tire Education Specialist Chris Welty released a statement about winter driving:
"Many Americans are traveling for the holidays, but most haven't fully prepared their vehicles to take on challenging winter driving conditions. Winter tires are built specially to give drivers better grip, stopping power and more control in snow, slush and ice. The thin layer of water on the road from ice or melting snow can be very dangerous, and winter tires are designed to clear that icy water and grip the road."
"It's clear from our survey findings that Americans are worried about driving in winter weather. Making the switch to winter tires can help ensure that drivers feel confident in every winter driving condition – whether they are headed to Grandma's house this holiday or sticking closer to home. The holiday season can be stressful, but hitting the road in winter weather doesn't have to be."
MORE FROM TRAVELPULSE:
WATCH: Video Preview of Holland America Line's New Koningsdam
7 Tips for Enjoying A Trip on Anthem of the Seas
What's The One Thing You Always Forget To Pack?
Cruise Review: Disney Dream's Service, Cabins and Amenities