Southwest Airlines employee sues carrier over racial discrimination, claims coworkers had 'whites-only' break room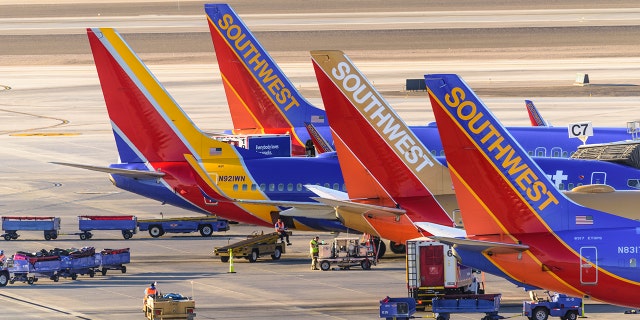 A former Southwest Airlines employee has accused the airliner of racial discrimination, claiming coworkers set up a whites-only breakroom at Houston Hobby Airport in Texas and hung a noose at gate 45 at the airport during the four years he worked there, the federal lawsuit alleges.
Former employee Jamel Parker filed the suit in United States District Court in Houston on Wednesday.
Parker, who began working for AirTran in 2008 and joined Southwest in 2013 after the companies merged, says in the lawsuit that Southwest employee were "allowed" to "create a 'WB,' a whites-only break room."
DELTA APOLOGIZES FOR CALLING POLICE ON BLACK CUSTOMER FOR TRYING TO FILE A CLAIM OVER DAMAGED LUGGAGE
According to Parker, his supervisor knew of the breakroom, but did not remove it. The lawsuit alleges Parker learned of the "whites-only break room" in August 2013, and that it remained up until 2016 or 2017 when that area was renovated into offices.
Parker was fired in April 2017 after failing to report damage to a vehicle he was operating – another example of racial discrimination he argues in his lawsuit.
He was reportedly operating a vehicle when the tow bar got caught on a power cable under the jet bridge. Parker was fired for not reporting the damages immediately.
The lawsuit alleges that two white employees had damaged vehicles without reporting them and only received notices when the destruction was discovered.
MANCHESTER AIRPORT APOLOGIZES FOR TELLING YOUNG GIRL HER DIABETES MEDICATION COULD 'MAKE THE PLANE CRASH'
Southwest Airlines said in a comment to Fox News they could not comment on pending litigation, but "emphasize that Southwest is and always has been a company that puts its people first."
"We work relentlessly to foster an environment that is diverse and inclusive. We do not tolerate or condone discrimination of any kind, and we cultivate a workplace that mirrors the Customers we serve," the statement read.
"Southwest Airlines is an Equal Opportunity Employer and prides itself on an open and inclusive work environment that consistently ranks among the world's best places to work. We employ more than 57,000 People who provide the world's best hospitality to our more than 120 million annual Customers as they travel throughout the Southwest network. Our People are our greatest asset, and it is our goal to support our Employees and our Customers who come from all walks of life," the statement continued.
FOLLOW US ON FACEBOOK FOR MORE FOX LIFESTYLE NEWS
Parker is suing for back pay, damages and mental anguish, among other compensation.