Sleeping with the fishes: awesome underwater hotels
Ever since Sebastian from "The Little Mermaid" sang that catchy tune "Under the Sea," we've been dreaming of a life underwater while being firmly planted on dry land. Much to our delight, this childhood fantasy has become a reality in recent years, thanks to some engineering masterminds. A one-room lodge in Sweden and a three-story townhouse in Dubai offer incredible ocean views, but the best is yet to come. Two more hotels are being built in Dubai and Fiji that round out our top 10 most amazing underwater hotels in the world:
1. Pemba Island, Zanzibar: The Manta Resort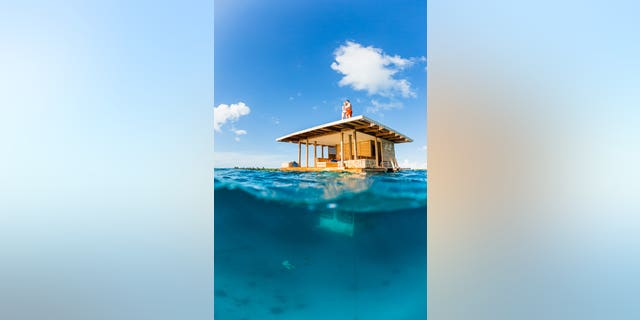 Not only do you get an underwater bedroom 13 feet below the surface, but this hotel room is like your own private island. At the Manta Resort's three-story "Underwater Room," you can sunbathe on the roof deck, dine and relax on the water deck, and sleep among the fish below deck. For $1,500 a night, two people can have the ultimate getaway with all three meals and one spa treatment a day per person included.
2. Rangali Island, the Maldives: Hilton's Conrad Maldives Rangali Island Resort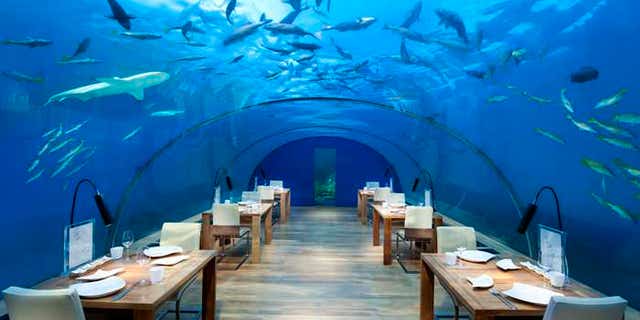 Used for dining most of the time, the Ithaa Undersea Restaurant at Hilton's Conrad Maldives Rangali Island Resort is situated 16 feet below the surface and can be transformed into private sleeping quarters. Offering 180-degree panoramic views, the room typically seats 12, but for $815 a night it can be made into a suite for two. With the restaurant serving decadent fare such as caviar, you can expect top-notch accommodations for your one-of-a-kind overnight stay.
3. Dubai, United Arab Emirates: Atlantis the Palm, Dubai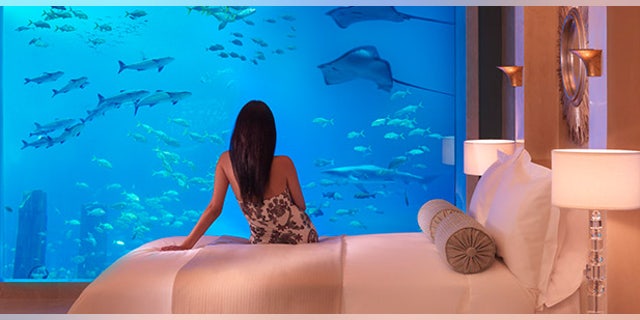 These luxury three-floor suites would make your jaw drop, with their sweeping staircases, massive living spaces, and private elevators. Place them below water and your mind is blown. The Neptune and Poseidon underwater suites will make you feel as if you're the king or queen of the mythical city of Atlantis, with floor-to-ceiling windows looking into Ambassador Lagoon, where there are 65,000 marine inhabitants. If that's not enough, the suites come with a 24/7 private butler, a dolphin encounter, massage, a daily session with a personal trainer, and priority restaurant reservations.
4. Key Largo, Fla.: Jules' Undersea Lodge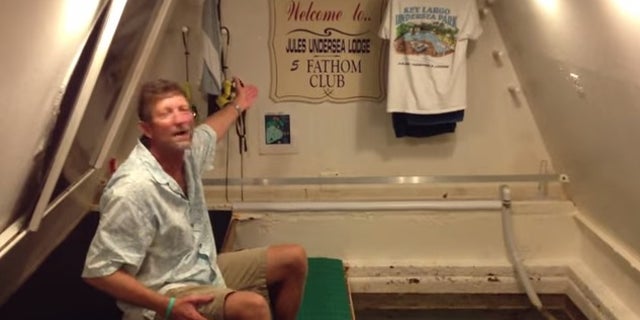 Long before modern technology was around to help create massive underwater resorts, this lodge popped up in the early 1970s as the first undersea accommodations that weren't in a submarine. Jules' Undersea Lodge is named after Jules Verne, author of the famed maritime tale "20,000 Leagues Under the Sea." You have to be a certified scuba diver to reach the entrance, which is 21 feet underwater. But once inside, you have access to modern conveniences like air-conditioning, hot showers, a stereo, and a DVD player, all with unobstructed views of the sea life through 42-inch windows. This adventurous place even has room service; dinner and breakfast are provided by the world's only "mer-chef." Rates start at $300 per person.
5. Vasteras, Sweden: Hotell Utter Inn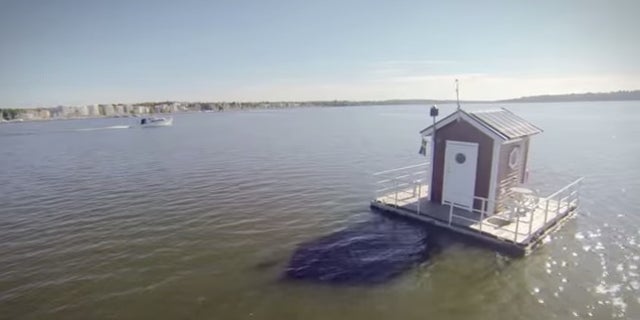 Started by artist and sculptor Mikael Genberg, the Hotell Utter Inn reflects his vision of "art for the public." When guests arrive, they are taken out half a mile onto Lake Malaren, where a traditional Swedish red house floats on its own. Located almost 10 feet below the surface, the overnight accommodations are very comfortable and give a whole new meaning to the idea of ocean views. Guests can use the inflatable canoe to scope out the closest uninhabited island and opt for the deluxe upgrades, such as having dinner delivered by boat.
6. Kaafu, Maldives: Huvafen Fushi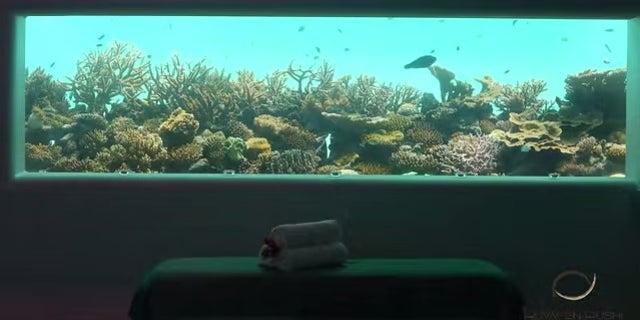 While many of the bungalows on this luxury property have glass-bottomed floors that allow you to look at the sea life, it's this resort's underwater spa that gets the most buzz. Lime Spa has two underwater treatments rooms, making for the ultimate relaxing experience as the Indian Ocean's coral reefs and wildlife provide your backdrop. Try the Lime Light Ritual, where for 180 minutes you are pampered with a massage followed by food and quiet time in the relaxation pod.
7. Sentosa, Singapore: Resorts World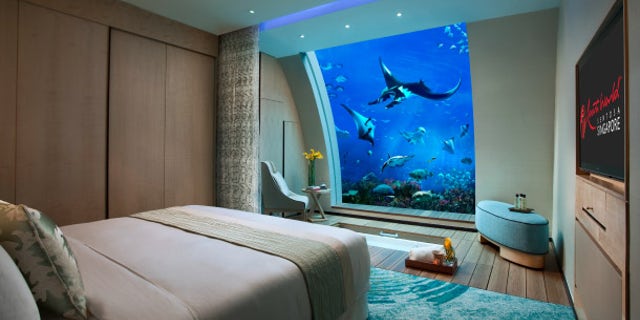 Get the best of life above and below sea with Resorts World — Sentosa, Singapore's two-story suites, located on the side of one of the world's largest aquariums. The top level hovers on the surface of the water, where you have a private pool. But head down a flight of stairs into the bath and bedroom quarters, and you can relax in your sunken Jacuzzi bathtub as you look out onto the aquarium's ocean tank. Or lie in bed as stingrays glide before you. To top it off, guests enjoy five-star service with a private butler on hand to take care of their every need.
8. Baltimore, Md.: The National Aquarium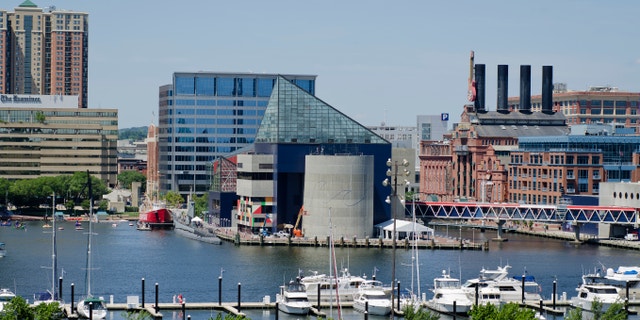 Although it's not technically a hotel, the National Aquarium hosts sleepovers where visitors can choose between shark- or dolphin-themed overnights. The underwater viewing area turns into sleeping accommodations, and you can take late-night tours to see nocturnal-animal behavior. For $115 per person, breakfast and dinner are included.
9. Dubai, United Arab Emirates: Hydropolis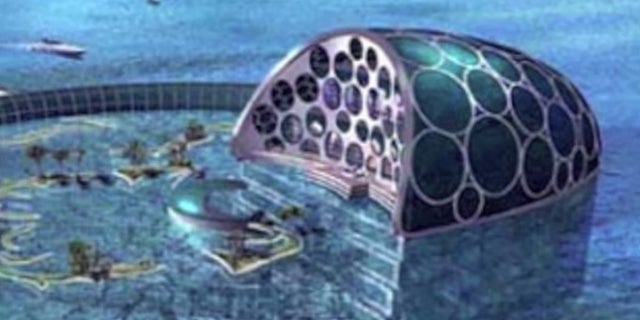 Currently under construction, this $550 million project is set to be a luxury resort perched on the Persian Gulf floor 66 feet below the surface. The three-part property will have a land post where guests are greeted before entering in the transparent train tunnel. From there, guests will be transported to the main portion of the hotel and to one of the 220 suites. On site will be restaurants, a cinema, ballrooms, and a beauty salon, all surrounded by glass through which to take in the sea life.
10. Fiji: Poseidon Undersea Resorts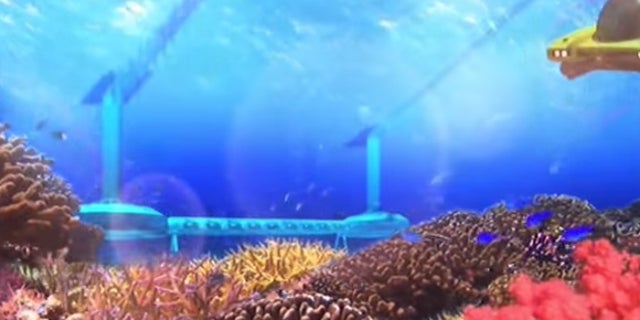 Another underwater hotel still under construction, this five-star resort is being built 40 feet underwater in the crystal-clear waters of the South Pacific. If that's not cool enough, guests will have a personal Triton submarine at their disposal for exploring and can take longer tours on a 16-passenger luxury submarine. Additional activities have been created for the adventure-minded on Poseidon Mystery Island, where guests can learn how to scuba dive, enjoy the marine-focused spa, shop, dine in one of the restaurants, and even get married at the on-site chapel. Interested guests can sign up for a newsletter to be alerted when reservations open.
More from Yahoo! Travel
Portland, Oregon vs. San Diego: What's the Better Beer City
The Most Spectacular Fall Foliage You Need to See Now
Catch Some Zzz's in a Cave—The Wackiest B&Bs You'll Ever Sleep In