Sisters miss dying father's last moments after getting kicked off Allegiant flight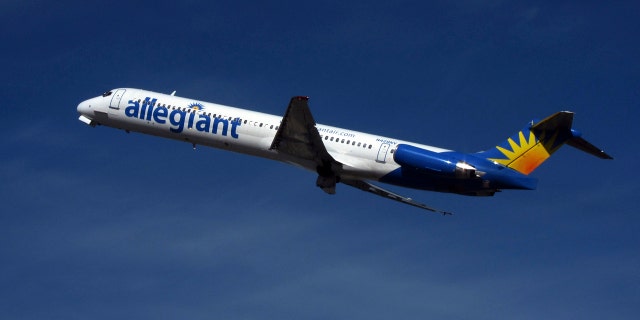 Two sisters say they are grieving after being kicked off an Allegiant Air flight, which they claim caused them to miss their terminally ill father's last moments before passing away.
On Monday, Debbie Hartman and Trisha Baker of DeLand, Fla. were on an Allegiant plane in Orlando, waiting to take off for North Carolina.
As the flight was preparing to depart, Baker says she got a text message that her father, who was in hospice, had just hours to live, according to Orlando station WKMG.
SOUTHWEST AIRLINES MAKING BIG CHANGES TO ENTIRE FLEET IN 2017
After getting up from her seat to alert her sister of their father's condition, Baker was told to sit down by one of the flight attendants.
The situation reportedly intensified when Hartman began having a panic attack, prompting a crew member to intervene as Baker tried to comfort her sister.
"(My sister) said (to the flight attendant), 'You're being very rude. My father is dying, and I'm comforting her,' and they said she needed to keep her personal problems off the plane," Hartman told WKMG.
Baker accused the flight attendant of not being compassionate and the captain was alerted to situation, who reportedly turned the plane around immediately and docked at a gate. Baker and Hartman were then escorted from the flight by airport security.
Hartman said other passengers became confused by the captain's decision to turn the plane around and complained about the crew's handling of the situation.
"I would like to see them in some way be punished in a way where people understand. This is not humane. One hundred thousand percent I blame them. They were the gate between keeping me from my father to say goodbye," Hartman told the station.
Individual passengers aboard the flight took to YouTube to reportedly vent their frustration with Allegiant. One YouTuber said other passengers jumped to the sisters' defense.
"She was just consoling her sister," the YouTuber said, calling it "the most inhumane, deplorable thing I've ever seen any human being do."
FOR THE LATEST TRAVEL FEATURES FOLLOW FOX LIFESTYLE ON FACEBOOK
Baker and Hartman's father reportedly died later that day, and the sisters say they missed their chance to see their father alive one last time. Now they are demanding an apology from the airline and a reprimand for the pilot.
In an emailed statement to WKMG, the airline said it has launched an investigation.
"At Allegiant, we rely on our crew members to provide and oversee a safe environment for every passenger, on every flight," the airline stated. "We expect that authority to be exercised both judiciously and consistently, with empathy and with good judgment. We take this customer feedback seriously and are in the process of conducting an investigation into what occurred."
A representative for Allegiant Air was not immediately available for comment.
The Associated Press contributed to this report.