Rome tightens Colosseum, premier landmark security amid renewed terrorist threat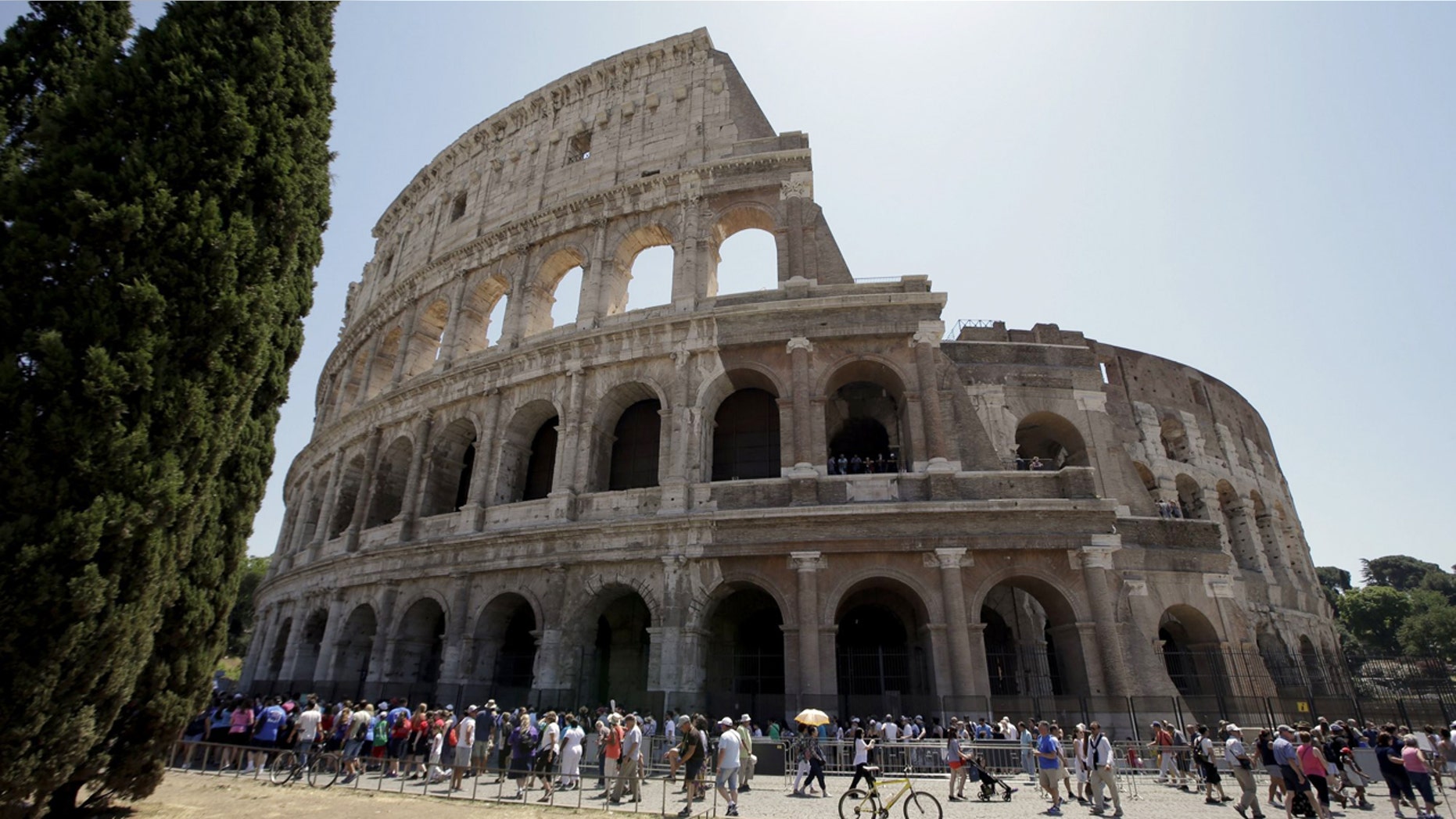 At the height of summer tourist season, law enforcement officials in Rome, Italy have established security perimeters around some of the city's most popular landmarks including the Colosseum, the Vatican museums and St. Peter's Square.
The heightened security measures come amid a renewed terrorist attack threat after a Sinai-based faction of ISIS released a new video with repeated calls to jihadists to "conquer" the popular tourist destination on Monday.
Within hours of the video's release, Rome's police commissioner, Nicolo D'Angelo, pledged to increase security at the Colosseum, the city's most visited site, to the highest level in recent months.
Two weeks ago, Sairey Gernes, a tourist from Minnesota, stood in the Colosseum's security line for 35 minutes. And that didn't include the time spent waiting in line for tickets.
And with more security checkpoints, tourists can expect even longer wait times at some of the city's monuments. 

Since the release of the terrorist group's video, hundreds more carabinieri —the city's police and military personnel—have been deployed to patrol new checkpoints at Rome's most popular attractions such as the Pantheon and Roman Forum—all purported ISIS targets.
Kevin Newton, an Alexandria, Va.-based expert on Islamic Law says these ancient monuments are vulnerable because of their age and cultural significance.
"ISIS is still stuck in the past," explains Newton. "They draw on the greatest enemy of the Middle East during the Middle Ages, Rome."
Newton predicts that if terror is to strike Rome in the near future it will be in similar fashions—individual attackers as well as groups—to what has happened elsewhere in Europe.
However, there will be one noticeable difference. "While more secular targets have been chosen in past attacks such as Paris and Brussels, ISIS will seek to attack symbols of Western Christianity, namely the Vatican, as a way of appealing to its supporters."
The Swiss Guard has protected the Vatican since 1506 and it has yet to release any formal statements in response to Rome's most recent ISIS threat. Travel blogger Andrea Larsen visited Vatican City last week and said St. Peter's Square was accessible and everyone seemed relaxed. But Larsen did note several automatic weapon-toting pairs of carabinieri casually patrolling the area.
Teresa Tomeo, a talk show host for Catholic TV, has led numerous tours and pilgrimages to the Vatican this year. While she's noticed the growing presence of barricades preventing cars from coming as close as they could a few years back, she's quick to point out that some of the increase in security is a result of the increase in visiting pilgrims-- 2016 is the Church's Holy Year of Mercy.
"Most visitors feel better that security is taken so seriously and accept it," says Tomeo. "We can either choose to live in fear and stay away from places we've always dreamed of visiting or we can be astute travelers attentive to our surroundings and willing to work with security forces trying to enhance safety."
Safety, in this case, implies the threat of terrorism, but also, a more rampant threat: tourism. And it's not just the people that need to be protected. In July, three tourists dressed in bathing suits enraged locals when they opted to cool off in one of Rome's historic fountains. It wasn't the famous Trevi Fountain, but still, the 17th century Fontana dell'Acqua Paola, "deserves respect" tweeted a local organization.
And a YouTube video uploaded in May that went viral late last month, purportedly shows two German tourists scaling the Colosseum's scaffolding at night. The men didn't encounter any security guards but if the same stunt was attempted today, they'd  likely be slapped with a fine of a few hundred Euros and possibly jail time.
Mike Fricchione, a Long Island-based political consultant has visited Rome frequently over the past decade. On his most recent trip that ended early August, he noticed an unprecedented level of security-- starting at Fiumicino Airport. Agents are no longer stamping passports without a second glance. Instead, they're taking their time, giving travelers a much closer look.
But, says Fricchione, he's not worried and would-be tourists shouldn't be deterred from visiting the historic Italian capital.
"Despite numerous invasions, Rome has survived for thousands of years. I always feel safe in the Eternal City."