Richmond Airport apologizes after official reportedly told mom breastfeeding was 'indecent exposure'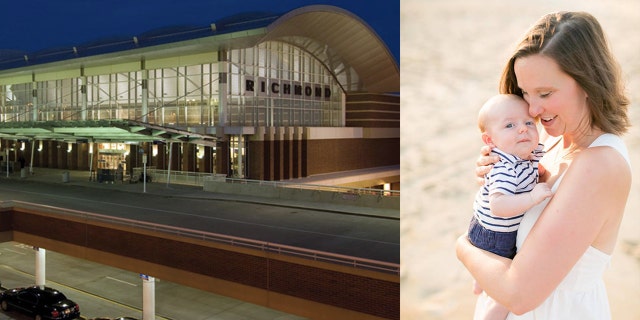 Richmond International Airport has publicly apologized after an official reportedly told a young mother to stop breastfeeding in the air hub on grounds of "indecent exposure."
On July 12, Stephanie Joyce was waiting for her husband's flight to land at the Virginia airport when she began nursing her infant son, WTVR reports.
"This afternoon, I was breastfeeding at Richmond International Airport and was told by a security guard that it was considered "indecent exposure" because my nipple was exposed and was told I could go to the bathroom if I wanted to feed my son," the mom recalled on Facebook. "I asked to speak to a supervisor and he told me that it was ok for me to breastfeed in the waiting area, but I should try and "cover up.""
'PRETTY PLANE GIRL' SLAMS PASSENGER FOR SHARING 'FALSE' VIRAL 'PLANE BAE' STORY TO TWITTER WITHOUT CONSENT
"This is wrong and illegal. I am compelled to post this and bring attention to the situation because we must speak out and stand up for our rights so this doesn't happen to other families," she concluded in a post that has since received over 400 reactions.
The next day, representatives for Richmond Airport took to the same social platform to apologize for the encounter, stating that Virginia law "supports a mother's right to breastfeed her child in a public venue."
"The proper response would have been to advise the complainant of the mother's right to breastfeed her child in public venues like the Airport, instead of offering alternatives to the nursing mother in an attempt to mitigate the complaint," the airport's Facebook post read.
"We apologize to the mother for this unfortunate encounter. Additionally, in further response to this matter, the RIC Chief of Police, in communications with law enforcement personnel, will reaffirm and emphasize a mother's right to breastfeed her child in public, the Airport's commitment to the enforcement of this right, and the appropriate response to complaints regarding the exercise of such rights."
FOLLOW US ON FACEBOOK FOR MORE FOX LIFESTYLE NEWS
Moving forward, Joyce told Fox News on July 14 that she hopes "that this never happens again" and that her story empowers other mothers, too.
"I'm a new mom, and this was a scary situation to have a security guard tell me I'm breaking the law while trying to feed my almost three-month-old son while waiting for my husband's flight to arrive," she divulged when asked for comment. "I'm glad that I was able to stand up for myself and my son. I hope this gives other mothers confidence to care for their families as they need to, whenever they need to.
"Breastfeeding is in no way indecent exposure and no mother should be bullied into thinking this or that they are criminals," she added.