Rapper G-Eazy claims magazine cover got him through airport security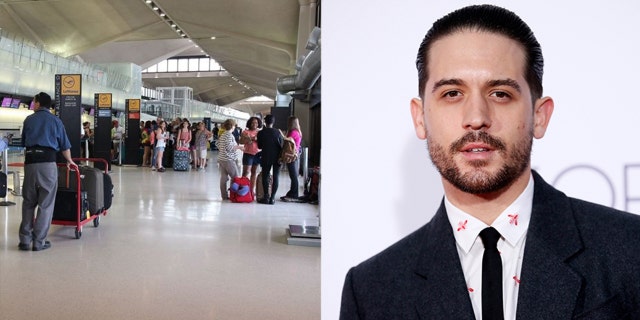 NEWYou can now listen to Fox News articles!
Rap artist G-Eazy recently suggested that he sailed through airport security for a domestic U.S. flight using a magazine cover featuring his face — though it's a claim the Transportation Security Administration isn't exactly backing up.
Last week, the rapper's girlfriend, singer Halsey, explained in a tweet that G-Eazy (whose birth name is Gerald Earl Gillam) tried to use his photo on a magazine cover in lieu of his I.D., which he somehow misplaced. The musical pair was reportedly flying from Miami, where G-Eazy performed at Ultra Music Festival, back to Los Angeles, The Independent reports.
'ABUSIVE' WOMAN ANGERS AIRASIA PASSENGERS BY UPGRADING HERSELF TO PREMIUM SEATS
"Gerald lost his ID and he's trying to use the cover of @XXL as part of his additional identification to get through airport security," the songstress vented. "I'm so annoyed."
"It worked," G-Eazy clapped back, complete with shrug emoji.
As far as the couple's public banter on Twitter goes, gracing the cover of the hip-hop magazine's latest issue was seemingly enough to get the rapper through security, even though the issue only listed his stage name.
A representative for the Transport Security Administration's (TSA) Florida office, however, told Fox News that G-Eazy indeed had other forms of valid identification on him at the time.
HOTEL LIFTS LIFETIME BAN FOR MAN WHO DESTROYED ROOM WITH PEPPERONI, FLOCK OF SEAGULLS
"While the individual did not have a government issued photo ID, he had other forms of identification with him that were used for positive verification of his identity. A magazine was not used to confirm identity in this case," they said. "As with all travelers, the passenger was still run through TSA's Secure Flight Program and the passenger and his belongings were subjected to a thorough screening at the checkpoint."
According to the official guidelines of the TSA, domestic U.S. travelers must have valid identification to fly, such as a driver's license, passport or permanent resident card. However, travelers can still fly if they can successfully complete an identity verification process with a TSA officer.

"The TSA officer may ask you to complete an identity verification process which includes collecting information such as your name, current address, and other personal information to confirm your identity. If your identity is confirmed, you will be allowed to enter the screening checkpoint," the site states. "You may be subject to additional screening, to include a patdown and screening of carry-on property."
FOLLOW US ON FACEBOOK FOR MORE FOX LIFESTYLE NEWS
Furthermore, the TSA recommendations arriving to the airport at least two hours in advance of your flight time; whether or not you plan to use your magazine cover as backup.