'Racist' Frontier Airlines passenger tells seat-mate he's 'pulling his white card' during argument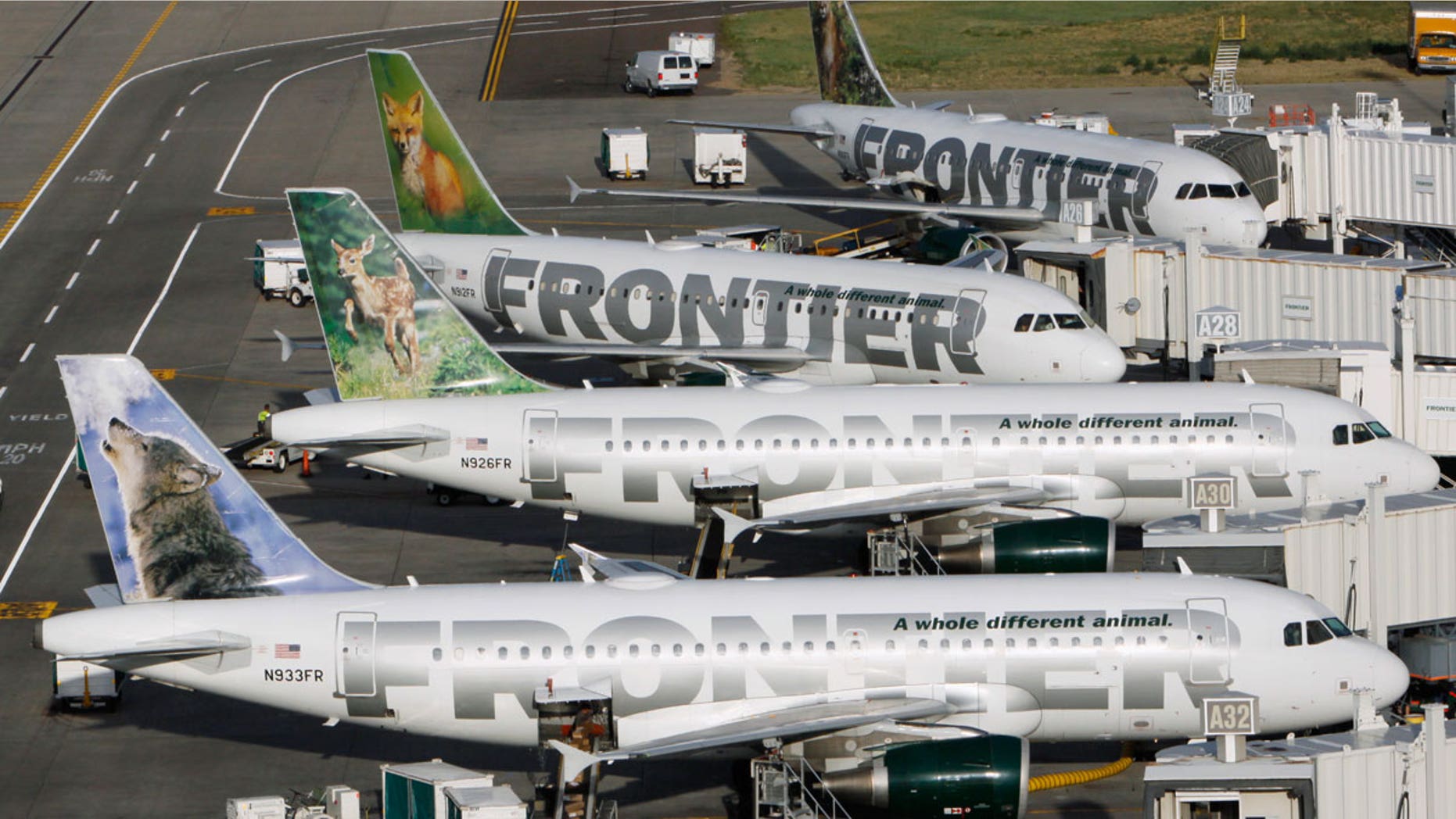 A Phoenix woman is claiming she'll never fly with Frontier Airlines again after a "racist" passenger loudly declared he was "pulling his white card" during an argument that erupted mid-flight.
Furthermore, the Riverfront Times of St. Louis reports that the "drunk" man has yet to be criminally charged for causing a disturbance aboard the flight, despite police and EMS workers being called to deal with him upon arrival.
"He does have this invisible white card," Shemekia Cannon told the Riverfront Times. "They're protecting this man to the point where we don't even know his name. He's alive, living his life, thinking this is all over. That's how I know that card exists."
WOMAN SAYS DELTA AIR LINES PREVENTED HER FROM SINGING NATIONAL ANTHEM
The incident originally took place aboard a flight from St. Louis to Denver on June 10, though footage of the altercation was only shared on YouTube earlier this week. In the video, the man can he heard using profanity and repeatedly telling Cannon — who is black — that he was "pulling his white card" when she asked to be re-seated.
WARNING: Footage contains profane language. Viewer discretion is advised.
Cannon told the Riverfront Times that she first saw the unidentified man drinking in the airport terminal while flirting with the redheaded woman who was later seated to his left. Aboard the flight, she says Frontier continued to serve him alcohol despite being visibly drunk. Cannon also says he continued flirting inappropriately with the redheaded woman, telling her how he wanted to take her to the plane's restroom, and describing the size of his penis. He also began rubbing his crotch area, she says.
"When he described his penis size, I couldn't take it no more," said Cannon. "I told [the flight attendants] what he'd said."
Cannon alleges that a flight attendant came by and told the man he was no longer allowed to order alcohol, which prompted him to turn to the redheaded woman and say, "Don't worry, I have white privilege, I have a white card."
"I went from zero to a million," remembers Cannon. "I looked at him and I said, 'You're a racist son of a b----.'"
AIR BERLIN FLIGHT MAKES STRANGE MANEUVER, SPARKING SAFETY PROBE
In the above footage, subsequently captured by Cannon, the man can be heard repeating that he'd be "pulling his white card" after Cannon told the crew to "get him away from me."
Cannon also told the Riverfront Times that she was moved to a different seat, but that the man continued arguing with flight attendants.
Police were called to meet the flight upon arrival, at which point they subdued the man, Cannon says.
"He kept screaming, 'I'm a business owner, I'm a business owner,'" she told the Riverfront Times. "He wanted everybody to know that he is a business man and he had white privilege and a white card. He was flailing and fighting everybody."
Later, inside the terminal, Cannon says she met a woman who claimed to have captured footage of the unidentified man being rolled through the airport on a gurney.
Cannon's lawyer later received a letter from the airline apologizing for the incident. However, Frontier wrote that they felt the crew's actions "were appropriate for the situation and regret any discomfort caused to Ms. Cannon." They also issued her a $250 flight voucher.
FOLLOW US ON FACEBOOK FOR MORE FOX LIFESTYLE NEWS
The Riverfront Times further confirmed through the U.S. Attorney's Office in Colorado that the man has not faced any criminal charges for his actions, though the matter is "under investigation."
Frontier did not confirm to Fox News whether they were planning to take any further action against the unidentified passenger.
"We take allegations of misconduct very seriously and have worked internally to investigate Ms. Cannon's concerns," wrote the airline in a statement. "The comfort, safety and security of our crew and passengers is our first priority at all times."