Plane bounces off runway at Salzburg airport, nearly scrapes tarmac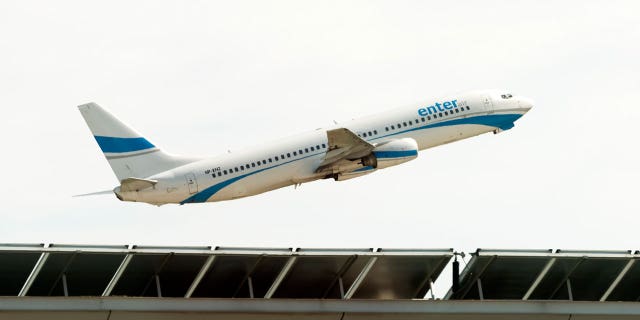 NEWYou can now listen to Fox News articles!
A plane was forced to abort a landing in Austria amid heavy winds Sunday after its wing almost scraped the runway, drawing gasps from onlookers.
The flight from Enter Air, a Poland-based charter airline, was captured on video tilting to the right just before making contact with the tarmac at Salzburg airport.
AIR BERLIN FLIGHT MAKES STRANGE MANEUVER, SPARKS GERMAN SAFETY PROBE
Footage shows the plane's wheels then hitting the ground, kicking up debris from the pavement.
The plane decided to fly back to Frankfurt, where it came from, and made a safe landing, The Mirror reported, citing the Aviation Herald website.
One video taken from inside the aircraft shows the cabin jostling around during the incident. In another, gasps can be heard as the plane approaches the runway.
FOLLOW US ON FACEBOOK FOR MORE FOX LIFESTYLE NEWS
"The hurricane wind at Salzburg was very strong and when the aircraft received [a] strong gust of wind, pilots acted quickly according to procedures and aborted landing," wrote Enter Air in a statement to Fox News.
"Polish pilots are very well trained for such weather conditions," the airline added.