Orlando Airport to start scanning faces of US citizens, officials say
Florida's most active airport will reportedly begin face-scanning all travelers on international flights entering and leaving the U.S., including American citizens. Officials are expected to make the announcement Thursday.
Orlando International Airport will be the first U.S. airport to enforce the facial recognition technology at this scale, in an initiative launched amid ongoing privacy concerns.
AMERICAN AIRLINES PASSENGER BREAKS AIRPORT WINDOW IN FRUSTRATION
Hubs in New York, Boston and Chicago currently scan fliers on some outbound international flights. The plan for Orlando International Airport, however, would broaden face-scanning to all international passengers.
"We're not talking about one gate," said Harrison Rudolph, an associate at the Center on Privacy and Technology at the Georgetown University Law Center. "We're talking about every international departure gate, which is a huge expansion of the number of people who will be scanned. Errors tend to go up as uses go up."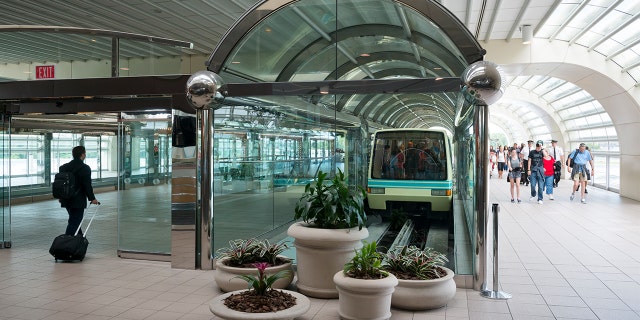 The face scan is taken and cross-referenced with the Department of Homeland Security's biometric database to corroborate passengers' identities, according to the Associated Press.
FBI SAYS IN-FLIGHT SEXUAL ASSAULTS RISING AT 'ALARMING RATE'
Jennifer Gabris, a spokeswoman for the U.S. Customs and Border Protection, said Americans can elect to forego the scans if they don't want to give a photograph, although Rudolph believes the DHS "doesn't seem to be doing an adequate job letting Americans know they can opt out."
Despite Gabris' statements concerning opting out, further information regarding rule changes states that "U.S. citizens may be required to provide photographs entering or departing the United States."
FOLLOW US ON FACEBOOK FOR MORE FOX LIFESTYLE NEWS
Rudolph questioned the accuracy of the scans, citing research saying that the scanners being developed are not exposed to a proper representation of minority and women, and therefore, can be inaccurate for those groups.
Orlando International Airport reportedly had around 6 million international travelers within the last year.
The Associated Press contributed to this report.