Oceania Cruises ship blown out to sea by high winds in Scotland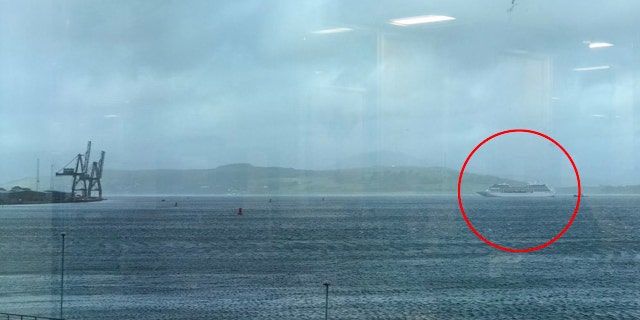 Passengers on an Oceania Cruise ship got quite the scare on Wednesday when powerful storm winds tore the vessel from its moorings and pushed it out to sea with people still on board.
On Sept. 19, Storm Ali's massive winds pulled the Nautica, a nearly 600-feet, 30,000 ton ship, from its port in Greenock, Scotland.
According to Business Insider, the Nautica was halfway a 12-day cruise in the U.K. and Ireland.
Video and images of the surprising event soon circulated on social media.
"All guests and crew onboard are safe and there were no injuries. Tugs have been called in to assist and the vessel is currently being held at anchor with a pilot from the port authorities onboard," a rep for the cruise line confirmed to Fox News of the incident.
"478 guests and 26 crew are ashore and are being looked after by the shore operations teams until conditions are safe enough for the vessel to be returned to the passenger terminal," they added.
It remains unclear at this time how many people were on board as the ship was pushed out to sea.
CRUISE WORKER RECEIVES $3.34 MILLION PAYOUT AFTER SHIP DOCTOR GIVES 'WRONG MEDICATION AND WRONG DOSAGE'
As of Thursday morning, the Nautica was docked in Belfast, a scheduled port along the voyage, the Oceania Cruises spokesperson confirmed to Fox News.
Storm Ali has brought gusts of up to 90 mph to Scotland and is battering other parts of the U.K. and Ireland, downing trees and leaving thousands without power.
FOLLOW US ON FACEBOOK FOR MORE FOX LIFESTYLE NEWS
As per BBC, Ali is currently lashing the U.K. with winds up to 100 mph. Two people have been killed in the storm's path.