Flybe pilot who developed fear of flying was unfairly dismissed by airline, judge determines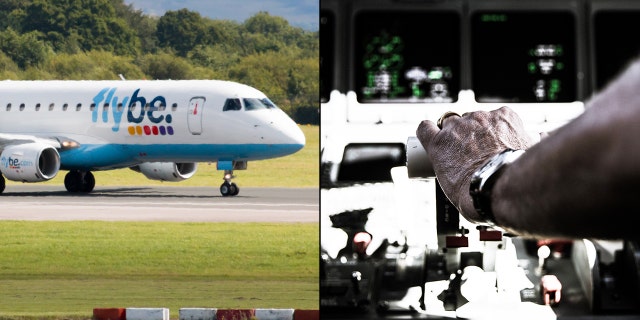 A former pilot for Flybe airlines has won an unfair dismissal claim against the carrier after he was fired for developing a fear of flying.
First Officer Matthew Guest had been employed by the England-based airline for seven years before developing his phobia sometime in 2014, reportedly after being moved over to longer flights, according to The Telegraph.
Guest later said he started feeling sick during the longer flights, and one day, after experiencing feelings of dread upon driving to work, he "called in sick and returned home," Tom Coghlin, a judge for the tribunal, wrote in the ruling.
AMERICAN AIRLINES FLIGHT ATTENDANTS HEADED TO COURT OVER MIDFLIGHT BRAWL
Guest's doctor told Flybe officials that he had "developed an increasing phobia and anxiety about long-distance flights," and also suspended Guest's medical certificate temporarily, meaning that legally, he was unable to pilot an aircraft.
Guest returned to work in 2016 after a leave of absence, during which he underwent therapy and began a course of antidepressants, and had his medical clearance reinstated. After two months, however, his fears flared back up, and Guest informed a superior of his concerns.
But the superior — the head of pilot management — suggested Guest try to "pass the time by reading a book or doing a crossword" while the plane was in cruise mode, according to the ruling, as reported by the Telegraph.
Guest once again called in sick. His schedule was subsequently cleared, and Flybe terminated his employment in March 2017, citing the "uncertainty of [his] condition" being a safety risk.
Flybe also issued a statement to Fox News on Nov. 12, 2018, reiterating its decision.
"Flybe confirms that Matthew Guest was employed as a First Officer until March 2017. He was removed from flying duties on grounds of safety. The safety and security of our passengers and crew is Flybe's number one priority," a spokesman for the airline told Fox News.
PLANE NOSEDIVES 500 FEET SHORTLY AFTER TAKEOVER BECAUSE OF AUTOPILOT ERROR, INVESTIGATION FINDS
Flybe had also claimed to have offered Guest a ground-based position as a flight safety support officer, The Sun reported, but the low-cost carrier told him he may never be reinstated as a pilot.
The tribunal ruling on Guest's complaint ultimately decided that Guest should have been offered the opportunity to return to his old, shorter routes, in addition to other positions with the airline.
Coghlin added that Guest should have also had the opportunity to discuss his future with the airline with Luke Farajallah, the COO of Flybe.
"It is a basic principle of natural justice and of fairness that an employee should have the chance to address the relevant decision-maker. Here, the claimant had no such opportunity," Coghlin said.
FOLLOW US ON FACEBOOK FOR MORE FOX LIFESTYLE NEWS
Guest has asked to be reinstated as Flybe pilot in the wake of the tribunal's decision. If Flybe and Guest do not come to an agreement, a judge will decide the next course of action at a later hearing.