Latest Vacation Craze Gets Paddleboarders to Do Sun Salutations in the Surf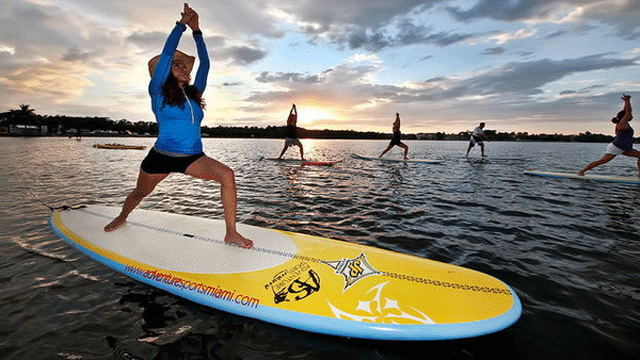 Imagine striking a warrior pose floating atop glittering turquoise waters -- just beyond the crash of ocean waves.
Yoga on a surfboard? Well, kind of.
With the growing popularity of stand-up paddleboarding, or SUP as its known, people are taking one of the fastest growing sports and adding new twists -- literally.
It's called yoga boarding, and it basically takes the same paddleboards used in SUP and turns them into a yoga mat.
While SUP got its start in Hawaii, and has been popularized in California thanks to frequently photographed celebrity SUPers like Matthew McConaughey, Owen Wilson, Rihanna and Kate Hudson, SUP yoga boarding actually got its start on Lady Bird Lake in Austin, Tex. (You can take the SUP board and paddle to rivers, bays, and lakes and marinas.)
SUP yoga boarding is now popping up on itineraries for Zen-seeking travelers everywhere who are looking for a laid back, calorie-burning experience.
"It's actually a better workout than studio yoga because you have to be more precise with your movements," says Eric Hiss of Kainalu XT, a multi-disciplinary water-based training business in Bora Bora, Tahiti.
Those with a good sense of balance and some core strength built from on-land yoga sessions will find that dropping to downward and upward dog, rising to bridge pose and even tackling crow pose while floating on the water are actually not as impossible to achieve as they sound. (Just a little wobbly and maybe initially a tad wet.)
"Even beginners have little problems with the basics [of yogaboarding]," says Hiss. "Obviously, you have to do this somewhere very calm."
Part of it is that paddleboards are much more ample than you'd think, at 11 x 12 feet and up to three feet wide.  Still it takes some getting used to.
As winter approaches, rather than bundle up and hibernate or buffet binge at an all-inclusive tropical resort, SUP yoga boarding may be the answer for a healthier, more fitness-forward approach to vacationing.
Here are eight serene locations for gliding out into the open waters and saluting the sun.
Miami, Fla. 
There are 210 yoga boarding meetup members who do their downward facing dog atop the waters of Biscayne Bay in Southern Florida. Florida yoga instructor Sarah Henry mixes Hatha with Vinyasa flow yoga, and leads the group mornings and evenings Monday through Friday, and boards are provided. The evening of Oct. 8th there is a guided full moon paddle boarding eco-adventure, replete with touring through mangroves and past salt water trees while spotting brown pelicans, osprey and great blue herons. Adventure Sports Miami, 305-591-3559.
For Miami travel tips, check out FoxNews.com's destination guide >> 
Southern California
The popularity of yoga boarding in Malibu, Newport and Laguna Beach is a pretty good indicator that the rest of the country and world are catching on fast to the more refreshing location for yoga flow. Along the Pacific coast there are newbies and seasoned surf yogis. The only real hazard? Breast implants bobbing in the water. There's SUPcore Unlimited, and the Lotus Way taught by Heather George, www.paddleyogaboarding.com. Check out Heather's yoga boarding video here.
Maui, Hawaii 
While Hawaii is the epicenter of surf with Oahu at the helm, Maui is ideal for SUP with it's less Big Kahuna-esque waves which makes for ideal waters for deep stretches and meditations. The Lotus Way also has a location in Hawaii. At SwellWomen, owned by a corporate New York City transplant desiring a more tranquil yoga lifestyle, SUP yoga excursions compliment the one-week wellness retreat package. SwellWomen, while initially a surf retreat for women, now occasionally adds on co-ed retreats.
For more Maui activities, check out FoxNews.com's travel guide >>
Southeast Alaska
Getting into the ice-cold Alaskan waters doesn't seem like an appealing idea, but during the summer, conditions are ideal for surfing and stand-up paddle boarding. Perhaps most SUP epic is the Turnagain Arm, a tidal bore that is best to ride if you're lucky and manage to catch the outgoing current when it meets the incoming tide. When all that magical, mysterious science comes together perfectly, an SUP ride along the bore can last as long as five miles. In Juneau there's Blue Nose Surf, 907-957-2996. Sitka is another SUP spot, 907-738-5466.
Nayarit, Mexico
In the Riviera Nayarit region of Mexico, the top SUP purveyor located in Punta De Mita, Mexico is world surf legend, Gerry Lopez, owner of the Gerry Lopez Paddle Surf Lifestyle Camp. Lopez is ranked one of the top surfers in the world and offers personalized SUP instruction, promising, "you are up and at it in the first hour." The next Lopez camp session is scheduled for October 20-22 and focuses on SUP and yoga with morning and afternoon sessions, along with "water and wave knowledge and surf etiquette." Lopez is known for throwing in a little on board headstand clinic for those willing to push the limits. The camps session is organized by Sun Country Tours and Hotel de Artistes' Cinco Watersports Center.
Bora Bora, Tahiti
Avid surfers travel to far away islands to catch the perfect wave; it's not different for yogaboarders soul searching for transparent, flat, turquoise waters surrounded by exotic, faraway serenity. SUP appreciation has caught on all the way across the world in Bora Bora thanks to Stephan Lambert the founder of Kainalu XT. They first introduced SUP and Hatha style yogaboarding to the Four Seasons, and now the Hilton, St. Regis, and the Pearl Resorts offer up boards and instruction to guests who want to connect and feel at one with the majestic waters. In December, Lambert has organized a water festival featuring some SUP activities.
Algarve, Portugal
When a day on the water doesn't rely on waves or wind, but merely open water, then nearby landscape is critical when doing sun salutations. In Portugal's majestic Algarve region, Albufeira and the Obidos lagoon are yogaboard havens because of their still waters. Besides the azure ocean waters, there are river tours down the Rio Tejo where a down-river jaunt that makes excellent use of core training and muscle elongating takes paddlers past classic, sleepy Portuguese villages to the Knights of Templar castle, bookings@supxscape.com, +351 262 950 480.
Cabarete, Dominican Republic
Many SUP and surf companies are specifically targeted to appeal to women with their mind and body and soul retreats. Blossom's getaway in Cabarete offers a Yoga & SUP Blossom Retreat, as well as the also popular, Kiteboarding, Yoga & SUP retreat. Blossom boasts "to push your limits and release your inner Wonder Woman." (They do at times cater to "Supermen.") The philosophy is simple: "nourish and balance the body and mind through a daily diet of vitalizing yoga, serene surf, healthy, delicious food within a tranquil environment." The SUP location promises glassy waves and flat waters, along with new friends. SUP is even more of a bonding sport than surfing -- especially because the age range for SUPing is so vast. Here is more information on other SUP spots in Cabarete.